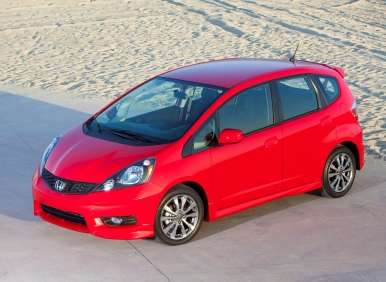 Five years ago at about this time, Honda was celebrating its 11th straight year of record sales in this country and confident that "we have some great new products coming in the new year that will keep our momentum going." Needless to say, things didn't quite work out as Honda expected. By the end of 2008, the global economy was in free fall, with Honda sales dropping from 1.5 to 1.4 million units and the company's glide path plotting a further four-year course of sinking sales.
Fast forward to this morning, though, and Honda, backed by a 24 percent jump in sales on the year, has just passed the 1.4-million unit mark again—but going in the other direction. The final tally: A 2012 total of 1,422,785 sales that included a new annual benchmark for the Honda CR-V, as well as the best December on record for the Honda Civic. (Uncoincidentally, December also saw the debut of the thoroughly—if hastily—refreshed 2013 Honda Civic).
"Honda began the year intent on recovery," said John Mendel, American Honda executive vice president of Sales. "We ended 2012 with multiple product awards, a host of sales records, Honda's second best December ever, and tremendous momentum as we head into 2013."
Also notable: Honda led all of the traditional "big six" automakers—including the Chrysler Group, GM, Ford, Honda, Nissan and Toyota—in December sales growth, with the next nearest competitor, Chrysler, advancing by just 10.4 percent.
December Auto Sales: Honda's Hottest—And Acura's, Too
American Honda's two brands showed fairly equal levels of growth in 2012. Honda itself enjoyed a sales increase of 23.7 percent over 2011, while Acura deliveries advanced by 26.7 percent. Of course, their volumes were a bit different, as the former racked up 1,266,569 annual sales versus 156,216 sales for the latter. Just keep that in mind when you check out the following list of 2012 pacesetters for American Honda:
Honda Accord—With the all-new 2013 Honda Accord now providing an added spark, the mid-sizer's sales heated up by 40.8 percent last year, on 331,872 sales.
Honda Civic—Even though the refreshed 2013 Honda Civic didn't get to stores until very late last year, the Civic nameplate still garnered 317,909 sales and a 43.7 percent sales increase.
Honda CR-V—The CR-V wrapped up 2012 with 10 monthly sales records, seeing a 29 percent advance in deliveries; the compact crossover sold 281,652 units.
Acura RDX—Talk about an effective redesign: The all-new 2013 Acura RDX launched in May, immediately set a monthly sales record, and has now set eight straight. At year's end, the premium crossover had welcomed 29,520 sales—up 94.3 percent.
Acura MDX—The brand's volume leader also outperformed the industry in 2012, courtesy of a 17.5 percent sales jump that saw the 2013 Acura MDX end last year with 50,854 deliveries to the nameplate's credit.
Acura ILX—Acura's all-new premium compact sedan—the 2013 Acura ILX—became the brand's best-selling car in December and ended its rookie campaign with 12,251 deliveries.