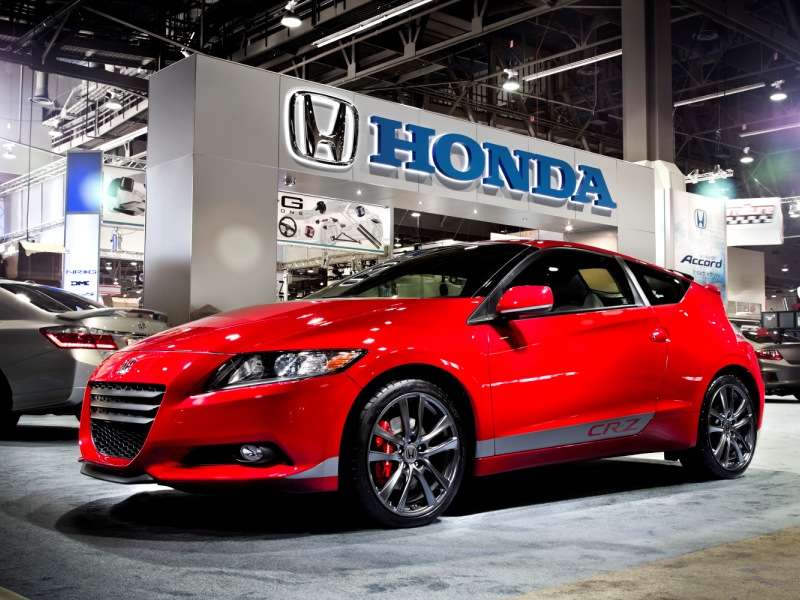 red 2014 honda cr-z showroom ・ Photo by Megan Green
Although the 2014 Honda CR-Z "sport hybrid" has had trouble attracting owners from either side of the performance-efficiency spectrum, that may finally start to change with the debut of a new factory-backed supercharger for the car. Created by Honda's North American racing division—Honda Performance Development (HPD)—the setup will squeeze an extra 67 hp and 36 lb.-ft. out of the CR-Z's powertrain, raising ratings to 197 horses and 176 lb.-ft. of twist. 
Now, the automaker didn't provide any details about new 0-60 times for the 2014 Honda CR-Z, or EPA grades, for that matter, but Art St. Cyr, president of HPD, did say that: "The CR-Z was the first hybrid to prove that efficiency doesn't have to come at the cost of sportiness and fun. With HPD street performance accessories, including the new supercharger kit, the CR-Z will surprise everyone again with even higher levels of performance directly inspired by our on-track racing efforts."
There's also an additional bonus: With Honda dealers doing the install work, adding the new supercharger won't affect the five-year, 60,000-mile limited powertrain warranty that comes standard with a new 2014 Honda CR-Z. And just to be clear, dealers will be able to supercharge any manually transmissioned 2014 Honda CR-Z, including not just new ones, but also those purchased before the supercharger was released. In fact, the setup even is compatible on 2013 models.
Honda also points out that, with the introduction of the supercharger, all of the HPD CR-Z street accessories introduced at the 2013 SEMA show are now available to customers, including additional performance enhancers like a limited-slip differential and sport clutch.
Without those HPD goodies, the boldly designed 2014 Honda CR-Z is priced from $19,995 and combines a 1.5-liter four-cylinder engine with a 15-kW lithium-ion battery pack; the tale of the tape here: 130 hp, 140 lb.-ft. of torque (with the manual transmission), and EPA grades of 31 mpg city/38 mpg highway/34 mpg combined. When configured with its continuously variable transmission, torque for the 2014 Honda CR-Z slips to 127 lb.-ft. but with a spike in EPA grades to 36 mpg city/39 mpg highway/37 mpg combined.