With all apologies to the Cadillac ATS, GM's lightweight BMW battler isn't the only all-new premium sedan on its way to dealerships from an American automaker: The next-gen 2013 Lincoln MKZ will attempt to bring Ford's lux division back to relevance in the short-term future, and it's now available for ordering from local Lincoln dealerships. However, outside of their timing, the MKZ and ATS won't have much in common: While the Cadillac is explicitly taking aim at the German competition with a performance-focused rear-wheel-drive entry geared toward exceptional driving dynamics, Lincoln is leveraging a more luxurious, technologically focused approach to go up against vehicles like the Lexus ES350.
Now, that's not to say the compact ATS doesn't offer some nice tech toys—including the Cadillac CUE system and Magnetic Ride Control—or that the larger, mid-size MKS will drive like a luxobarge of yore—since it won't. But it does seem as if the two brands are relying on two distinctly different strategies for success, and that's a good thing, since Lincoln really needs to build its own unique positioning if it's going to attract the kind of new buyers it needs to survive.
The party line from Jim Farley, Ford's group vice president for Global Marketing, Sales and Service: "The new MKZ and MKZ Hybrid are proof of our commitment to reinvent the Lincoln brand for a new generation of Lincoln customers. There's a large group of thoughtful individuals who take great pride in planning and following their own unique paths, and the MKZ is the first of a number of all-new vehicles designed with this same attitude to be a compelling choice for these independent-minded consumers."
2013 Lincoln MKZ: A Cavalcade of Class Exclusives
As mentioned, the 2013 Lincoln MKZ will seek to differentiate itself from the competition through its technology. The brand starts off by claiming 10 features that no other in-class rival can offer, including a new push-button shift system, LED headlamps, a 10.1-inch LCD instrument cluster, active noise control, an eight-inch touchscreen, remote start and the Blue Oval's Easy Fuel capless fuel-filler hardware. And all that is standard on the MKZ, as are Lincoln Drive Control, which coordinates the key vehicle systems such as the car's continuously controlled damping, electric power-assisted steering, traction control and stability control; a 2.0-liter EcoBoost engine that delivers 240 hp/270 lb.-ft. of torque, as well as an expected EPA line of 22 mpg city/33 mpg highway; and SYNC with MyLincoln Touch, the counterpart to the Blue Oval's Ford-branded setup.
The price for all these upscale amenities: $35,925. That compares to a starting point of $36,100 for the ES 350, the MKZ's No. 1 competitor; thus, the Lexus is both a little overpriced and a lot undercontented as compared to the Lincoln. The MKZ also turns up slightly better EPA grades, with a 1-mpg advantage in all measures, relying on an engine with 22 more lb.-ft. of torque (and about 28 fewer horsepower).
Further, the latest Lincoln also will offer exclusive optional equipment ranging from a retractable 15.2-square-foot panoramic sunroof to inflatable rear-seat seatbelts to its high-comfort Active Motion front seats to all-wheel drive, none of which can be had with the Lexus.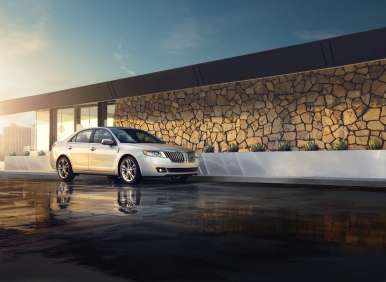 2013 Lincoln MKZ: The No-cost Hybrid Option
Both the 2013 Lincoln MKZ and its Lexus rival do offer hybrid variants, but here, again, there's a price advantage for the former—and this time it's a significant $2,925, since Lincoln does not put a premium on the MKZ's high-efficiency powertrain, while Lexus charges customers an extra $2,750 for hybrid technology. The MKZ's hybrid system is new, too, swapping old-school nickel-metal-hydride batteries for lighter and more powerful lithium-ion chemistry and downsizing to an all-new 2.0-liter Atkinson-cycle I4 engine.
The bottom line is that even as the Lexus ES 300h will have a slight advantage in terms of horsepower—specifically, an extra dozen ponies—the Lincoln will have a major lead in terms of fuel economy. The ES hybrid is rated at 40 mpg city/39 mpg highway, and the MKZ could be achieving up to 47 mpg city/44 mpg highway. True, Lincoln hasn't released even projected EPA numbers for the 2013 MKZ Hybrid, but a similar powertrain in its relative, the all-new Ford Fusion, is expected to show off exactly those EPA marks, making it a safe bet that MKZ owners will enjoy similar ratings.