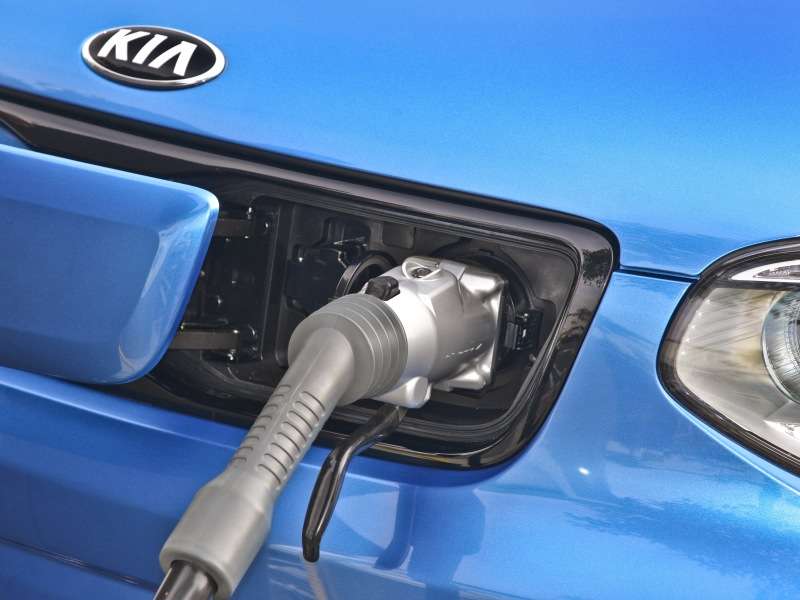 soul EV
As the all-electric 2015 Kia Soul inches closer to its third-quarter U.S. debut, the brand has begun dialing up the buzz for its new EV significantly. We already saw the launch of a major ad campaign for the 2015 Kia Soul EV—featuring the popular Kia hamsters, of course—and now the company has announced it would deploy 17 DC fast chargers at select dealerships in California, where the car will first go on sale. 
The party line from Orth Hedrick, vice president of product planning for Kia Motors America: "The Soul EV is a key vehicle within Kia's 'Clean Mobility' program, and having access to Level 2 and an increased number of DC fast chargers at select Kia dealerships is an opportunity for us to provide value to Soul EV owners, signaling Kia's commitment to the growing EV market. Our customers are making a sincere effort to be eco-conscious, and Kia is committed to delivering both flexible and convenient charging options to Soul EV owners."
The brand has yet to confirm exactly which dealerships will get the charging units, but those that do will feature a 50-kW DC fast charger capable of delivering an 80 percent charge to an empty 2015 Kia Soul EV battery in just over 30 minutes. To put that into context, a typical 240-volt home-charging station can fully re-charge the 2015 Kia Soul EV in fewer than five hours; folks also can plug the vehicle into a regular 120-volt outlet for charging, although that requires some 24 hours to go from empty to a full charge.
Additionally, driving a 2015 Kia Soul EV comes with membership in the Greenlots "SKY" charging network.
The rest of the tale of the tape for the 2015 Kia Soul EV indicates an expected real-world driving range of between 80 and 100 miles, an electronically limited top speed of 90 mph and the ability to run from 0 to 60 mph in fewer than 12 seconds, all while powered by a 81.4-kW electric motor capable of producing 109 hp and 210 lb.-ft. of torque.
Pricing and more information about the 2015 Kia Soul EV will be provided closer to its California dealership debut; Kia also reports that "select additional markets are set to come online in 2015."