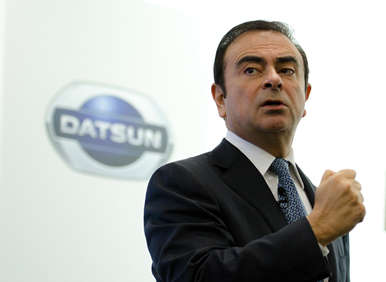 Although recent years have seen the demise of a number of famous auto marques—including Pontiac, Plymouth and Mercury, among others—there's one well-known name that's on its way back into production: Nissan recently announced that it is reviving the Datsun brand, primarily for affordable vehicles in developing markets.
Nissan, of course, used the "Datsun" name in the U.S. when it first began importing cars to this country in 1958, but the brand can actually trace its roots in Japan all the way back to 1911, and it first appeared on Japanese vehicles in the early 1930s. Nissan acquired Datsun in 1933, then used the moniker for its car lineup for decades; it wasn't until the 1960s that the "Nissan" badge began showing up on some of the automaker's cars. Finally, after decades of internal politicking related to Nissan's role in World War II, the Datsun brand was completely retired in the mid 1980s, but only after developing such notable vehicles as the Datsun 240Z—the original Z car.
It's unlikely any markets will again see that kind of Datsun anytime soon, but Nissan CEO Carlos Ghosn did provide some clues about what could be expected during a recent press conference in Yokohama, Japan:
Q: Is bringing back the Datsun brand in this way a risk?
A: There is no risk. We just see an opportunity. Today, in all the markets we are present, there is a level of price below which we cannot compete, we have no offering. The risk is to do nothing because it means that in India 40% of the market escapes us, in Russia 40% of the market escapes us, and what we think will be 40% of the Indonesian market will escape us. That's the biggest risk. The risk is to do nothing.
By taking the initiative and introducing the Datsun brand we're going to compete in a market in which could not compete before and we're going to compete strongly. We're not coming with antiquated product. We're coming with a modern, strong, attractive product under the brand of Datsun. That's why it's more of an opportunity than a risk.
Q: Other automakers are coming into these developing markets with ultra-low-cost vehicles. Will that be Datsun's strategy?
A: Well, the ultra low-cost car will fit with the Datsun brand. You cannot presume the Datsun brand is for that, but the day we come with an ultra low-cost car it will go inside the Datsun brand.
Q: Can you talk specifically about pricing for Datsun?
A: [W]e can tell you that the price range is going to be in a segment of the market where usually we don't compete. But again, you should not say this is another entry-price point made by a car manufacturer. What we want to do is a modern, affordable, reliable car in this segment of this market.
Our objective is to make sure that the person who today has a motorcycle or a used car and wants to buy a new car is going to consider Datsun. Today, we are not in the game.
Q: Datsun expects to start selling vehicles by 2014, which, obviously, doesn't leave much time to bring a fresh brand up to speed. How far along in the development process are Datsun's new products?
A: Two years is a very short time to come with a completely new brand? Not at all. We've been working on it. We can work on things without talking about them. We're not announcing something and then saying, "Tomorrow, we're going to start work on the Datsun brand." What we're announcing today is, "We've been working on this." The cars are already in development. Fortunately, we can still surprise you with what we're doing. … [We] have already sketches, models, we know exactly what we're doing. We're announcing today in the middle of a work-in-progress.
Q: Why not launch an all-new brand instead?
A: Datsun is part of the heritage of the company. Why do I want to do something new if I can use the heritage of Nissan? … This name belongs to us and Datsun was known for a product which was robust, reliable and affordable. These are good attributes, but we're not going to be limited. We're going to add to it quality and we're going to add to it modernity.
Q: Will Datsun ever return to the United States?
A: I don't think that today we have plans to launch Datsun in … any developed country. Again, we are business people. If we see a demand, why not? But we are not planning for it. This is for high-growth emerging markets. … We should never say never, but it's not planned.
Q: The Datsun revival is certainly big news, but right now, especially in America, high gas prices are getting most of the headlines. How do you think fuel costs are going to affect Nissan's future operations?
A: If you think that oil at $100 a barrel is high, you ain't seen nothing yet. When we launched electric cars, we said clearly that we are preparing for a long period of time when oil prices are going to be very high. We took as a basis for the launch of the LEAF [oil prices at] $80 a barrel. That was in 2007. In 2010 people said that it would go down, that it's not going to work.
Today we are at $100 and Europe is not growing and the United States is still in recovery mode, still below the level where it was in 2007. So when the U.S. will be in full growth and Europe comes back—because it will—I don't think the price is going to remain at $100.
So, again, if you consider that oil prices are expensive today, we don't. We think that they are going to go up, and we are prepared for this.
(Autobytel thanks the Nissan Media Center for providing Mr. Ghosn's comments.)