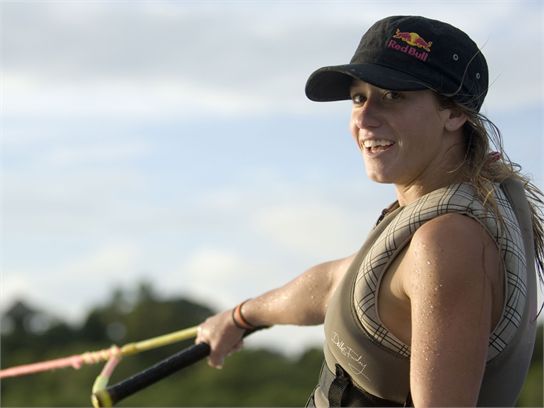 X Games Champion, World Champion, U.S. Open Champion, ESPY Awards: Best Female Action Sports Athlete of the Year…should we continue? We could, because when it comes to wakeboarding, there are very few things Red Bull pro athlete Dallas Friday hasn't conquered. How about the winningest female wakeboarder in history? Yeah, that would be Dallas Friday too. But what about when Dallas isn't out competing on her own signature O'Brien wakeboard? It turns out her board isn't the only customized ride she has. With that, another MyRide With.
A 2001 black GMC Yukon Denali with 22-inch rims. It's decked out with three TVs, an Xbox, and about $10,000 worth of Infinity Audio sound system. It also has fiberglass molded around the speakers with neon lights in the back.
I have never washed it...but before you think NO WAY, I have had it washed by others!
I bought a black Chrysler 300C SRT8. It is fast and I love it. I still drive my Denali some too.
Brian Grubb. His car is all black with black rims and the darkest window tint so you can never see who is in there. [We checked, it's a Chevrolet Suburban]
Any of the Aussie [wakeboarding] boys. They all drive crap cars!
The Lamborghini. It's fast and stylish!
I'd like a Bentley, but actually, I would like to take a Harley Davidson around the country with David Beckham so I could ride on the back and make sure I held on really tight...HA!
First, Dallas Friday gets a big MyRide Seal of Approval (if we could ever find the thing) on her whip collection. The GMC Yukon Denali sounds sick the way she has it customized, and the SRT8 is really the only way to go with the Chrysler 300C (that is, if gas mileage isn't an issue). It's funny what Dallas said about the "Aussie boys" -- Josh Sanders (who is the Dallas Friday of men's wakeboarding) said the same thing when he did his MyRide With (he called their cars "the most un-roadworthy bombs I have ever seen"). Finally, if Dallas Friday wasn't accomplished enough, check out this shot of her railsliding her wakeboard—over a Ford Ranger! Best of luck Dallas, keep it locked on My Ride.com.
By Elliot Darvick Photos courtesy of Chrysler, Bill Doster/Red Bull Photofiles