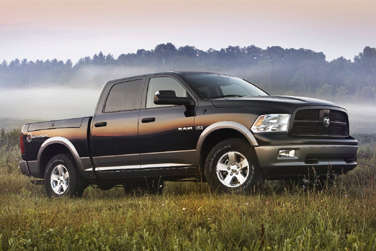 Light trucks are one of the most popular new vehicle segments in America, accounting for a huge number of sales each year. Drivers enjoy the versatility of these vehicles, which can be used to haul a load, tow a trailer or simply drive to and from work every day in a comfortable and in some cases even plush environment.
However, some truck buyers need more than what a light truck can offer, which is the reason heavy duty editions of the most popular pickups are available from almost every manufacturer. Let's take a look at the key differences between the light and heavy duty editions of the trucks available to buyers in the United States.
01. 2011 Ford F-150
The 2011 Ford F-150 is the best-selling vehicle in America, and a big part of that has to do with how many different editions of the truck are available. Regular, SuperCab and SuperCrew editions offer between three and six passenger seating, bed lengths range from five-and-a-half to eight-feet and the availability of several luxurious special editions (King Ranch, Platinum and Harley Davidson) provide a long list of creature comforts. Even off-road fans will be happy with the trail-running F-150 Raptor model.
Mechanically, the 2011 Ford F-150 starts out with a 302 horsepower, 3.7-liter V-6 and ranges all the way up to a 411 horsepower, 6.2-liter V-8 that additionally generates 434 lb-ft of torque. A twin-turbo EcoBoost V-6 can be found on certain models as a compromise between power and fuel economy. Six-speed automatic transmissions are standard on all models, and four-wheel drive is of course also available. When properly equipped, the F-150 can tow a substantial 11,300 lbs.

02. 2011 Ford F-250 Super Duty
The 2011 Ford F-250 Super Duty matches its F-150 sibling in terms of body styles and comes with the choice of either a six-foot, eight-inch or eight-foot long bed. Trim levels top out at the King Ranch, but the real story behind the F-250 Super Duty is its startling real-world capability. The vehicle's upgraded frame and suspension system are tuned for towing and hauling (with a 4,050 payload capacity). The pickup comes with the choice of either the F-150's big 6.2-liter V-8 engine or a 6.7-liter, turbodiesel eight-cylinder option that grinds out 400 horsepower and an astonishing 800 lb-ft of torque. Both engines are matched to a six-speed automatic transmission, and the F-250's tow rating maxes out at 16,500 lbs.

03. 2011 Chevrolet Silverado 1500
The 2011 Chevrolet Silverado is another popular full-size truck choice, and it too comes with a range of body styles that offer seating for as many as six passengers (Regular, Extended and Crew Cab). A five-foot, eight-inch bed represents the smallest cargo carrying option for the Silverado 1500, while an eight-foot unit checks in as the longest. The truck's amenities can be configured as anything from the barebones offerings found in the Work trim level all the way up to the well-bolstered Silverado 1500 LTZ.
The entry-level V-6 found in the 2011 Chevrolet Silverado 1500 puts out 195 horsepower from its 4.3-liters, while the most powerful V-8 motor found under the truck's hood (a 6.2-liter unit) manages to provide 403 horsepower and 427 lb-ft of torque. A Hybrid edition is also available for those seeking the utmost in pickup truck fuel economy. The Silverado mixes four-speed and six-speed automatic transmission choices, and four-wheel drive can be ordered as an option – along with the Z71 off-road package. The Chevrolet pickup's maximum towing capacity shows as 10,200 lbs.

04. 2011 Chevrolet Silverado 2500HD
The 2011 Chevrolet Silverado 2500HD was overhauled for the current model year, and its platform was strengthened, its suspension updated and its engine choices improved in order to make the heavy duty truck more competitive. The 2500HD offers the same body style and passenger capacities as the Silverado 1500, but drops the smallest cargo bed and replaces it with one measuring six-and-a-half feet. The eight-foot bed remains available.
Power for the Chevrolet Silverado 2500HD comes from a 360 horsepower, 6.0-liter V-8, or a 6.6-liter turbodiesel V-8 that produces 397 horsepower and 765 lb-ft of torque. Six-speed automatic transmissions are standard for both models, and the diesel 2500HD also comes with a unique engine brake. Four-wheel drive is optional across the Silverado 2500HD range, and the vehicle's towing capacity tops out at 16,500 lbs, while maximum cargo capacity shows as 3,704 lbs.

05. 2011 GMC Sierra 1500
For all intents and purposes, the 2011 GMC Sierra 1500 is a twin to the Chevrolet Silverado 1500. Both vehicles share the same general chassis and mechanical components, as well as identical body styles and passenger configurations. Even the engine choices available in the Sierra 1500 match those of the Silverado, and their towing capacities are also a match.
The primary differences between the two trucks have to do with exterior and interior details, with the GMC offering a more upscale approach in both areas along with a smoother ride. The Sierra can also be had in the Denali trim, which not only turns up the exclusivity of the pickup's looks but also includes a healthy dose of luxury equipment and the availability of a unique all-wheel drive system.
06. 2011 GMC Sierra 2500HD
The 2011 GMC Sierra 2500HD received the same systematic improvements made to its cousin, the Silverado 2500HD. Other than styling and interior amenities, very little separates the Sierra 2500HD from its Chevrolet platform-mate – save the new-for-2011 Denali trim, which had never been previously offered on the heavy duty GMC truck. The Denali can be found exclusively on Crew Cab models of the 2500HD, and it also features standard four-wheel drive in place of the 1500 edition's optional all-wheel drive system. The luxury model is instantly distinguishable from other Sierra HD models thanks to its tweaked exterior look and feature-heavy equipment list.

07. 2011 Ram 1500
The 2011 Ram 1500 provides three body styles – Regular, Quad and Crew Cab – as well as the ability to seat up to six passengers. The Ram 1500's chassis design is unique in its use of coil springs in place of traditional rear leaf springs, which smoothes out the ride and makes the truck more palatable as a daily driver. The pickup also offers a number of special trims, such as the Outdoorsman, the Lone Star, the Big Horn and the top of the line Laramie, which includes heated leather seats and a number of other luxury items as standard equipment. Box sizes for the Ram 1500 start at five-feet, seven-inches and ranges up to eight feet in length.
The 2011 Ram 1500 offers three engine choices – a 215 horsepower, 3.7-liter V-6, a 310 horsepower, 4.7-liter V-8 and a 5.7-liter HEMI V-8 that churns out 390 horsepower and 407 lb-ft of torque. The Ram 1500 comes with four and five-speed automatic transmission choices, as well as optional four-wheel drive, and the truck can tow up to 10,250 lbs.

08. 2011 Ram 2500
The 2011 Ram 2500 takes the passenger capacity and body styles offered by the 1500 model (substituting the smallest box length for a six-foot, four-inch unit) and swaps in a heavy duty frame that is designed to tackle the toughest of jobs. The Ram 2500 also adds a new trim to the mix, the Power Wagon, which is intended as a fully equipped off-road warrior. Two engine choices can be had with the Ram 2500: the same HEMI found in the 1500 model (tuned to offer 400 horses and 400 lb-ft of torque) and a mighty 6.7-liter, inline six-cylinder turbodiesel engine that provides 350 ponies and 650 lb-ft of twist. The Ram 2500 can tow 15,450 lbs in diesel form, and it is also rated to haul 3,120 lbs of cargo out back.

09. Where is Toyota's Heavy Duty Pickup?
The 2011 Toyota Tundra matches its light-duty competitors from Ford, Chevrolet, GMC and Dodge in terms of general design, bed lengths and passenger capacity. It even offers optional four-wheel drive and solid power from its 381 horse, 5.7-liter V-8 engine, whose 401 lb-ft of torque and six-speed automatic transmission give it the capacity to tow up to 10,400 lbs. However, Toyota has yet to develop a heavy duty edition of the Tundra that can compete against the three-quarter and one-ton editions of its domestic rivals. The Toyota Tundra is a great choice for those seeking a practical and modern pickup. However, it doesn't offer the hefty hauling capacity of a true heavy duty model.
10. Where is Nissan's Heavy Duty Pickup?
Like Toyota, the 2011 Nissan Titan is in many ways comparable to the American pickups that dominate the market (minus the fact that the Titan does not come in a regular cab trim). The Titan's only available engine is a 5.6-liter, eight-cylinder unit that offers up 317 horsepower and 385 lb-ft of torque, sent through a five-speed automatic transmission to either the rear or all four wheels (on editions featuring available four-wheel drive.) The Titan's 9,500 lb tow rating is not quite as competitive as the leaders in the light truck field, and it is certainly much lower than any of the heavy duty trucks listed here. Nissan has remained mum about its future plans for the pickup, but it seems unlikely that a more commercial-grade version of the Titan is on the way.