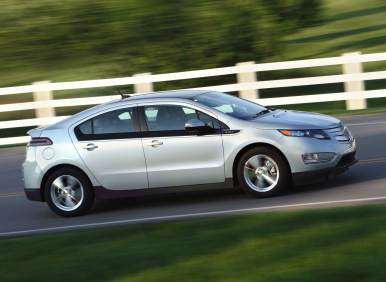 Despite constant carping from its critics, the Chevy Volt doesn't seem to be having any trouble pleasing its drivers. The latest evidence: The Volt recently finished as the top-rated vehicle in the industry in Consumer Reports' 2012 Owner Satisfaction Survey—something it's now accomplished twice in the two years since it first went on sale.
"The Volt's two-year reign at the top of our satisfaction survey points to the continuing trend of owners' enthusiasm for cars that are fuel-efficient cars, especially as we see more and more hybrid and electric models hitting the market." said Rik Paul, auto editor, Consumer Reports. "The [Volt's] combination of sporty handling and strong engine performance also goes a long way in building loyalty and generating excitement among owners."
And as long as we're on the topic of going a long way, that also continues to bean excellent description of the Volt's EV performance. The Bowtie Brand recently announced that Volt drivers had combined to surpass the 100-million-mile mark in all-electric travel. The brand also reported that, since the Chevy Volt first went on sale in December of 2010, owners have been averaging approximately 900 miles between fuel stops, while saving an average of $1,370 dollars each year in fuel costs.
Of course, some folks can do a little better than that. According to one not-so-average Volt driver, L.A. resident Andrew Byrne: "Since my daily driving is all electric, I only really need to buy gas for long road trips. I drove over 1,900 miles on my last tank of gas."
The 2013 Chevy Volt—with a 38-mile all-electric driving range and an overall range 10 times that—is on sale now with a net price to customers of $31,645 (after a full $7,500 federal tax credit).