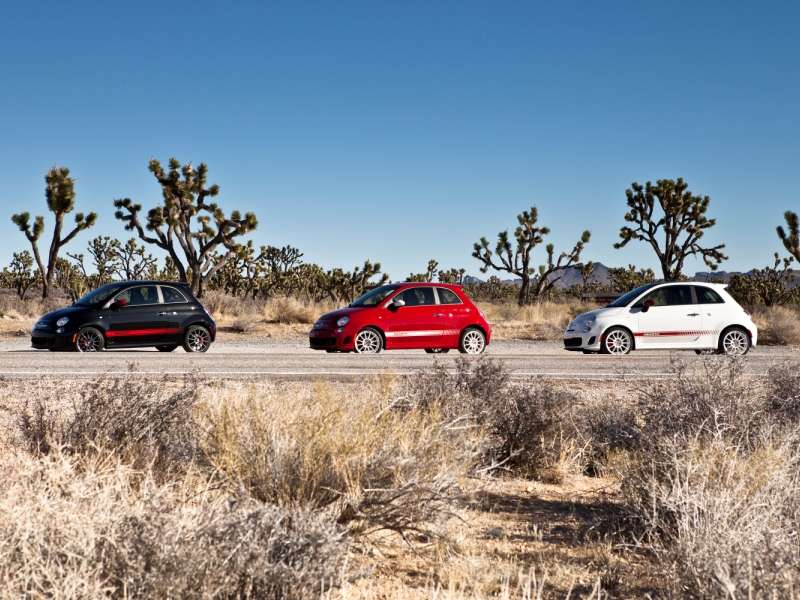 fiat 500 abarth black red white
Three new sessions have been added for the 2014 Abarth Track Experience, the advanced track-day learning opportunity offered to owners of the 2015 Fiat 500 Abarth. Timed to help build awareness of the new, automatically transmissioned Abarth editions, in both coupe and cabriolet body styles, the events will be held at: 
Daytona International Speedway in Daytona Beach, Fla., on September 9 and 10
Lime Rock Park in Lakeville, Conn., on September 29 and 30
Auto Club Speedway in Fontana, Calif., on November 11 and 12
Each location will showcase the 2015 Fiat 500 Abarth in four driving modules, allowing participants to enjoy autocross runs and head-to-head challenges while also exploring the car's driving dynamics and sheer performance capabilities—of which there are plenty.
After all, the 2015 Fiat 500 Abarth gets a major power-up compared to the standard model and relies on a turbocharged 1.4-liter, four-cylinder MultiAir engine to unleash 157 hp and 183 ft.-lbs. of torque. Naturally, Abarth also provides a comprehensive uptuning throughout the 500 package to showcase the 500's nimble reflexes and track-friendly suspension, and for the new model year, that includes a high-performance six-speed automatic transmission. Engineers thoroughly reworked the unit to handle the increased output of the 2015 Fiat 500 Abarth, deploying additional clutch plates and improving heat treatment while also developing a specially calibrated Sport mode designed specifically for enthusiasts.
The party line from Jason Stoicevich, head of FIAT Brand North America: "As the Abarth Track Experience becomes more popular, we're expanding the schedule to ensure more customers have the opportunity to develop their driving skills in a safe track environment. Now, with the addition of the specially tuned automatic transmission as an option for the 2015 Fiat 500 Abarth and Abarth Cabrio, we expect even more customers will want to join in the fun."
The 2015 Fiat 500 Abarth is at dealerships now with an MSRP of $22,195, which includes complimentary registration for the Abarth Track Experience. For more info, see, www.AbarthExperience.com.