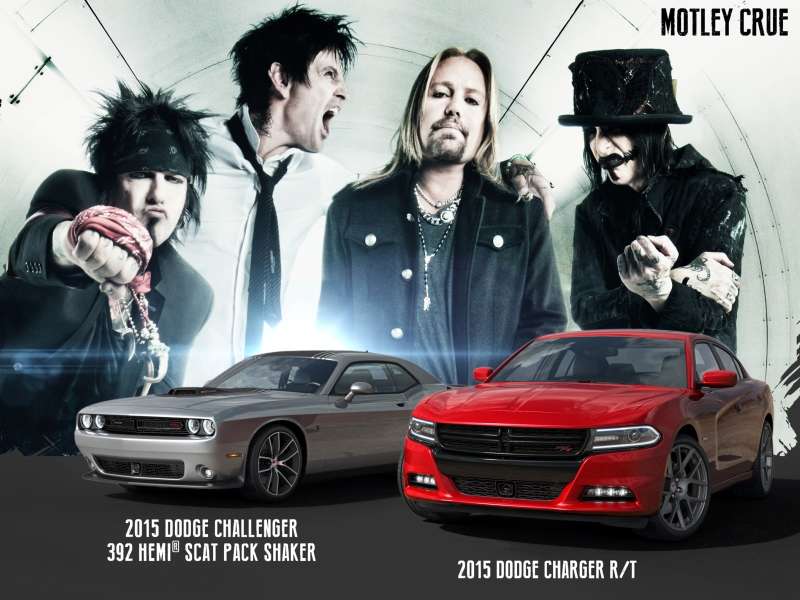 The Dodge Chance to be Bad Giveaway is good news for fans of the recently introduced 2015 Dodge Challenger and Charger, but not so much for the Motley Crüe crew. That's because although one of the former will be taking home a new Charger or Challenger as part of a promotional partnership with the iconic rock band, that partnership also marks the last time the group will play live, during its Final Tour.
The Motley Crüe farewell concerts kick off with Dodge as presenting sponsor on July 2, 2014, in Grand Rapids, Mich., and the brand will be leveraging its Chance to be Bad initiative to help build buzz before then.
Folks can register online at www.DodgeChancetobeBad.com through July 1, 2014, and be entered for a chance to win their choice of a 2015 Dodge Challenger or Charger, as well as a full Motley Crüe VIP experience that includes tickets to one of the Crüe's Final Tour concerts this summer, a meet-and-greet opportunity with the band, autographed guitars and a Motley collection of other rock memorabilia. In addition, "qualified registrants" get a personal invite to come test drive one of the 2014 Dodges, complete with complimentary concert tickets (after finishing the drive, of course).
As for the 2015 editions, both were introduced recently at the New York International Auto Show, with both wearing next-gen appearance upgrades and each available with Dodge Scat Packs for new levels of performance. The 2015 Dodge Challenger, for example, can be dialed up to a best-in-class 485 hp that's complemented by up to 475 lb.-ft. of torque, Brembo brakes, an available eight-speed automatic transmission, and a Uconnect media and connectivity center with an 8.4-inch touchscreen.
The party line from Tim Kuniskis, president and CEO of the Dodge Brand: "The 2015 Dodge Charger and Challenger are the ultimate American muscle cars just as the much anticipated Mötley Crüe 'Final Tour' is the ultimate high octane music event of the summer. The 'Chance to Be Bad Giveaway' gives our mutual fans an opportunity to win prize packages that are just as irreverent as our new muscle cars and the band itself."
For more information about the Motley Crüe 2014 Final Tour schedule, visit www.Motley.com.