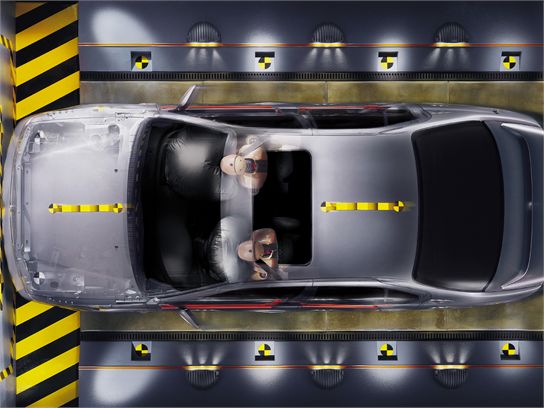 There is no sound at that moment when a car collides. The point of impact is a pause, followed by the scream of shattering glass and corkscrewed metal. It is a space, a held breath, a second when there is nothing but the deep inhale of air between two onrushing objects.
Strange things happen there, in the space when cars collide. And no one can ever know everything that happens when hell is loose and the glass breaks. It is, perhaps, the purest form of chaos, and measuring that chaos is what the Insurance Institute of Highway Safety does. Tucked away in the hills of Virginia, the Institute's VRC -- Vehicle Research Center -- is where they examine that pause, reproduce it, watch it and measure it until they know everything possible about what can happen when a real accident occurs. Their goal is to reduce injuries and improve vehicle safety, and since the VRC opened in 1992 the Insurance Institute has had a strong role in instrumented crash tests and component testing.
In essence, what the IIHS does is try to put a pattern to chaos. In doing so, they make it so that chaos doesn't happen to the people involved in a vehicle crash, whether it is a minor fender bender or a major impact. They crash cars for a living here, and have turned it into a life-saving science. Arguably, their testing is more up-to-date and "real world" than any other, including the government's testing at the National Highway Traffic Safety Administration (NHTSA), though both sources provide a critical overview of specific vehicle safety. Since 1978, NHTSA has conducted a 35 mph full frontal test where the full width of the front end of the vehicle hits a rigid barrier. One of the Institute's primary tests is a frontal offset, during which 40 percent of a vehicle's front end hits a deformable barrier at 40 mph. The Institute's barrier is designed to mimic the height, weight and width of a common SUV, and the offset angle is meant to replicate the most common accident scenario. The Institute has been conducting this test since 1995, and since then automakers have learned to either love or hate the folks in the Virginia farmhouse, depending on how their cars rate. To watch a group of automaker reps at the site of a testing is akin to watching first-time fathers in the hospital waiting room - or a guilty defendant and his lawyer outside the courtroom doors. "Our mandate is to find ways to reduce deaths, injuries and costs, and drive vehicle design improvements," said Brian O'Neil, (now former) president of the Insurance Institute of Highway Safety. "Safety has become a hot button, and we're seeing vehicle improvements through the worldwide marketplace. The paradigm has shifted."
This is serious business. Walk into the Institute and you are immediately confronted with two old and crumpled cars, on display as if they are for sale. These are the first-ever cars crashed for the explicit reason of finding out what would happen, and it's not pretty. Wander deeper into the institute and a strange dichotomy smacks you across the face: Here, at this idyllic location and in this spotless white building with gleaming floors, sit hundreds of crashed, crumpled and leaking vehicles.
Row upon row, these crashed vehicles are neatly labeled and explained and sorted by category. The display is a clear illustration of who makes the most dangerous cars, and, brutally, why. Off to the side with its own place of honor is a two-car pile up, both Fords and both badly beaten. The Explorer had hit the Focus on the side in a test conducted to prove the value of side air bags - proof vividly illustrated by a dark swath of face paint on the hood of the Ford Explorer. It's one of the more recent safety issues that the Institute has begun testing. As a result of their research and tests, O'Neil says that side curtain airbags are important -- but what's even more critical is the type of airbag, because the point of side airbags is to protect the head. "It's not as necessary to protect the torso with an airbag," O'Neil says. "A side airbag that protects the head is a requirement."