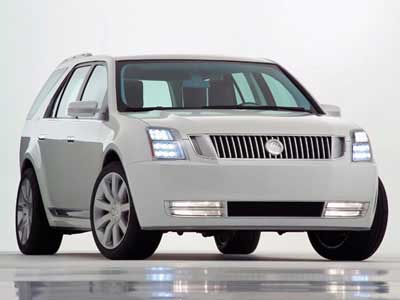 Consider what goes into the morning drive to work: searching for a good radio station, checking the mirror for Raisin Bran between those bicuspids, searching for the ringing cell phone, avoiding eye contact with road rage dude. What usually ends up at the bottom of the list is concentration on driving. And that's scary. Yet, with more and more distracted drivers traveling an outdated and overburdened highway systems, vehicle safety has jumped significantly in importance for car shoppers and, therefore, manufacturers. The latest example of this focus on safety is the Mercury Meta One concept vehicle, a midsized crossover SUV packed with a lane departure warning system and an advanced braking system. We all know, however, that safety by itself doesn't sell cars, so the Meta One also incorporates a bevy of high-tech gadgets into the passenger compartment and the powertrain. Inside is a navigation system that offers up-to-the-minute traffic information, an ignition slot that also serves as a data port, and a display panel that is akin to a computer desktop. And don't miss the 880-watt sound system. Moving the whole package down the road is a twin-turbocharged, six-cylinder diesel engine that runs on biomass fuel and is mated to a hybrid transmission. The result is the cleanest diesel engine possible with 431 lb.-ft. of torque. Ford officials claim that a production version of the Mercury Meta One will arrive in showrooms in 2007, likely without features like the biomass diesel and the data port ignition.
What is LDW?
According to the National Highway Transportation Safety Administration (NHTSA), the majority of fatal accidents are due to vehicles drifting into other lanes. It's a fact of which the engineers at Ford are keenly aware. Serving as the stage for the introduction of Ford Motor Company's Lane Departure Warning (LDW) system, the Mercury Meta One can detect when the vehicle is drifting out of the intended lane and warn the driver. LDW technology is currently offered in select luxury vehicles as well as a growing number of large commercial trucks, and like those already on the market, Ford's version uses a small in-car camera that tracks vehicle position in relation to the markings on the road. If the distance between the center of the vehicle and the markers on the pavement decreases, a warning will alert the driver to correct course. Warnings include visual and audible cues, in addition to vibrations in the driver's seat. In the Mercury Meta One concept car, drifting into a right or left lane triggers a vibration in the respective side of the driver's seat. The system is only intended to address unintentional lane changes, and is overridden by the use of turn signals. LDW requires the headlights to be on, and is effective both day and night, though unmarked roads remain an obstacle. Finally, it should be noted that LDW serves only as a warning system, and will not prevent the vehicle from ultimately drifting into opposing lanes.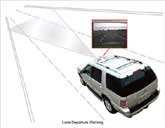 What is CMbB?
Featured on the Mercury Meta One concept car is a Collision Mitigation by Braking (CMbB) system, developed in partnership between Ford and Volvo. CMbB is similar to LDW, in that it features a camera that monitors the vehicle's location on the road. However, CMbB adds radar that, with the camera, evaluates speed and proximity to nearby vehicles to determine if a collision is imminent. In such cases, CMbB increases braking force, serving to slow the vehicle by five-mph or more and lessening the severity of an impact. CMbB works at any speed and allows the driver to continue with evasive maneuvers, if necessary.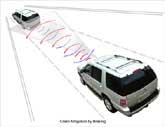 Hardware
Innovative thinking runs rampant in the six-passenger, all-wheel-drive Mercury Meta One, extending from the interior's technological wizardry to the engine bay's ultra-clean six-cylinder motor. Under the Meta One's hood is a turbocharged 2.7-liter, dual overhead cam diesel engine that runs on synthetic biomass fuel and is mated to a hybrid six-speed automatic transmission. The unique diesel fuel starts as biomass feedstocks (grass, food crop residues, municipal solid waste), which is then converted to hydrogen and carbon dioxide, and ultimately into a hydrocarbon material that serves as a diesel fuel substitute. Add in the hybrid transmission, which uses electric motors and hydraulic clutches to provide takeoff power (when diesels usually pollute the most), and the Meta One qualifies as a PZEV-rated (Partial Zero Emissions Vehicle) diesel – try finding another one of those. Power for the grass-smoking Meta One is rated 248 horsepower at 4,000 rpm and a very impressive 431 lb.-ft. of torque at 1,900 rpm. That's a lot of power to handle, so Ford engineers equipped the Meta One with 12.5-inch vented disc brakes up front and 13-inch solid discs in the rear. Carrying the weight of the engine is an independent MacPherson strut suspension and out back is an independent multi-link setup with coil-over shocks. Stabilizer bars are bolted in front and rear. Inside the wheel well of the 4,250-lb. Mercury Meta One are 20-inch alloys cloaked in 255/50 tires.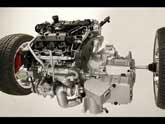 Tech goodies
Safety and clean diesels are great, but drivers want some toys they can see and touch, too, and in that respect the Mercury Meta One delivers. The first of these is SmartNav, a navigation system that provides real-time traffic information and can subsequently offer alternate routes to avoid congestion. Next is KeyDA, where the ignition is actually a standard USB port. Ford points out that KeyDA would allow, for example, a driver to develop a complete trip itinerary on her home computer and then download it into the Mercury Meta One's navigation system. And finally there's the configurable dash display; a driver can manipulate the instrument panel much like the desktop of his home computer, arranging icons and bringing pertinent information to the forefront.Also featured in the Mercury Meta One is a wireless portal system, front and second row USB ports, Sirius streaming video capability, and a 15-speaker audio system with a subwoofer and 880 watts.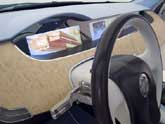 Wrap-up
There's no guarantee that the Meta One's full list of safety features will ever make it to Mercury showrooms, but the actions of Congress may help to tip the scales. If approved as written, the Intelligent Vehicle Highway Safety Act of 2004 would offer up to $1,000 in tax relief for consumers who purchase a vehicle with advanced safety technology, such as a lane departure warning system.Now, what's really needed is a dash-mounted keyboard. Using a laptop while driving is really starting to get annoying. Photos courtesy of Ford Motor Company