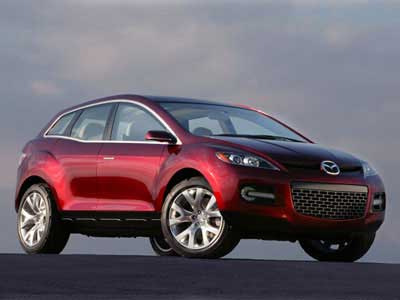 Zoom-zoom!
For anyone who has watched a television commercial or has been car shopping over the past few years, that simple slogan is easily identified with Mazda. And, with the exception of the family's aging black sheep, the B-Series pickup, it fits. Mazda's Miata is a lightweight, drop-top pocket rocket; the Mazda 3 puts smiles on the faces of a growing number of compact car drivers; the Mazda 6 has proven to be one of the more entertaining midsize cars currently available; and the Tribute continues to add a bit of sport to the SUV segment. Maybe Mazda designers have been drinking lots of coffee. Maybe they've been shooting up with Mountain Dew. Whatever the case, their enthusiasm comes across loud and clear in the MX-Crossport, a four-passenger SUV concept that demonstrates Mazda's desire to inject even more of its zoom-zoom DNA into the SUV segment.
Design
One of the goals of the MX-Crossport concept is to create a vehicle that offers both sport and utility, but not in a traditional SUV wrapper. But more importantly, it's engineered with a true driving enthusiast in mind. Designed in Japan with a focus on the North American market, the MX-Crossport takes its styling cues from the RX-8, resulting in a handsome design with fluid bodylines and subtle, yet well-sculpted wheel flares. While the look is attractive and clean, the MX-Crossport comes up a bit short in distinguishing itself from Mazda's competitors. What is special is the glass roof, with a unique feature that transforms it from a clear to a translucent panel that limits the amount of light entering the cabin. Stylish 20-inch polished alloy wheels are wrapped in 275/45 tires.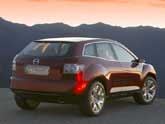 Interior
Inside, brushed aluminum trim is used throughout the passenger compartment for a high-tech look. Four bucket seats are covered in leather and include integrated seatbelts, and the rear bucket seats fold, resulting in a flat cargo floor protected from prying eyes by a power-activated cargo cover. Mazda's Three Panel Display system, which features a collection of monitors that offer information such as vehicle diagnostics, Internet functions, and views of the road from integrated cameras, is also included. Mazda officials claim that there are no plans for a production version of the MX-Crossport concept at this time, but that a derivative is a definite possibility. The truth is, it's downright probable. Mazda's parent, Ford Motor Company, is due to release a number of new products built off of a Mazda-sourced vehicle platform and powered by a 3.5-liter V6, including a new Lincoln crossover vehicle. So, don't be surprised when a somewhat toned down production version of the MX-Crossport, complete with that new V6, makes its way to your local dealer's lot.
Photos courtesy of Mazda