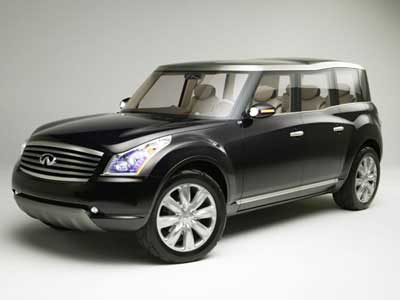 According to Mark Igo, Vice President and General Manager of the Infiniti Division of Nissan North America, the Infiniti Kuraza concept vehicle is "about hospitality, not transportation." That's kind of an odd approach for something that is inherently built to, well, transport.Igo goes on to state that the Infiniti Kuraza is a design study that is focused more on the use of space rather than the utility of space. What that translates to is a concept vehicle that provides seating for six with virtually no cargo room. Add some yellow paint and a few extra rows of seats, and ladies and gentleman, behold, the Infiniti Kuraza school bus! No, it's not that bad, but it offers a face only Infiniti designers could love and promises next to no space for carry-on bags. Even if the company's enviable 3.5-liter V6 or the muscular 4.5-liter V8 were placed under the hood, the Kuraza is a dog that should never be let out of the concept cage.
Details
Three rows of bucket seats provide seating for six, and each passenger is afforded a great deal of personal space. The result, however, is very little room for cargo behind the third row seats. And while each seat features power adjustment, the one-piece center console that runs continuously down the middle of the cabin prevents any true interior versatility. But, again, versatility and utility are not goals of the Infiniti Kuraza concept. Indeed, the Infiniti Kuraza is simply a passenger vehicle. Infiniti representatives describe the Kuraza as "strong," "vibrant," "rewarding," an SUV that offers "a highly social space that provides panoramic views." One of the goals of the design was to exhibit gracefulness and serenity, which reflects the Japanese culture from which it was born. Helping to form the Infiniti Kuraza's attractive silhouette are glass roof panels, flush suicide-style rear doors, and brushed aluminum that outlines the grille and roof. The fluid lines of the body and glass indeed say elegance, but the mammoth 23-inch tires make "graceful" a tough sell. However, with wood trim located on the dash, on the floors, and scattered throughout the cabin, and supple leather covering nearly everything else, the interior can accurately be called serene and rewarding.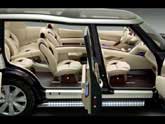 Wrap-Up
It seems odd for an automaker to experiment with a utility-less utility vehicle. But, given the fact that most luxury suv owners do little more with their vehicles than transport themselves and friends, the Infiniti Kuraza's "let's cut to the chase" approach may be one of the more sensible concepts to come out of the world's automotive design studios. Too bad the Kuraza totally lacks usable cargo space and is butt ugly stylistically-challenged.
Photos courtesy of Infiniti