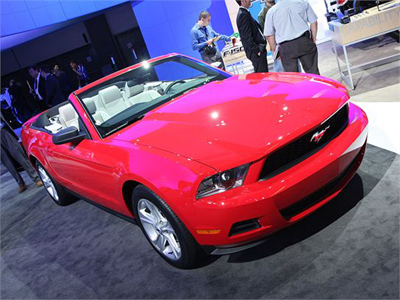 The 2010 Ford Mustang is a good, not great iteration of the sacred Ford ponycar. What saved the car's intro at the 2008 L.A. auto show was the inclusion of the convertibles on the Ford show stand. Convertibles are always cool, but the new Mustang in convertible form is a part of Mustang culture -- like sunsets and the beach. The Ford Mustang convertible is the car of summer. At the L.A. auto show in November, it was a breath of July. It's coming next spring.
Photo Credit: Staff
Page 2
193 miles per hour isn't as fast as it sounds -- it's mind-numbingly faster. In its North American debut at the 2008 L.A. auto show, the 2009 Ferrari California Spyder looks sinfully fast. Now take that 193-mph figure -- courtesy of a 460-horsepower 4.3-liter V-8 -- and imagine that you've made the retractable hardtop disappear into the trunk. That's windburn waiting to happen. All for just around $250,000. Seeing the 2009 Ferrari California at the 2008 L.A. auto show is a perfect California moment.
Photo Credit: Staff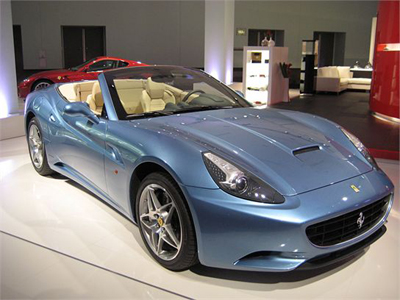 Page 3
Hardtop convertibles rule -- they offer a breeze anytime or a secure enclosure when the weather or the neighborhood gets dicey. The latest version coming to a summer day near you is the 2009 Infiniti G37 retractable-hardtop convertible. Staring at it on the stand at the 2008 L.A. auto show, we couldn't decide whether we liked it better with the top up or the top down, so we decided both. Expected to start just under $40,000 (let's cross our fingers), the 2009 Infiniti G37 Convertible -- an instant summer vacation -- will arrive in Infiniti showrooms this coming spring.
Photo Credit: Staff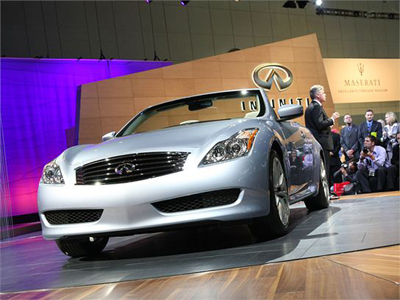 Page 4
Lexus is not often a brand associated with automotive lust, despite the company's best efforts with cars like the SC coupes. So why not a convertible of its hot-selling IS sedan? The two-door convertible that made its U.S. debut at the 2008 L.A. Auto Show features a folding hardtop that cuts into luggage space, but makes for one fine looking convertible. It also promises all the goodness of the sedan, with good handling, responsive steering and fun rear-drive handling.
Photo Credit: Staff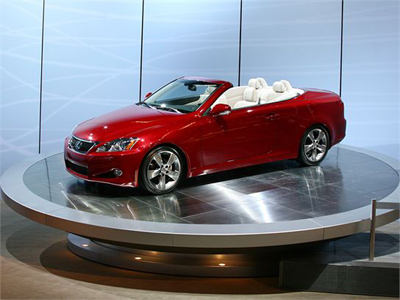 Page 5
If you're one of the few conspicuous consumers (or one of the subtle rich) who survived the southbound turn in the economy, treat yourself to a 2010 Bentley Azure T. The Bentley Azure T was unveiled at the 2008 L.A. auto show to a great deal of people who couldn't afford it, but who nonetheless appreciate a massive 2.5-ton convertible that's dripping in luxury and possessed by a 6.8-liter twin-turbocharged V-8 that makes 500 horsepower (and makes every other convertible in the room feel just a little bit inferior). This is maximum top-down touring in action.
Photo Credit: Staff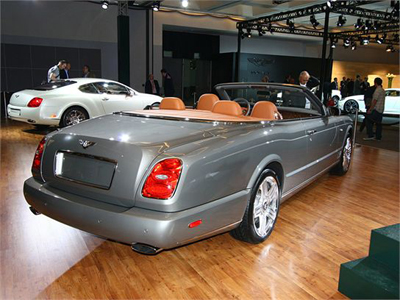 Page 6
With every new Boxster convertible, Porsche reminds us how lucky we are to be warm-blooded, warm-weather mammals. At the 2008 L.A. auto show, the debut of a bright-red second-generation, 2009 Porsche Boxster was like getting the gift of summer in November. As the poet once said -- well, some poet must have said -- the only thing better than driving a Porsche on a warm summer day is driving a convertible Porsche and a warm summer day.
Photo Credit: Staff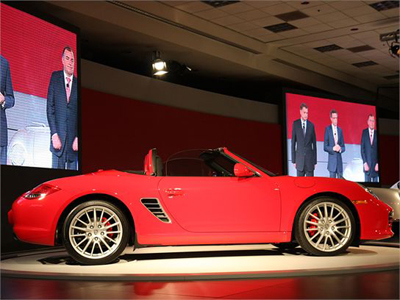 Page 7
MyRide's 2008 L.A. auto show coverage is a real-time, non-stop affair. And as long as there are new cars, concept cars and world premieres being unveiled at the L.A. auto show, we'll be collecting them and adding pages, photos and video to the stories like the one you. So over the next few days -- or even just a couple of hours from now -- you're invited to return to the 2008 L.A. auto show story you've just finished to see what amazing new cars and concepts we've added to it.
In the meantime, check out these other all-new highlights from the 2008 L.A. auto show:
Photo Credit: Ron Perry