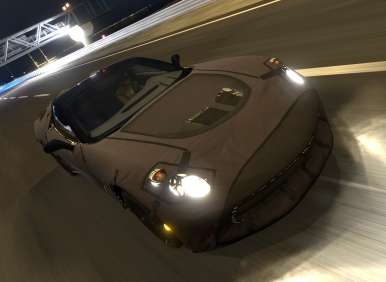 Although the all-new 2014 Chevy Corvette won't hit the road until sometime next year, it's ready for the track today—the virtual track, that is. Backed by a collaboration between the Bowtie brand and Polyphony Digital—creators of the highly popular Gran Turismo videogame—drivers can now download a digital Corvette C7 Test Prototype and race it on some of the world's most challenging race courses.
"Gran Turismo has had many firsts and we're excited to partner with Chevrolet for yet another—bringing the first-ever Chevrolet prototype vehicle into a racing game," said Kazunori Yamauchi, president of Polyphony Digital, Inc. "As car enthusiasts, we're thrilled to give fans this extraordinary level of access to the seventh-generation Corvette that otherwise would not be possible."
Now, it must be admitted that the Gran Turismo car wears the kind of camouflage that automakers typically use to keep their latest vehicles undercover for as long as possible, but Chevy claims it will incorporate some of the real Corvette's "specific driving characteristics," thanks to Polyphony's superior gaming technologies. Of course, the Gran Turismo Corvette Prototype will have a lower MSRP—of exactly $0—and currently is available at the Playstation Store.
"Until now, only the most skilled drivers on the Corvette team have been authorized to push the test prototypes to the limits on some of the most challenging track surfaces in the world," said Chris Perry, vice president of Chevrolet Global Marketing. "Through this unique collaboration with Gran Turismo, Chevrolet is able, for the first time, to give performance car enthusiasts access to such an exclusive driving experience."
(For more news about the road-going 2014 Chevy Corvette, be sure to visit www.One13Thirteen.com or the Corvette's Facebook page.)