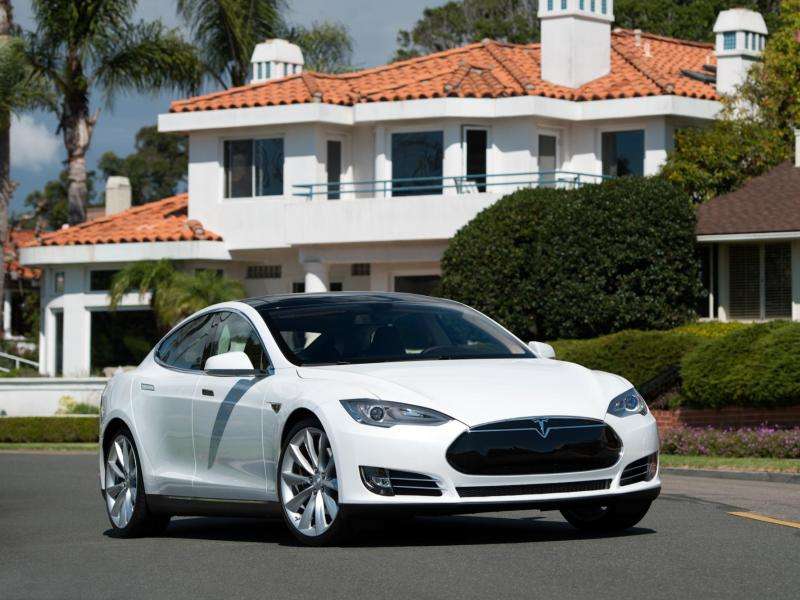 One of the country's most trusted sources for independent automotive research—Consumer Reports—has named the Tesla Model S the "Best Overall" vehicle among its "Top Picks" for the current year. The news comes after the premium EV scored 99/100 points during CR road tests during 2013, and marks the first time the publication has named a "Best Overall" winner since 2010 (when the Lexus LS earned that honor).
CR editors specifically lauded the Tesla Model S for its:
"Blistering acceleration, razor-sharp handling, compliant ride, and versatile cabin, which can fit a small third-row seat"
"Massive, easy-to-use 17-inch touch screen [that] controls most functions"
"Totally keyless operation, full Internet access, and ultra-quiet, zero-emission driving"
The car's 225-mile range and quick charging times also earned praise from CR, with editors concluding that: "The Tesla is a glimpse into a future where cars and computers coexist in seamless harmony."
Along with the Tesla Model S, the rest of the Consumer Reports (ITALS) Top Picks for2014 were:
Subaru Forester (Small SUV)—Backed by an exceedingly versatile and "user-friendly" cabin and "class-leading" fuel economy
Honda Accord (Midsized sedan)—Recognized for hitting "a true sweet spot in today's auto market" with the four-cylinder model
Subaru Impreza (Compact car)—Called "well-rounded" and capable of "commendable" fuel-economy given its standard all-wheel drive
Hyundai Santa Fe (Midsized SUV)—Acclaimed for "a comfortable ride, a quiet interior, a limo-like rear seat, and generous cargo area"
Toyota Prius (Green car)—Chosen in this category for the 11th consecutive year
Ram 1500 (Pickup truck)—Noted as the first Top Pick from the Chrysler Group in 16 years
Audi A6 (Luxury car)—Highlighted as "a joy to drive" with, as expected from Audi, "a sumptuous, impeccably finished, first-class cabin
BMW 328i (Sport sedan)—Still helping to "set the standard for sport sedans" by showcasing "excellent handling and a high fun-to-drive factor"
Honda Odyssey (Minivan)—Simply "the most complete family vehicle you can buy"
Note: To qualify for CR's Top Pick list, vehicles must earn superior in-segment overall test scores, achieve at least average reliability scores in the publication's annual owner-driven auto survey, and "must perform adequately" in safety testing by the government and/or insurance industry.