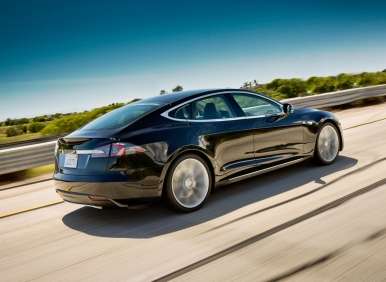 By capturing 99 of 100 points in the publication's rigorous vehicle-evaluation program, the 2013 Tesla Model S has become the top-scoring vehicle ever reviewed by Consumer Reports. It's the latest in a string of good news for Tesla, which has recently seen its third-party honors begin to translate into real-world success (except for that pesky New York Times brouhaha).
For example, CR fairly gushed over the performance of the car, noting that it "comes close" to being literally the best car ever made and, although it "may not satisfy every conceivable need … as we've learned through our testing and living with it, the Model S is truly a remarkable car." And Consumer Reports is clear: The 2013 Tesla Model S doesn't earn this praise despite being an EV, "it does so because it is electric."
Well, and because it's a well-built premium sport sedan that can outrun a BMW M5 from 0-60, out-distance a Nissan LEAF with an extra 190 miles of all-electric driving range (for an EPA-certified range of up to 265 miles), and use 33 percent less energy each year, on average, than a Toyota Prius (again per the EPA).
But gaudy performance numbers like those are no guarantee of sales success, so it's worth pointing out that the 2013 Tesla Model S also became the best-selling EV in the country in April. Now, Tesla doesn't bother reporting monthly sales like the rest of the industry does, but the experts who run the Hybrid Cars Dashboard estimate there were about 2,100 Model S deliveries last month; the only other plug-in vehicles with more than 1,000 sales in April were the LEAF, with 1,937 deliveries, and the Chevy Volt, which sold 1,306 units.
Even better: After 10 years of operation, Tesla posted its first quarterly profit ever in Q1 of 2013, earning $15 million (excluding "non-cash warrant and stock option items").