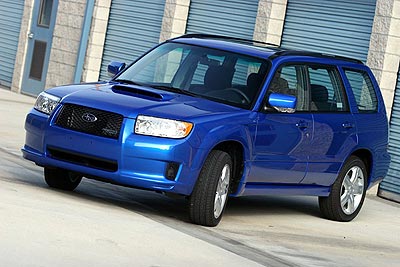 2007 Subaru Forester Sports – News: Subaru used the annual SEMA show in Las Vegas as the backdrop to unveil its 2007 Forester Sports model, as well as a concept version of the same vehicle outfitted with the brand's new retail performance package. The production Forester Sports, available in 2.5 X and 2.5 XT trims, and is aimed at providing the boxy wagon with a more youthful and powerful presence. To that end, unique visual cues and desirable features have been added, though they aren't quite as impressive as those on the Forester Sports Concept. That vehicle showcases the new SPT (Subaru Performance Tuning) Power Pack, running the gamut from cat-back exhausts to strut tower braces.
2007 Subaru Forester Sports – What it offers
Like all Subarus, the 2007 Forester Sports 2.5 X and 2.5 XT feature all-wheel-drive, and either a standard five-speed manual or four-speed automatic transmission. The 2.5 X houses a 173-horsepower engine, while the 224-horsepower 2.5 XT uses a turbocharged four-cylinder. When coupled with an optional four-speed automatic transmission, the 2.5 XT marks the first time a Forester has been available with Subaru's Vehicle Dynamics Control (VDC), a stability control system that blends the efforts of traction control, all-wheel drive, and a limited-slip rear differential. Also featured is an automatic climate control system, an MP3/WMA-capable six-disc CD changer, an iPod jack, Sirius satellite radio, a unique black cloth interior, and standard Forester items such as front side airbags and ABS.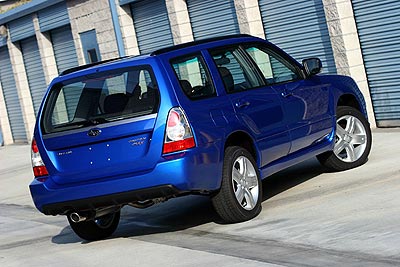 2007 Subaru Forester Sports - What it looks like
Subaru designers added a few select styling cues to distinguish the Sports models from the rest of the 2007 Forester lineup. Among them is a bold, muscular front fascia that is set off by black honeycomb inserts in the grille and lower side vents. Fit into the wheel wells are standard 17-inch alloys. Cross bars on the roof rack system have been deleted to give the Sports a cleaner appearance, though they are offered as an accessory. Finally, there's the WR Blue Pearl paint that we've come to associate with the Impreza WRX and STi. There's no word on pricing, but look for the Forester Sports to arrive at dealers soon.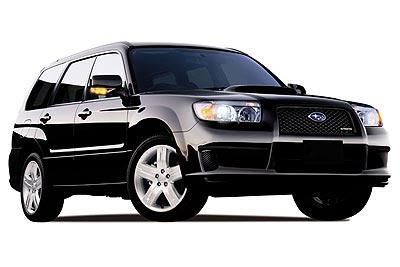 Subaru Forester Sports Concept – Power Pack
Also unveiled at the 2006 SEMA show was the Forester Sports Concept, looking similar to the production version, albeit hopped up with various mods, including parts developed by Subaru Performance Tuning (SPT) and sold as Power Packs. The Forester Sports Concept featured STi goodies including a six-speed manual tranny, a suspension system with adjustable coil-overs, braided brake lines, and18-inch gold wheels with STi lug nuts. The Power Pack added a high flow air intake system and a heat shield. Depending on the particular Subaru model, SPT also offers cat-back exhaust systems, strut tower braces, and more.
Photos courtesy of Subaru of America, Inc.