HFP package adds body kit, 18-inch wheels, as well as suspension and exhaust upgrades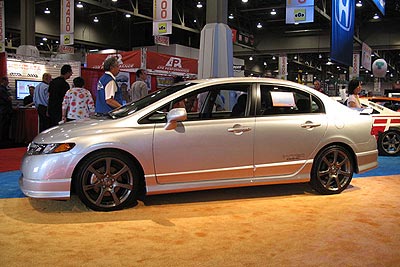 2007 Honda Civic Si Sedan – News: Honda has announced that a factory-developed, dealer-installed performance package will be available for the Civic Si Sedan starting next spring. Dubbed HFP for Honda Factory Performance, the package will offer features that improve the Si Sedan's handling, add a more aggressive appearance, and do so for a price less than $4,000. Speaking of dollars, Honda shared the announcement of the HFP package with the official release of 2007 Civic Si Sedan pricing. The base model will sell for $21,855 including destination, while a Si Sedan with a navigation system will retail for $23,635. Performance tires add $200 to the base price of each.
2007 Honda Civic Si Sedan HFP Package
The HFP package for the 2007 Honda Civic Si Sedan includes tuned springs that drop the ride height and center of gravity about one inch, thereby improving handling. Same goes for the stiffer shocks, which are also designed to improve the Si Sedan's cornering capabilities. The standard Si Sedan rolls on 17-inch wheels, but the HFP version bumps those up to 18 inches (tires are not part of the package – they must be purchased separately). An HFP-equipped Civic Si Sedan also boasts a larger chrome exhaust, unique badges, and a complete lower body kit.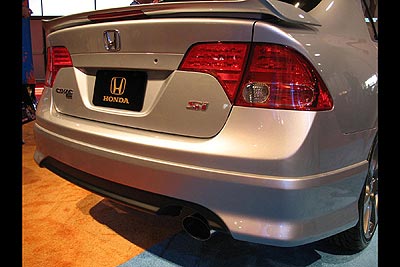 Pricing
Honda has priced the Civic Si Sedan HFP package at $3,800, though that does not include tires or dealer installation, which should take between five and six hours. If you figure about $1,000 for tires and about $500 for labor, the total package price could realistically run more than $5,000. Add that to the vehicle's base price, and you're looking at an estimated $27,000 - $29,000, give or take, for a brand spankin' new 2007 Honda Civic Si Sedan with the HFP package.
Photos courtesy of Thom Blackett