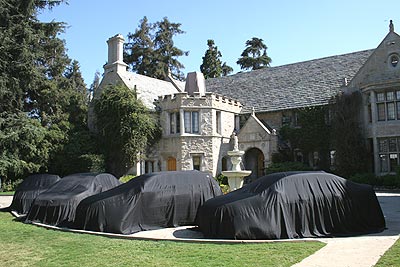 VW Special Editions – Consumer Alert: Volkswagen recently announced four new special edition models at a press conference held at the Playboy mansion that provides exclusivity on a budget. Sitting under black wraps in front of Hef's place were special editions of the GTI and GLI, the New Beetle and the Jetta. All will all be available later in the model year.
The Lineup
Lined up against the backdrop of the Playboy mansion are the Wolfsburg edition Jetta, the Fahrenheit GTI and GLI and the new Triple White New Beetle Convertible. Each package consists of its own upgrades from wheels, trim, paint colors and limited number production runs.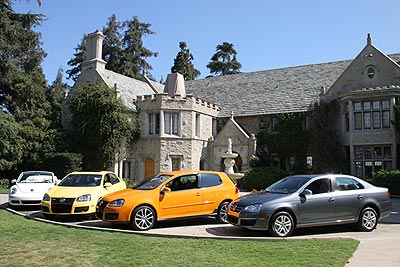 The Wolfsburg Edition Jetta
Volkswagen has packaged the new Wolfsburg Edition Jetta to be a $2,000 value when compared with a similarly equipped Jetta. The Wolfsburg Edition not only saves you the cash but also gets you a well-equipped model that is set apart from a standard Jetta by a Wolfsburg Badge, five special paint schemes, wheels and other additional special features.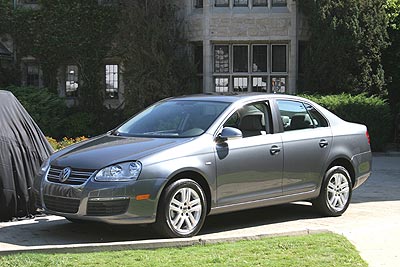 Wolfsburg Edition Additional Features
In addition to the badge and paint scheme, buyers of the Wolfsburg Edition Jetta also get 16-inch alloy wheels, sunroof, leatherette seats, cold weather package and monster floor mats.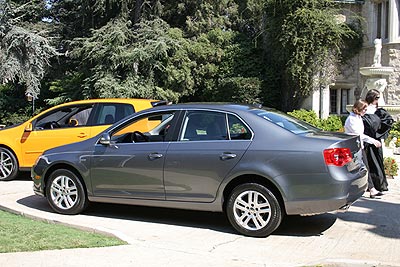 Wolfsburg Edition Pricing
If you desire a Wolfsburg Edition Jetta with an automatic transmission, the sticker price will come in at $20,435 (including $630 destination) with the manual version edition priced at $19,360. Pictured is the 16-inch wheel that is part of the Wolfsburg Edition package.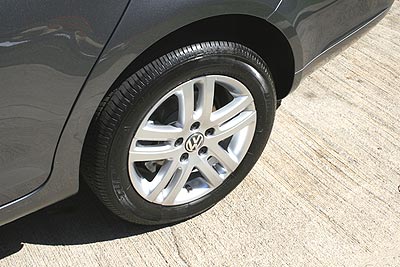 Fahrenheit GTI
Soon to hit the streets is a special edition GTI tagged Fahrenheit that will be instantly recognizable by its unique color, Fahrenheit Orange. Only 1200 of the Fahrenheit GTI's will be built, and each is individually numbered with a plaque on the steering wheel.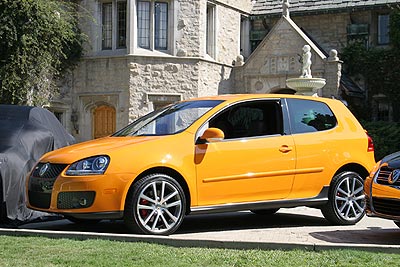 Limited Edition
Each Fahrenheit GTI sold is branded with the edition number, 1-1200, on a color-keyed plaque mounted on the lower spoke of the steering wheel.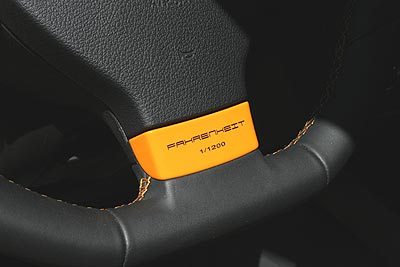 Steering Wheel
Buyers of the Fahrenheit Edition model GTI get a three-spoke perforated leather steering wheel that displays the individual edition number of each car.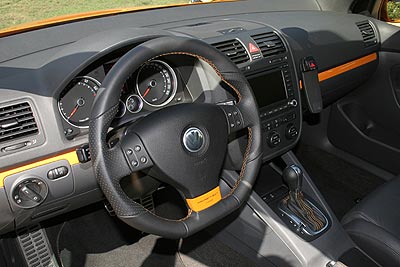 The Package
Unique 18-inch wheels are part of the Fahrenheit GTI package offered for 2007. The Fahrenheit package also gets you a sport tuned suspension, exterior Fahrenheit badging, heated leather sport seats, sunroof and color-keyed interior trim and stitching and optional Sirius Satellite radio. Sticker price is $27,665, including $630 destination..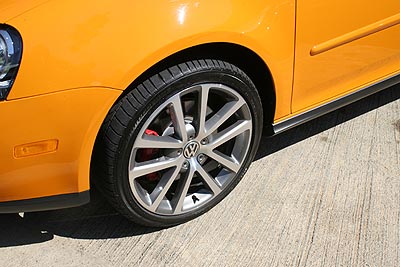 Fahrenheit GLI
The Fahrenheit GLI offers the same option upgrades as the GTI but with a Fahrenheit yellow paint instead of the orange. The production run of the Fahrenheit GLI is also limited to 1200 units.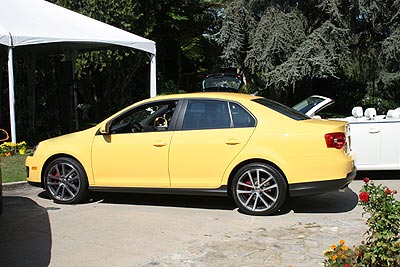 Badging
In case the Fahrenheit Yellow isn't enough to inform others you are driving a limited edition GLI, each car also carries a Fahrenheit badge just under the passenger side taillight.