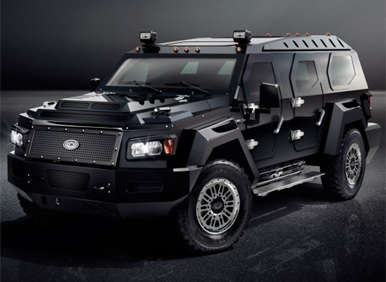 Conquest Vehicles has made quite a name for itself with the Knight XV - exactly what you'd get when combining the likes of an armored bank truck with a Bentley - but the Toronto-based company has just introduced a new unarmored SUV. The all-new Evade will go on sale this fall for $579,000, and it will offer buyers all of the military-inspired design of the Knight XV with a lower starting price and curb weight.
The Evade's hand-built body is very similar to what is found on the armored Knight XV with its angular edges, wide fenders and massive tires, but the Evade has a slightly different look with rectangular headlights, wraparound taillights, a larger hood scoop and a wider rear door. Special touches on the truck include door hinges, the steering wheel, running boards and even the ignition key machined from solid stainless steel, while each door handle is machined out of a single piece of aluminum.
No interior pictures of the Conquest Vehicles Evade were released, but the company says that the truck has an interior to match the price with "high-grade" leathers and Alcantara mixed with composite and metallic components. The four-passenger Evade (arranged in a 2+2 seating configuration) comes standard with dual front touch-screen controls, a trio of sunroofs, FLIR night vision for the front and rear, four-wheel air suspension and 360-degree, remote-controlled spot lights mounted on the roof while options include electrically reclining rear seats and the choice of a rear partition or drop-down flat-screen television screen. In total, the Evade provides more than 400 cubic feet of cabin space.
"The goal was to create an elegant, intelligent and utilitarian SUV that speaks to Conquest Vehicles' clients' refined taste while offering an environment that also speaks to their business and technology needs," said William Maizlin, President of Conquest Vehicles. "The result speaks for itself in terms of the final product, and we couldn't be happier."
Starting with a Ford F-550 Super Duty chassis (just like the armored Knight XV), the Evade comes in a standard four-wheel drive layout with a choice of gasoline or diesel engines. While the exact specs were not released, the Evade likely uses the same Ford-sourced 6.8-liter V-10 that is found under the hood of the Knight XV, and the diesel engine option, based on the F-550 Super Duty specs, is probably the 6.7-liter Power Stroke V-8.
Conquest Vehicles first appeared on the scene with the $629,000 Knight XV that was unveiled at the 2008 SEMA Show, and among the famous owners of this armored luxury truck include Dwight Howard of the Orlando Magic.