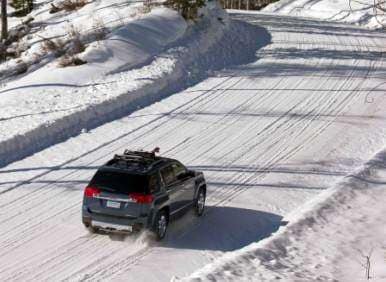 Walk into the showroom of almost any major automotive brand and it's not hard to spot a pair of crossovers that seemingly complement each other in terms of size, mission and styling. It's not always easy to know which particular SUV is going to offer you the best blend of fuel efficiency, practicality and curb appeal, which is why we put together a short guide to comparing and contrasting same-brand sport-utility options in order to help make the decision that much easier.
Let's take a look at four pairs of SUV siblings that share a family resemblance but not necessarily the same strengths and weaknesses.
01. 2012 Chevrolet Equinox
The 2012 Chevrolet Equinox is a compact crossover that seats five and offers 63.7 cubic feet of total cargo space. The Chevrolet Equinox is a reasonably sporty-looking SUV that drives far more like a tall wagon than a truck, which makes it popular amongst families who need additional storage space and the enhanced inclement weather stability provided by its all-wheel drive system.
The Equinox starts out with a 2.4-liter, four-cylinder engine that delivers 182 horsepower and 172 lb-ft of torque, but an upgrade is available in the form of a 3.0-liter V-6 that pushes out 264 horses and 222 lb-ft of twist. The smaller mill delivers the most impressive fuel economy of the pair of drivetrain options, with a rating of 22-mpg in city driving and 32-npg on the highway. A six-speed automatic transmission is standard with either motor.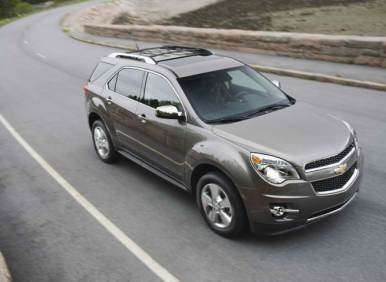 02. 2012 GMC Terrain
The 2012 GMC Terrain shares its platform with the Equinox and checks in as the smallest vehicle currently built by the truck-focused brand. The GMC Terrain adopts much more of a masculine look when compared to its Chevrolet cousin, and its slab sides and chunky front fascia are in keeping with GMC's current design language. Passenger and cargo capacity match that of the Equinox, but the Terrain's cabin can be given decked out with a higher level of equipment than the Chevrolet. Drivetrain options remain identical - as does fuel mileage - which makes the choice of which of these two SUV siblings to purchase largely one of personal preference and budget.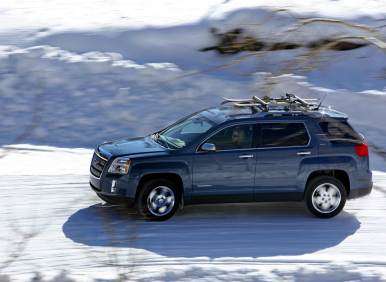 03. 2012 Jeep Patriot
The 2012 Jeep Patriot is the most affordable entry point into the off-road brand's lineup. The Jeep Patriot's simple, boxy shape contains two rows of seating for up to five occupants as well as 53.5 cubic feet of total interior cargo room with the rear accommodations folded forward. Ordering the Off-Road Group of features installs a more aggressive, trail-capable four-wheel drive system as well as knobby tires and skid plates.
The 2012 Jeep Patriot (which can also be had with a simpler four-wheel drive or front-wheel drive setup), is initially offered with a 2.0-liter, four-cylinder engine under the hood. Capable of generating 158 horsepower and 141 lb-ft of torque, this unit delivers fuel economy of 23-mpg city and 29-mpg highway when paired with its optional continuously-variable automatic transmission. A five-speed manual gearbox can also be had with the compact SUV. Those seeking a bit more grunt can choose to have a 2.4-liter, four-cylinder motor installed in the Patriot, and it delivers 172 horsepower and 165 lb-ft of torque while dropping fuel economy only slightly. Transmission choices remain the same for the 2.4-liter.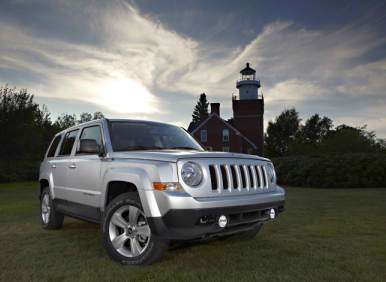 04. 2012 Jeep Compass
The 2012 Jeep Compass is a slightly larger compact crossover choice that delivers a smoother ride than the Patriot without sacrificing any off-road capability. The Jeep Compass matches the Patriot's passenger and cargo ratings but comes with much more attractive styling that is reminiscent of the range-topping Jeep Grand Cherokee.
Like the Patriot, the Compass offers front-wheel drive and two different four-wheel drive systems, with all-terrain chops available through the selection of the Freedom Drive II Off-Road package. The 2012 Jeep Compass also comes with the same engine choices as the Patriot, and it turns in fuel mileage numbers that are a dead ringer for the smaller crossover's window sticker. The Compass is considerably more expensive than its brother - about $3,000 more when looking at base MSRP - but its more modern styling draws in a considerable number of SUV shoppers.
05. 2012 Subaru Outback
There once was a time when the Subaru Outback was a more rugged edition of the mid-size Subaru Legacy wagon, but the 2012 Subaru Outback has grown into full-fledged crossover SUV status. Still displaying wagon-esque styling, the Subaru Outback's tall ground clearance, standard all-wheel drive and ability to carry 71.3 cubic feet of luggage combine well with its car-like handling.
The 2012 Subaru Outback offers the choice between four and six-cylinder engine options. The base model Outback features a 2.5-liter, four-cylinder that develops 170 horses and 170 lb-ft of torque while reporting fuel economy figures of 22-mpg around town and 29-mpg highway. A six-speed manual and a continuously-variable automatic transmission are available with this motor. The Outback 3.6R upgrades to a 256 horsepower, 3.6-liter six-cylinder engine that also puts out 247 lb-ft of torque. Fuel mileage for the 3.6R - which is shifted via a five-speed auto - is considerably lower than that of the thrifty four-cylinder.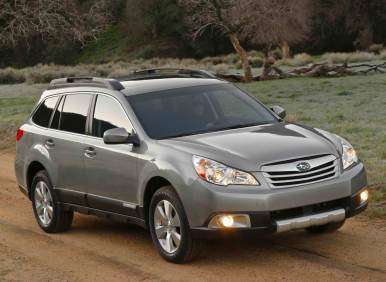 06. 2012 Subaru Forester
The 2012 Subaru Forester is another SUV offering from the Japanese manufacturer that has puffed up considerably since it was first introduced. Less expensive than the Outback, the Subaru Forester looks the part of a sport-utility vehicle and also offers better off-road capability. Both Subarus can seat five passengers, but despite boasting a higher ceiling than the Outback the Forester's cargo capacity is reported as a slightly smaller 68.3 cubic feet.
The 2012 Subaru Forester borrows its entry-level engine from the Outback, but it swaps in a turbocharged version of this power plant in place of the wagon's six-cylinder unit. The 2.5-liter four-cylinder turbo is good for 224 ponies and 226 lb-ft of torque, and transmission choices for the SUV include a five-speed manual and a four-speed automatic. Fuel economy for the naturally-aspirated edition of the Forester pulls ahead of its turbo companion with a rating of 21-mpg city and 27-mpg highway.
While the Outback offers the most agile driving dynamics of this pair of crossovers, the Forester's turbo option and commanding view of the road attract enthusiasts as well as practical-minded new car shoppers, giving the two vehicles a similar but subtly different demographic appeal.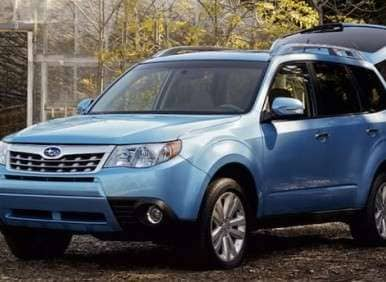 07. 2012 Dodge Caliber
The 2012 Dodge Caliber serves as the domestic automaker's only compact SUV option. The Dodge Caliber comes with 47.4 cubic feet of available cargo space and five passenger seating, making it a viable alternative to smaller hatchbacks. The Dodge Caliber's sole engine choice is a 2.0-liter, four-cylinder motor that produces 158 horsepower and 141 lb-ft of torque. Opting for the vehicle's continuously-variable automatic transmission ensures fuel economy of 24-mpg in stop and go driving and 32-mpg on the highway, which is a respectable performance for a small crossover vehicle. A five-speed manual tranny comes free of charge with the Caliber.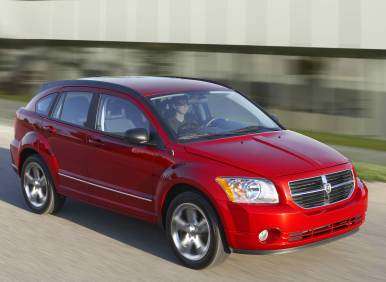 08. 2011 Dodge Nitro
You can still find a number of 2011 Dodge Nitro SUVs on dealer lots across the country, and although the vehicle is somewhat pricier than the Caliber it delivers more power, rough-and-tumble styling and the option of four-wheel drive.. The bigger, five passenger Dodge Nitro also counts roughly 18 more cubic feet of storage space for luggage than its sibling.
The 2011 Dodge Nitro features both 3.7-liter and 4.0-liter V-6 engines in its arsenal. The former offers up 210 horsepower and 237 lb-ft of torque, while the latter grinds out 260 horses and 265 lb-ft of twist. Four and five-speed automatic transmissions are standard with each respective motor, and fuel economy for the smaller unit ekes out a one-mpg advantage on the highway over the 4.0-liter (16-mpg city / 22-mpg highway).
The Nitro's bling factor (the crossover can be had with 20-inch wheels, heated leather seats and a navigation system) grabs the attention of SUV buyers right away, but the Caliber's better fuel economy and more affordable MSRP have given it staying power over its in-house competitor.