The 2012 Honda Civic and 2012 Hyundai Elantra are standouts in the very competitive compact vehicle market. Both models deliver a pretty solid all-around package, with highlights that include excellent gas mileage, an affordable price tag and long-term reliability. Keep reading to compare the 2012 Honda Civic and 2012 Hyundai Elantra to determine which model is right for you.
Styling: 2012 Honda Civic vs. 2012 Hyundai Elantra
The standard model for both the Honda Civic and Hyundai Elantra comes in a sedan body style. However, Honda also offers a Civic hatchback, and Hyundai offers an Elantra wagon. As such, if you need additional storage, then one of these variations may prove more enticing.
In terms of the sedans, it is pretty obvious that the Elantra has the more head-turning design. It's sloped corners and rounded exterior help distinguish it from the pack as one of the more attractive vehicles in the compact market. The Honda Civic, on the other hand, takes a more reserved approach. While not as attention seeking, the Civic certainly delivers a handsome, and well-put-together design.
Inside, the Honda Civic offers 11.7 cubic feet of storage space. The Elantra bests this figure with 14.8 cubic feet of storage.
View more photos of the 2012 Honda Civic
View more photos of the 2012 Hyundai Elantra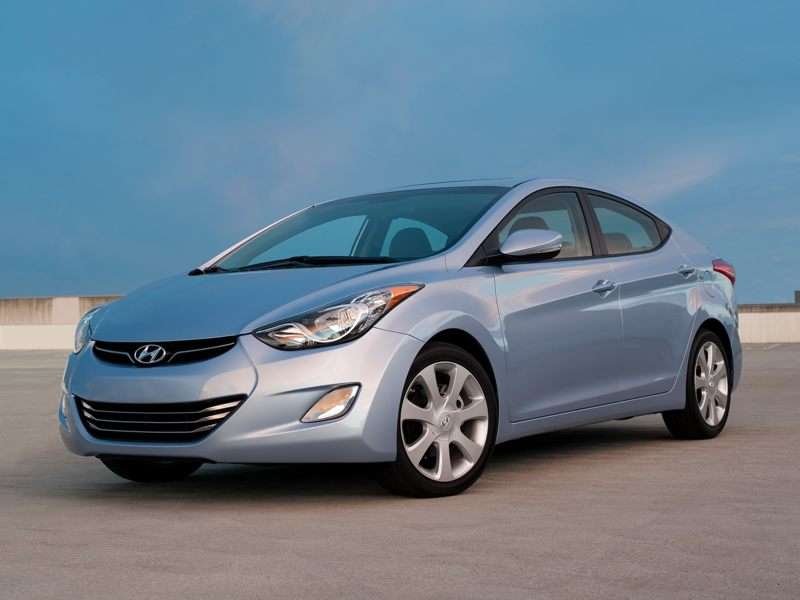 Performance: 2012 Honda Civic vs. 2012 Hyundai Elantra
Both the 2012 Elantra and 2012 Civic come standard with a 1.8-liter four-cylinder engine. The Civic offers 140 horsepower and 128 lb-ft. of torque, while the Elantra promises 148 horsepower and 131 lb-ft. of torque. Either engine will give you average performance compared to other vehicles in the class. For speed freaks, Honda also offers the much more powerful Civic Si (201 horsepower and 170 lb-ft. of torque). There are no engine upgrades available for the Hyundai Elantra.
In terms of gas mileage, both models are neck and neck. At its best, the Hyundai Elantra delivers 29 mpg in the city and 40 mpg on the highway (33 mpg combined). However, the Civic edges out these figures by adding one additional mpg on the highway (29/41/33 mpg). It should also be noted that the 2012 Civic is available with a hybrid engine. Shoppers who opt for this variant will be rewarded with 44 mpg in the city and 44 mpg on the highway.
Review full 2012 Honda Civic specifications
Review full 2012 Hyundai Elantra specifications
Safety: 2012 Honda Civic vs. 2012 Hyundai Elantra
The Honda Civic comes standard with front-wheel antilock disc brakes, stability control, front side airbags and side curtain airbags. All-wheel disc brakes are available as an upgrade. The Hyundai Elantra offers a similar package, with all-wheel disc brakes available on all models. In crash tests performed by the Insurance Institute for Highway Safety (IIHS), both models earned a best-possible rating of "Good" in all categories tested.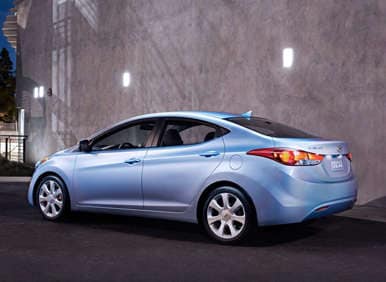 Pricing and Features: 2012 Honda Civic vs. 2012 Hyundai Elantra
In terms of affordability, the base Hyundai Elantra edges out the Honda Civic with an MSRP that is almost $500 lower ($15,345 vs. $15,805). Despite this slightly lower price, the Elantra actually manages to deliver a much longer standard features list. Base Elantra models come standard with keyless entry, heated mirrors, full power accessories, height-adjustable driver's seat, tilt steering wheel, six-speaker stereo, CD player, satellite radio, auxiliary input and iPod/USB interface. For a comparably equipped Honda alternative, you'll have to upgrade to the Civic LX model ($17,885).
Find a 2012 Honda Civic dealer near you
Find a 2012 Hyundai Elantra dealer near you