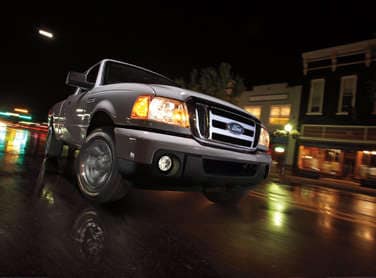 Compact pickups are an important niche in the new truck market, as they offer much of the utility of their larger brothers but at a lower price and with a smaller, more city-friendly footprint. Since many compact truck buyers plan on only occasionally making use of the full hauling and towing capability of their vehicles, compact crossovers are often shopped against their pickup cousins – usually at the same dealership. Although crossovers can't match the cargo capacity of a true truck, their ability protect the gear that they are transporting, as well as offer a more comfortable ride in some cases make a tempting compromise.
Let's take a look at one compact pickup and one compact SUV each from three major automakers and see how they stack up against each other in the most important areas.
2011 Ford Ranger or...
The 2011 Ford Ranger is in its final year of production, but it still has a lot to offer compact pickup buyers – especially those looking for a bargain. One of the least expensive trucks on the market, the Ford Ranger is also one of the smallest, which makes it much easier to navigate through crowded streets or down tight alleyways. The Ranger comes in Regular and SuperCab body styles, and while the latter does feature an extended passenger compartment the accommodations behind the front seat are best endured only by the very young, and for short trips. Almost all versions of the Ranger come with a six-foot cargo box.
The 2011 Ford Ranger also comes with the choice of either a 143 horsepower four-cylinder engine or a 207 horsepower V-6 that brings with it the option of four-wheel drive. Fuel economy for the four-cylinder checks in at a very reasonable 22-mpg city and 27-mpg highway, while the V-6 posts a maximum towing capacity of 5,560 lbs.
2011 Ford Escape
The 2011 Ford Escape is also right-sized for urban environments. The compact Ford Escape can seat as many as five passengers, and with the rear seats folded forward it is capable of swallowing up to 66 cubic feet of cargo. The crossover is also available with high tech features such as the Ford Sync entertainment and communications interface, as well as the MyKey system that allows parents to control the top speed of the vehicle and the volume level of its stereo system.
Under the hood, the 2011 Ford Escape also provides both four-cylinder (171 horsepower) and V-6 (240 horsepower) options. Each can be had with all-wheel drive, and the four-cylinder engine's superior fuel economy is rated at 20 mpg city and 28 mpg highway. The Escape can tow up to 3,500 lbs when properly equipped in V-6 form.
The Verdict- Ranger vs. Escape
The Ford Ranger's advantage in the towing and hauling department definitely makes it a more traditional choice for drivers who need to be able to maximize their vehicle's utility on the job site. However, the Escape offers enough cargo and hauling capacity to be useful while camping (either loaded up with a tent or when pulling a trailer), as well as a much more refined ride and the legitimate ability to seat adults in the second row. If you need to get actual work done, then the Ranger will fill that role adequately, but don't expect it to be able to comfortably cart the family around town at the end of the day.
2011 Chevrolet Colorado or...
The 2011 Chevrolet Colorado provides not just Regular and Extended cab editions, but also a Crew cab model that offers full-size rear doors and much more comfortable rear seating than is typically found in a small truck. The Chevrolet Colorado nudges the mid-size market in terms of its external dimensions, and while the Crew cab comes with a five-foot box all other editions benefit from a six-foot long cargo area.
The 2011 Chevrolet Colorado comes with the choice of either a four-cylinder (185 horsepower), five-cylinder (242 horsepower) or eight-cylinder (300 horsepower) engine. Four-wheel drive can be had with any of these motors as an option, and the four-cylinder Colorado returns fuel economy of 18-mpg around town and 25-mpg on the highway. The Colorado's healthy V-8 power gives it enough grunt to tow up to 6,000 lbs.
2011 Chevrolet Equinox
The 2011 Chevrolet Equinox is a very modern compact SUV that trades on its smooth and polished road manners. The five-passenger Chevrolet Equinox also makes the most of its available interior space, featuring a rear seat that can slide forwards and backwards along with 63.7 cubic feet of room that opens up with that same row out of the picture. The SUV can additionally be had with a high level of equipment, including items such as leather upholstery, a navigation system and a rear seat entertainment system.
Entry-level versions of the 2011 Chevrolet Equinox come with a four-cylinder engine that is rated at 182 horsepower, while a 264 horsepower V-6 is also available. All-wheel drive can be had with both power plants, and the four-cylinder unit provides a thrifty 22-mpg city and 32-mpg highway when it comes to fuel economy. The Equinox's towing capacity tops out at 3,500 lbs.
The Verdict- Colordo vs. Equinox
Comparing the Equinox to the Colorado reveals a fairly clear divide between what a truck can provide versus what an SUV has to offer. The Colorado is significantly more gifted when it comes to towing and power, and it also offers much more cargo room. The Equinox is indisputably more comfortable for all passengers, and the availability of certain luxury features raises it above Colorado's more modest interior offerings. The Colorado is a solid workhorse, but the Equinox is much more livable as a multi-use daily driver.
2011 Toyota Tacoma or...
The 2011 Toyota Tacoma is the leading small pickup truck in terms of sales, and part of its success has been due to the balance it provides between practicality and drivability. The Toyota Tacoma is a mid-size pickup but it doesn't overwhelm in terms of its length or width, which makes it fairly manageable for most drivers. It offers three passenger compartment configurations (Regular, Access and Double cabs), with the last two providing seating for up to three additional occupants. The Double cab also comes with four full-size doors and a five-foot cargo bed as standard equipment, but a six-foot bed is optional across the entire Tacoma lineup.
The 2011 Toyota Tacoma's least expensive drivetrain is a 159 horsepower, four-cylinder motor matched with rear-wheel drive. Four-wheel drive is optional with both the base engine and the available 236 horsepower V-6, and while the smaller mill's fuel economy rating of 19 mpg city and 25 mpg highway bests that of the six-cylinder engine, the margin between the two is not as significant as might be expected. The Tacoma also provides a formidable tow rating of 6,500 lbs.
2011 Toyota RAV4
The 2011 Toyota RAV4 has become the go-to compact crossover vehicle for thousands of families. The Toyota RAV4's optional third row of seating increases passenger capacity to seven, although those riding out back will notice that the rearmost position's leg room is best suited to the younger set. The RAV4 comes with a respectable 73 cubic feet of total cargo space, and its suspension system is designed for smooth city streets, not the rough-and-tumble environment found out on the off-road trail.
Like most compact SUVs, the 2011 Toyota RAV4 features a four-cylinder engine to start with. Rated at 179 horsepower, this motor returns fuel economy of 22-mpg in city driving and 28-mph during highway cruising. A much more robust V-6, with 269 horsepower on tap, can be ordered as an option with only a slight fuel mileage penalty to pay. Four-wheel drive can be ordered with either engine, and the RAV4's available towing package enables the SUV to haul up to 3,500 lbs of trailer weight.
The Verdict- Tacoma vs. RAV4
The Toyota Tacoma might be one of the most daily driver-friendly mid-size trucks on the road. It also offers a number of sporty suspension and chassis upgrades that lend it a more involving experience behind the wheel than is offered by the staid RAV4's dialed-down dynamics. That being said, the RAV4 is indisputably roomier inside and provides a ride that is calmer and less twitchy than the somewhat stiffly-sprung pickup. 3,000 lbs of additional towing capacity might swing the decision in the Tacoma's direction for some drivers, while others may more favorably weigh the additional child-oriented third row of seating in the RAV4. Either way, both vehicles are highly-rated examples in their respective classes.