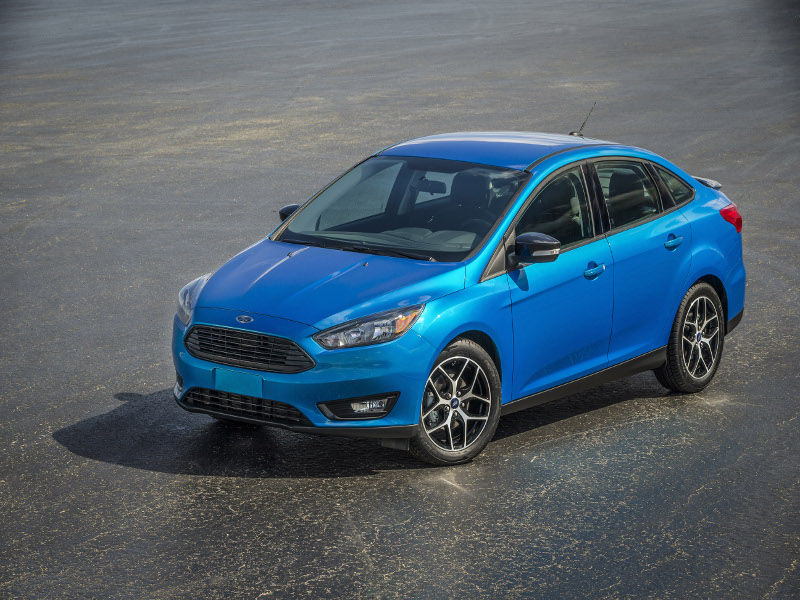 2016 Ford Focus ・ Photo by Ford
The 2016 Ford Focus and 2016 Chevrolet Cruze are just two of many excellent compact car choices. But they're also distinguished by being the best of the domestics. This generation of Focus has been around since 2011, but has seen incremental improvement as model years come along. A turbocharged 3-cylinder engine is fresh for 2016, along with a high-performance RS model. The Focus is available as a sedan or hatchback (except for the ST and RS, which are hatchback only). The Cruze is all-new for the 2016 model year (the previous generation, now called the Cruze Limited, is still on sale, but we'll be talking about the new model here). It's only available as a sedan. A hatchback version is expected to go on sale in the fall of 2016 as a 2017 model. In the meantime, there's a lot to be said for Ford's old guard and Chevy's new wave. Don't know which one's best? our compact car comparison will give you plenty of food for thought. 
Focus vs. Cruze: Pricing and Trim Levels
The 2016 Ford Focus comes in S, SE, Titanium, ST and RS versions. There's also the Focus Electric, but that's even more of a niche model than the ST and RS cars. Basic equipment begins with 15-inch steel wheels, air conditioning, Bluetooth, rearview camera, and a USB port. But only the S version's front windows are powered. The sedan starts at $18,100; the hatchback starts at $19,890. The ST is priced at $25,300 and the RS at $42,555. The 2016 Chevrolet Cruze comes in L, LS, LT and Premier trims, starting at $17,495, and going up to $23,995. Standard equipment in the L includes air conditioning, 15-inch steel wheels and power windows. Tech features brighten things up with Bluetooth, USB port, 4G LTE/mobile Wi-fi, 7-inch touchscreen, rearview camera, and Apple CarPlay/Android Auto.
Photo by General Motors
Focus vs. Cruze: Options
Most Focus options are centered on the already well-equipped Titanium trim, such as a self-parking system, plus 18-inch alloy wheels (with a full-size spare), navigation, sunroof, and a heated steering wheel. The Cruze's Premier trim is eligible for navigation, as well as an Enhanced Convenience package, which includes wireless charging, heated rear seats (the outer pair) and a 110-volt outlet. There are also some advanced safety features available, listed in the Safety section.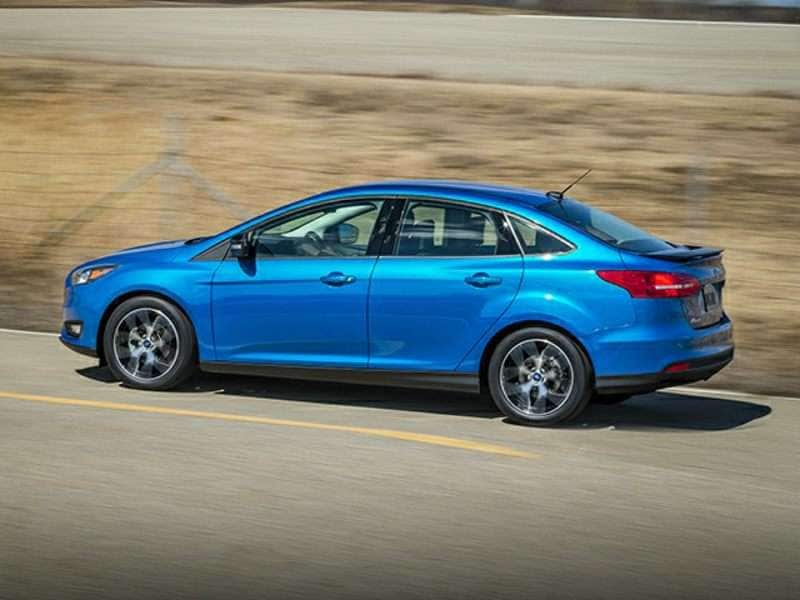 Focus vs. Cruze: Powertrains
The main engine in the Focus is a 2.0-liter 4-cylinder unit (160 hp and 164 lb-ft of torque). A standard 5-speed manual transmission is standard in the two lower trims; a 6-speed automatic is optional. A turbocharged 1.0-liter/3-cylinder engine (123 hp/148 lb-ft) is optional in the S, SE and Titanium. The standard transmission is a 6-speed manual, with an optional 6-speed automatic. The ST has a turbocharged 2.0-liter 4-cylinder making 252 hp and 270 lb-ft. It's linked to a 6-speed manual transmission.
Every other Focus variant employs front-wheel drive. The RS comes with all-wheel drive, plus a turbocharged 2.3-liter 4-cylinder engine making a fabulous 350 hp and 350 lb-ft. A 6-speed manual is the only transmission. The front-drive Cruze has more torque than either engine in the regular Focus. All models have a turbocharged 1.4-liter 4-cylinder engine (153 hp/177 lb-ft). A 6-speed manual transmission is standard in the lower trims; a 6-speed automatic is optional (standard in Premier). The automatic transmission also brings an engine stop/start feature.
.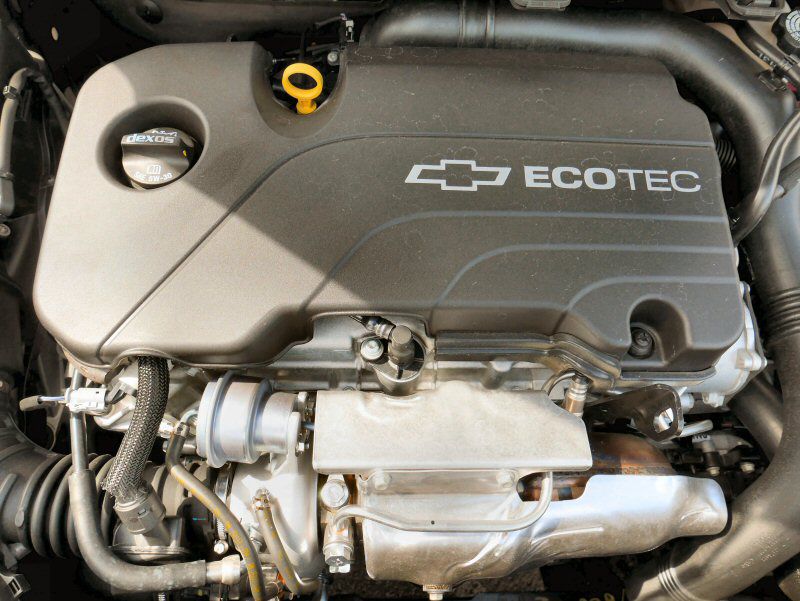 Focus vs. Cruze: Stand-out Features
In most trims, the Focus has a new Sync 3 infotainment system (replacing the much-criticized MyFord Touch). The big standout, though, is the chassis. This car is excellent to drive. That's always been a Focus virtue, but this generation manages to pull off the apparently impossible by being sophisticated and refined, yet still with a sporting edge. This edge naturally becomes progressively sharper in the ST and RS versions. The Cruze has generous rear seating for a compact sedan, plus an advanced infotainment system with a 7-inch touchscreen (an 8-inch version is available in LT and Premier), Apple CarPlay and Android Auto (both methods of bringing greater smartphone integration), and mobile wi-fi — all in the entry level trim.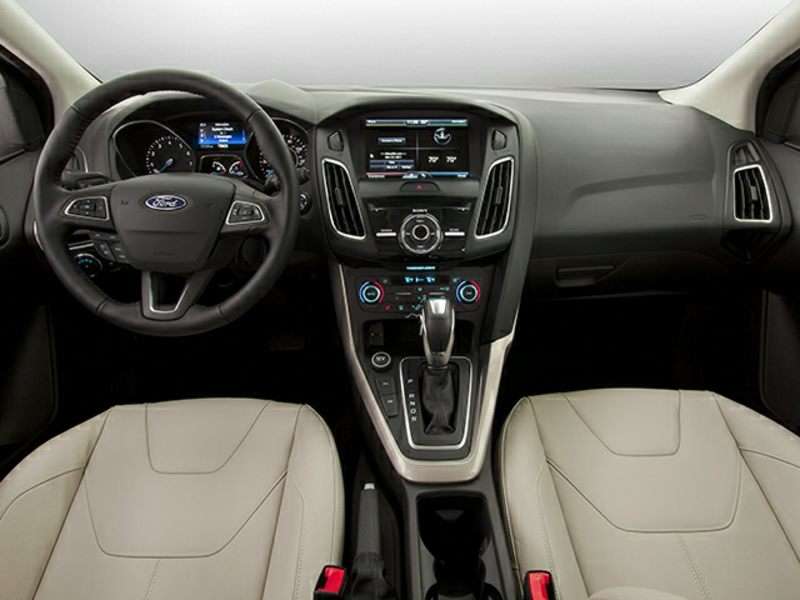 Focus vs. Cruze: Exterior Design
The Focus was restyled in 2015, when it took on a front end similar to the previous-generation Fusion (which was shamelessly similar to an Aston Martin). Then again, it's arguably better than the double-grille arrangement on Chevy cars these days. This is such a subjective area, but one thing to be aware of is whether the looks of the hatchback Focus are preferable to its sedan counterpart. The Cruze appears quite sophisticated, but still has a rental car air about it.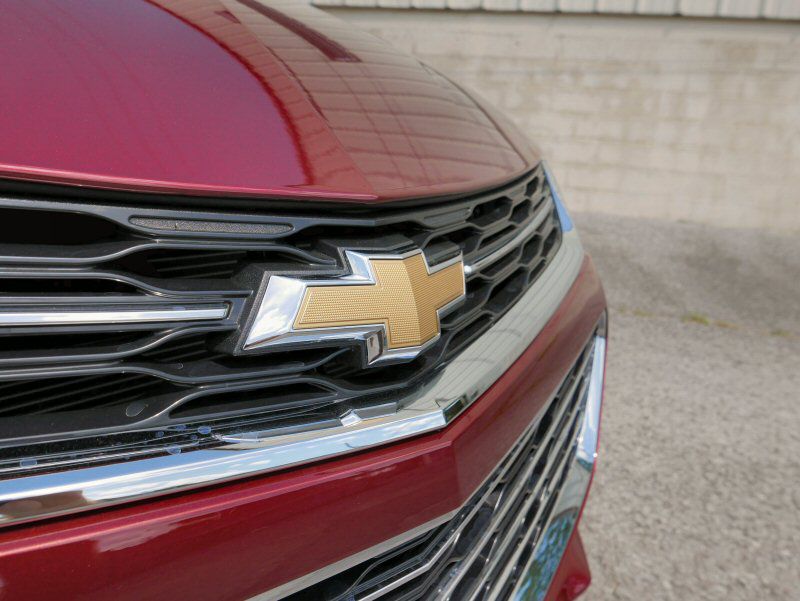 Photo by Benjamin Hunting
Focus vs. Cruze: Interior Design
There's really nothing wrong with the cabin of either car. Both have quite tidy designs and use quality materials for the class. The Focus ST has a beautiful sport-themed cabin, sport seats, and a leather-wrapped steering wheel. The RS takes things further and includes seats from specialist company Recaro as standard. The Cruze wins the rear accommodations contest. Legroom in the Focus is really quite limited, while the Cruze could easily welcome a couple of adults for longer trips.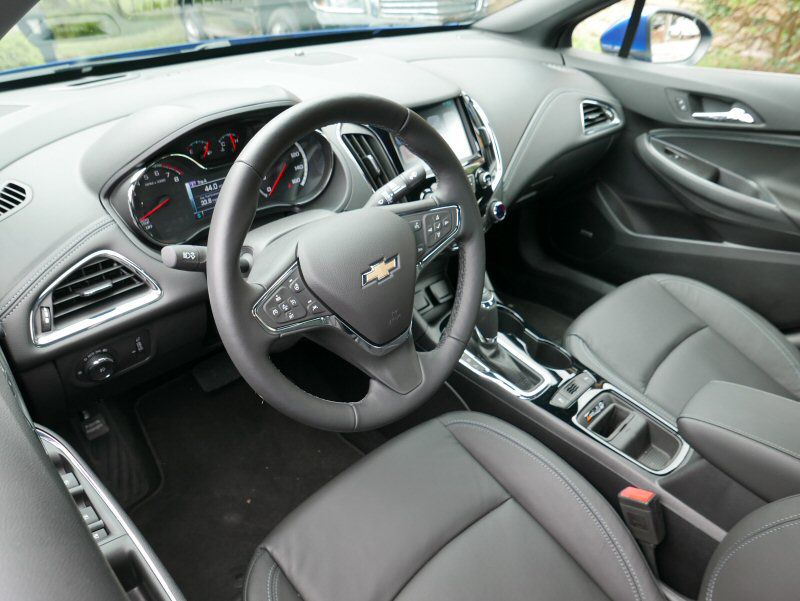 Focus vs. Cruze: Cargo Capacity
The Focus sedan's trunk measures 13.2 cubic feet. The hatchback does even better with 23.8 cubic feet behind the rear seats, expanding to 44.8 cubic feet when those seats are folded down. In the L and LS Cruze trims, trunk space is 14.4 cubic feet. But it's 13.9 cubic feet in the LT and Premier versions, which is still better than average.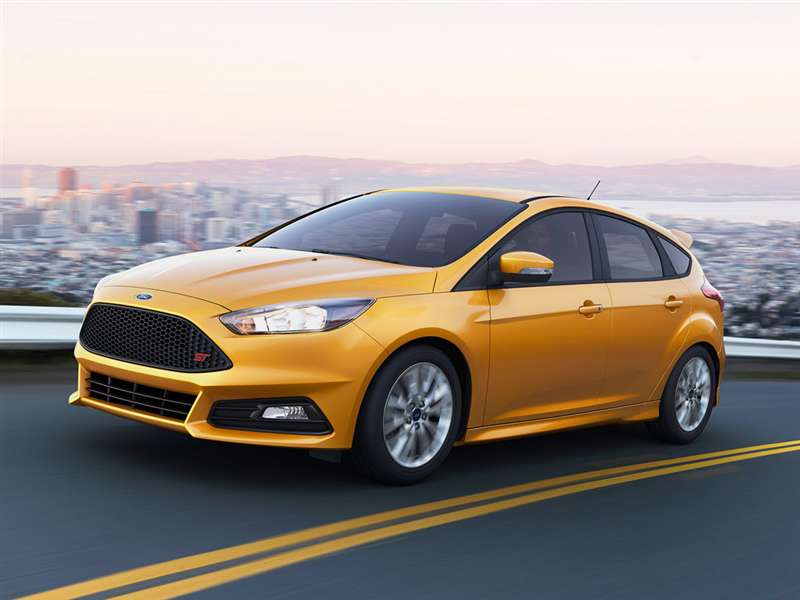 Photo by Ford
Focus vs. Cruze: Safety Ratings and Technology
Most Focus models have drum brakes at the rear. Only the ST and RS have discs at each wheel. The Technology package for the Titanium trim includes blind spot warning with rear cross-traffic alert, lane departure alert, and automatic high beams. The Focus scored five stars out of five in federal crash tests. The Insurance Institute for Highway Safety (IIHS) gave the Focus its top score of Good for all major categories, except a second-highest score of Acceptable for the more recently introduced small-overlap frontal-offset impact test. The Cruze also took five federal stars. At the time of writing, the IIHS has only performed to two tests: moderate front overlap and side impact. It earned the top score on both counts. As well as disc brakes on all wheels and the mandatory array of features, the Cruze offers a Driver Confidence package (for LT and Premier trims) of rear parking sensors and blind spot monitoring with rear cross-traffic alert. And Premier can also come with a Driver Confidence 2 package that brings automatic high beams, forward collision alert, and lane keeping assistance.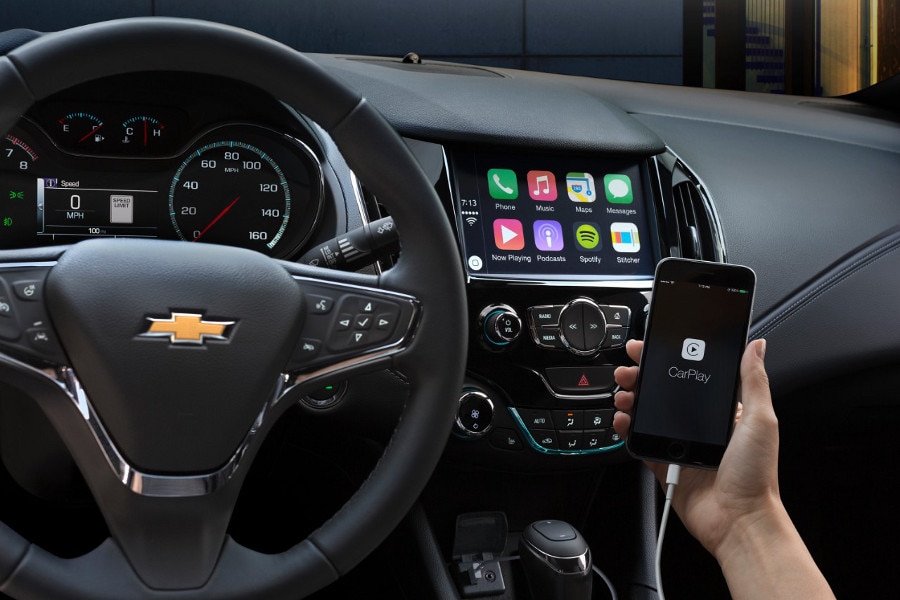 Photo by Chevrolet Media
Focus vs. Cruze: Performance
The 3-cylinder engine option in the Focus is disappointing both in terms of energy and economy. But the chassis is one of the best there has ever been in the compact car class. It handles with precision, while always remaining stable and composed. The ST is one of those cars that could be driven to work all week, then taken for a blast every weekend. The RS, meanwhile has incredible grip, traction and acceleration. Its all-wheel drive system includes torque vectoring, meaning power is sent to individual wheels for optimum cornering speeds and balance. The Cruze doesn't even try to be sporty. But it can be super-comfortable. If a lack of steering feel is a deal-breaker, the Cruze isn't going to cut it. But this mix of serenity and economy could work for many buyers.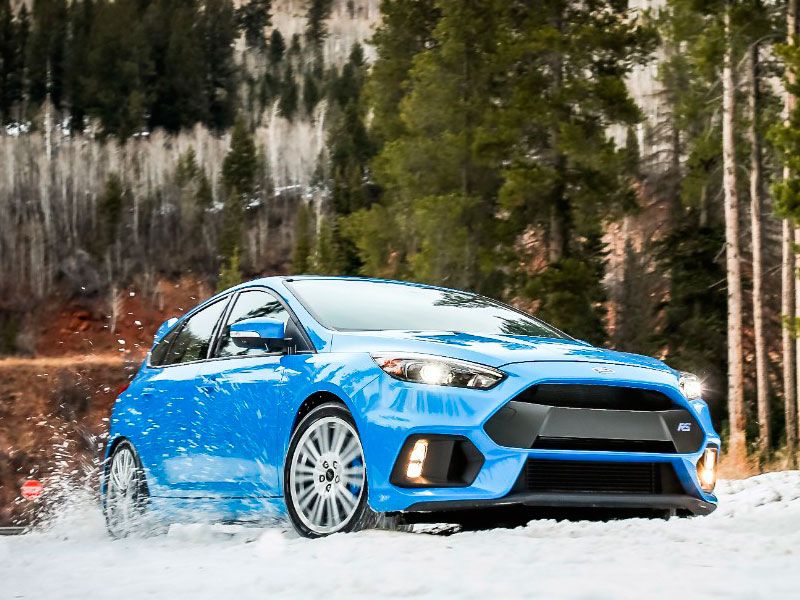 Photo by Ford
Focus vs. Cruze: Which is Best?
It's not worth going for the 3-cylinder turbo engine in the Focus. For an enthusiast, the ST or the RS are way better than anything the Cruze can offer. For the rest of us, the regular versions are perfectly fine. The Cruze concentrates on comfort and smoothness, with plenty of new technology thrown in. If this is the desired direction, then the new Cruze should be an ideal choice. Just to be on the safe side, though, test drive both cars. That extra helping of fun in the Focus might still sway the decision.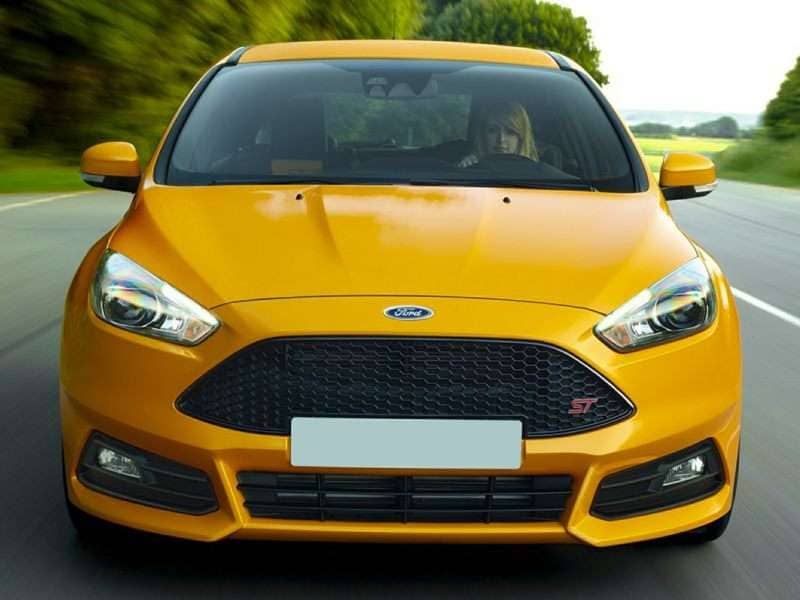 Photo by Ford