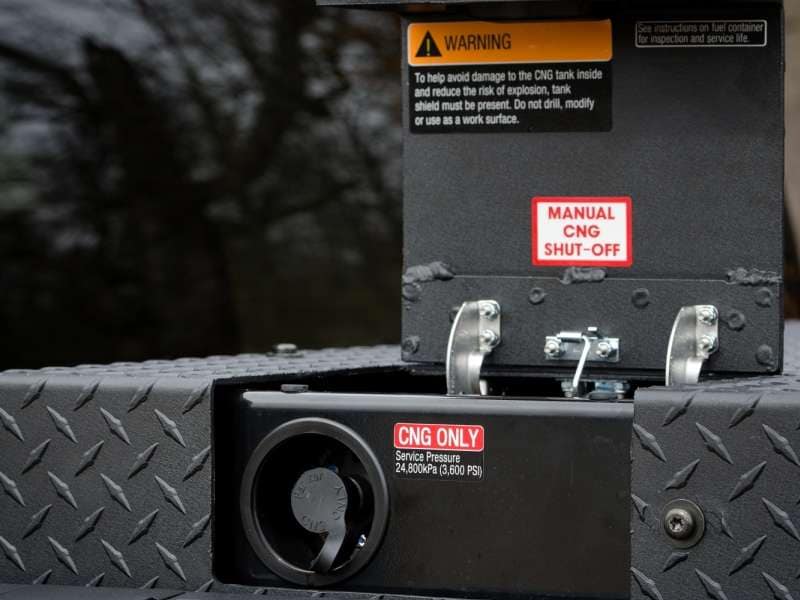 Although not really a factor on the retail side of the business, new bi-fuel powertrains—capable of relying on traditional gasoline or compressed natural gas (CNG)—will start to provide important advantages for owners of the 2015 Chevy Silverado 2500HD and other of the Bowtie brand's more commercially oriented products. In fact, as pointed out by Ed Peper, U.S. vice president, General Motors Fleet and Commercial: "Based on current average fuel prices, CNG is more than a dollar cheaper than an equivalent gallon of gasoline, giving drivers and businesses an incentive to use CNG to power their vehicles. Given the consistent cost savings and expanding infrastructure, both commercial and individual interest in CNG vehicles continues to grow."
Naturally, so are GM efforts to meet that demand, like bi-fuel conversions now offered not just on the 2015 Chevy Silverado 2500, but all of GM's single-rear-wheel HD pickups, as well as the Chevy Express rear-wheel-drive vans. Prices for the conversions start at $9,500 for the General's pickups, while van customers can choose from a three-tank setup for $10,825, for passenger or cargo models, or a four-tank configuration that's solely available for the cargo vans and has an MSRP of $12,090.
The price includes a specially modified version of GM's 6.0-liter V8 that, in the case of the 2015 Chevy Silverado 2500, makes 360 hp and 380 lb.-ft. of torque when using gasoline or 301 hp and 333 lb-ft. of torque when running on CNG. And rest assured, even with that change in output, the truck can maintain a max conventional trailer rating of 13,000 lbs. (with a 4.10 axle ratio). In all of the GM CNG vehicles, drivers can seamlessly switch from one fuel to another with a simple button, and the system will automatically transition from CNG to gasoline if it runs out of the former. The bottom line is a combined driving range of up to 650 miles, at least for that 2015 Chevy Silverado 2500.
The bi-fuel versions of the 2015 Chevy Silverado 2500 double and crew cab models, along with the Chevy Express, are on sale now; the rest of the Chevrolet CNG-capable trucks will launch in July.
(Note: Pricing for the bi-fuel upgrades for GMC trucks, including the Sierra and Savana, is consistent with the cost for the Chevy models.)