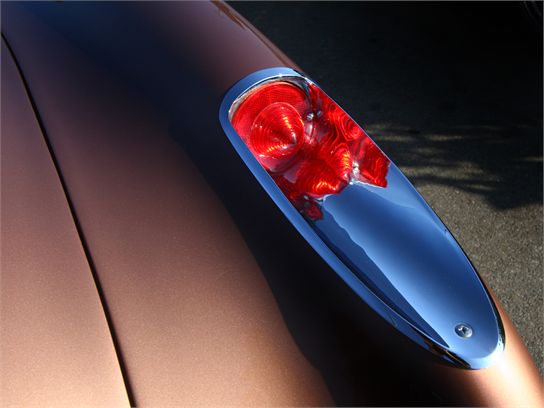 There's no denying that today's rides are vastly superior in terms of safety, technology, and to a significant degree, performance. But some would argue that the Hondas and Chevrolets filling today's streets couldn't wax the tailfins of yesterday's four-wheeled beauties. Representatives live on, in original and sometimes highly augmented forms, and are proudly gathered and displayed every weekend across the country. We found our objects of affection at a local Fuddruckers hamburger joint, where the warm Southern California sun welcomed classics and fans alike.
By Thom Blackett
Photo credit: Ron Perry
Page 2
Since we're not sure what to call it, this one falls under the Rat rod category. The matte black body appears relatively unscathed, avoiding the chopped roof treatment afflicting many retro rides. The original powerplant, on the other hand, is likely serving as a boat anchor in some spring-fed lake. It won't win any beauty awards, and probably tackles corners like an intoxicated fish, but if you want a cruiser that provides some fun and can suffer a scratch or two along the way, there's no beating a Rat rod.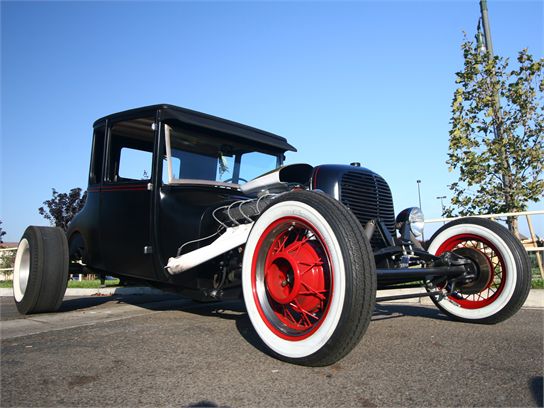 Page 3
Ahh, how vehicle styling has changed over the years. Back in 1956, Chevy designers decided that the perfect finishing treatment for their Bel Air was a big ol' chrome jetliner. Not actual size, mind you, but sizeable enough to dwarf the few hood ornaments we see on modern cars. Subject to pitting from age and exposure, this particular example appears to be well preserved, refinished, or a reproduction.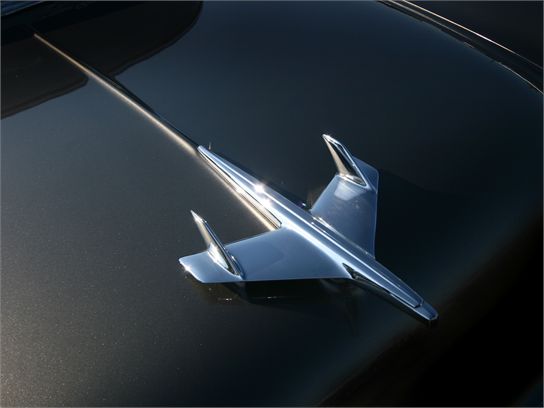 Page 4
This is the back of a '56 Chevy Bel Air, accented with chrome in equal measure to that of the front. Tail fins were big business in the '50s, as were two-tone paint schemes, copious amounts of glass, and monstrous trunks. Though we were unable to see what powered this two-door sedan, it just might've been an original 265 cubic-inch V-8.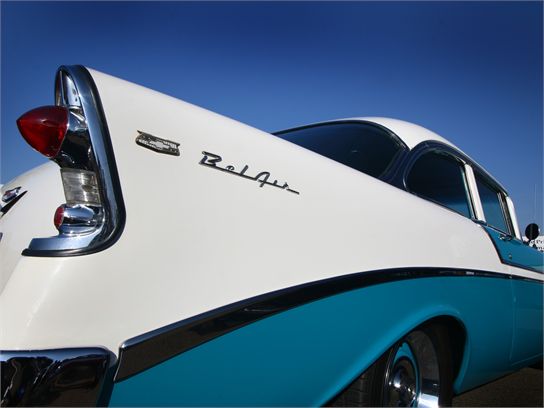 Page 5
Some reviewers, including members of our staff, have whined about the oversized steering feel found in the 2006 Chevrolet Corvette. After a look inside this 1957 'Vette, it might be best for us to put things into perspective and quit our bitchin'. To its credit, that oversized navigation tool makes for easy viewing of the 140-mph speedometer, with fuel, tachometer, and other gauges located to the right along the dash. Just one question: Dude, where'd they put the airbag?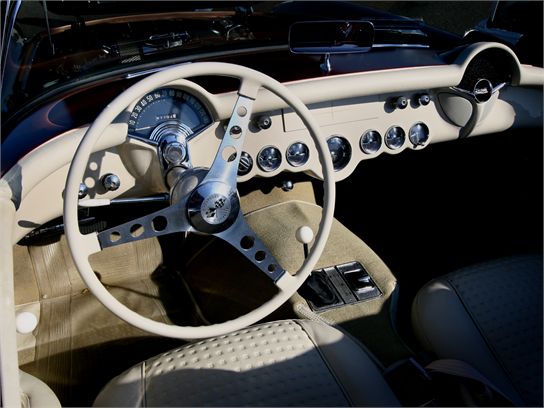 Page 6
Representing one of the domestics' most revered nameplates, this 1966 'Vette suns itself under a clear southwestern sky. The polished side pipes, yellow-walled tires, and upgraded wheels remain characters of the past, though modern day interpretations continue to fuel a very healthy aftermarket. We're betting those relatively tight door gaps, not terribly common on cars from decades past, are courtesy of a recent restoration.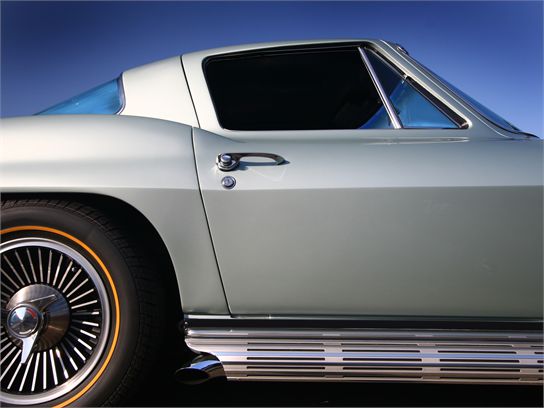 Page 7
Aside from the name, there's not much tying this 1966 Chevrolet Corvette to the 2006 model. The chrome badge, with its fancy script, has disappeared, as have the Sting Ray name and the chrome bumpers. However, the dual taillights, a true Corvette styling cue, appear to be with America's sports car for the long haul.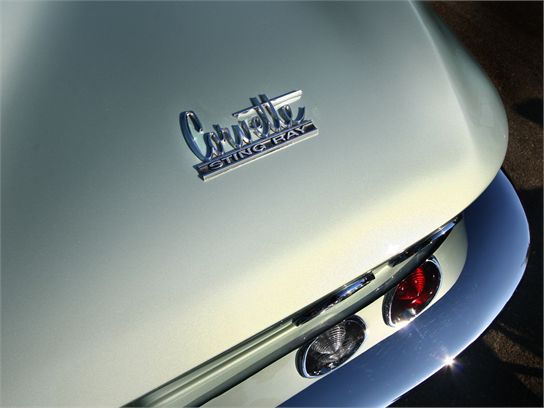 Page 8
So much for old-school. Parked not so inconspicuously among many restored rides was this 2003 Chevy Corvette convertible, sporting a modified V-8 with a blinding amount of chrome, oversized chrome wheels, and as seen here, a tweaked hood with functional scoops. Not too many cars can wear yellow without morphing into a chic car, but this 50th Anniversary 'Vette pulls it off.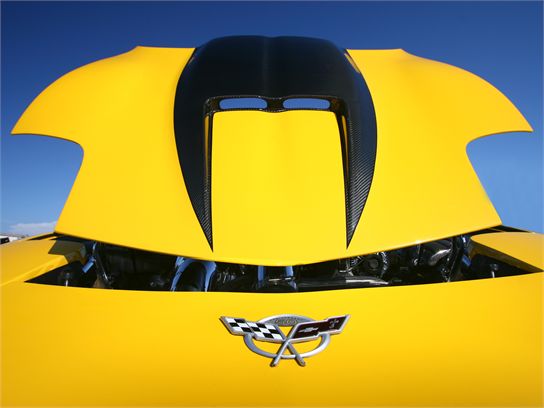 Page 9
Granted, it may lack the allure of the 1957 Chevy two-door sedan, but this wagon carries cool aplenty in its own way. Bearing more chrome, glass, and steel than a year's run of some new compacts, the 1950s-era Chevrolet marks a dramatic contrast to the family haulers of 2007 and 2008. Just last week, Audi announced the launch of the RS 6 Avant, which will deliver 580 horsepower to all four wheels. That's getting groceries in a hurry.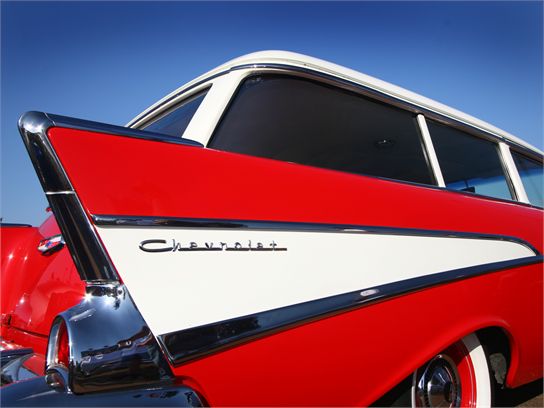 Page 10
As the placard states, this particular convertible is the property of the Horsepower Preservation Foundation. One of 236 Dodge Coronet R/T 440 convertible's built in 1970, of which only 60 reportedly remain, this survivor wears bright blue paint and sports a bright white interior. Power comes from a 440 cubic-inch Ramcharger V-8 engine mated to a three-speed automatic transmission. The owners claim 62,000 original miles.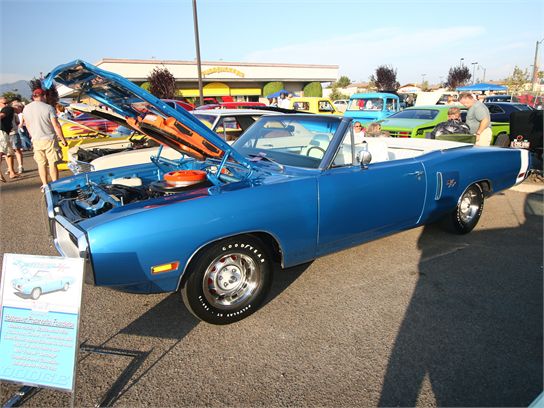 Page 11
Pictured here is a 1931 Ford Roadster, saddled up next to a clean '56 Ford F100 pickup. The Roadster sports a two-tone silver/gray paint scheme, everyday Michelin radials on machined alloy wheels, and a modern suspension. These cars came from the Ford factory with a 200 cubic-inch four-cylinder engine pumping out fewer than 50 horses.