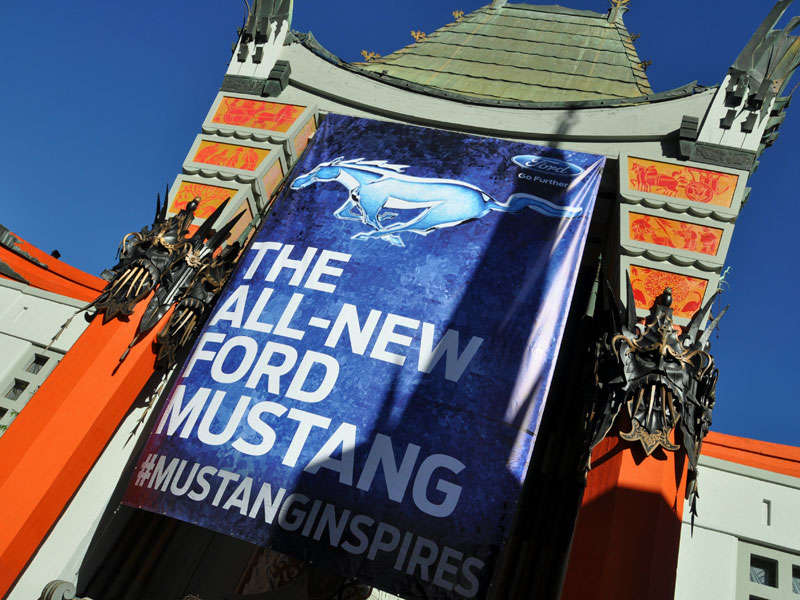 On December 5, 2013, the redesigned 2015 Ford Mustang debuted in six locations around the world, including in front of the iconic Chinese Theater in Hollywood, California. If you've visited the Los Angeles area as a tourist, chances are you've been here. Located on the Hollywood Walk of Fame, the Chinese Theater is where numerous movie stars have come to immortalize themselves in cement by putting their handprints, footprints, and signature into the concrete in front of the theater's doors.
To support and celebrate one of the new 2015 Ford Mustang Fastback's first global showings, the automaker invited local Mustang owners to swing by with vintage versions of America's pony car. After the car's unveiling in Hollywood, Ford then transported the 2015 Mustang to Venice Beach for a Mustang club meet with loyalists and fans.
I tagged along for the day, arriving bright and early in Hollywood in order to avoid the crush of morning rush hour, and staying on blustery Venice Beach nearly until sunset. What follows is a series of photos chronicling the day the 2015 Ford Mustang came to L.A.
Classic Mustang Photos and Gallery: The Original Pony Car
This 1964½ Ford Mustang hardtop sat outside the Chinese Theater in the early morning hours, immaculate in dark blue paint. Instantly popular after its debut in April of 1964, Ford needed to open two additional assembly plants to build the Mustang before the start of the 1965 model year.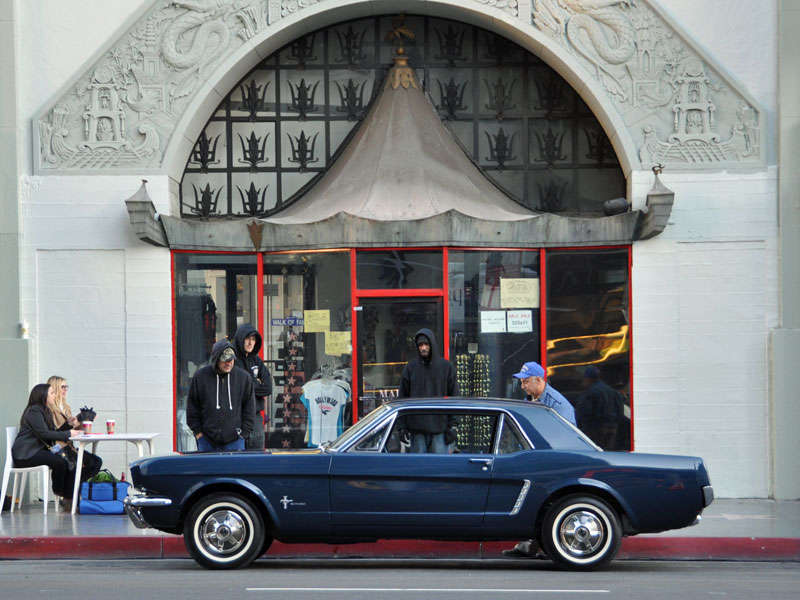 Classic Mustang Photos and Gallery: 1965 Mustang GT Fastback
With what appears to be a genuine Hollywood production set up in front of the Chinese Theater, a 1965 Ford Mustang GT Fastback arrives to take its place at the curb. This 2+2 model was new for 1965, a model year in which Ford sold more than half a million Mustangs.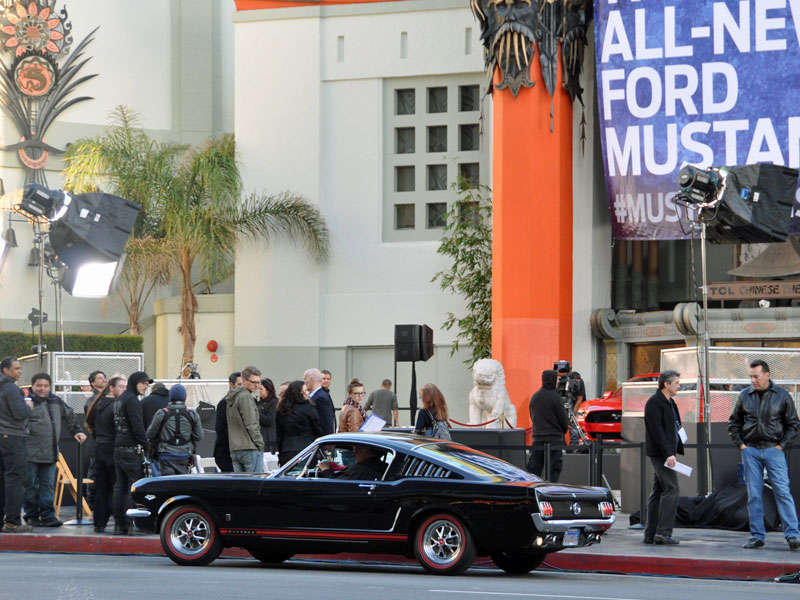 Classic Mustang Photos and Gallery: Bullitt Mustang
Shown here is the 1968 Ford Mustang GT 390 Fastback owned by local Los Angeles KABC news personality Dave Kunz. Painted Highland Green, it is as faithful a replica of the car that Steve McQueen drove to car-chase fame in the movie "Bullitt" as it can possibly get. Fittingly, McQueen's handprints and footprints are just steps away from the car is parked.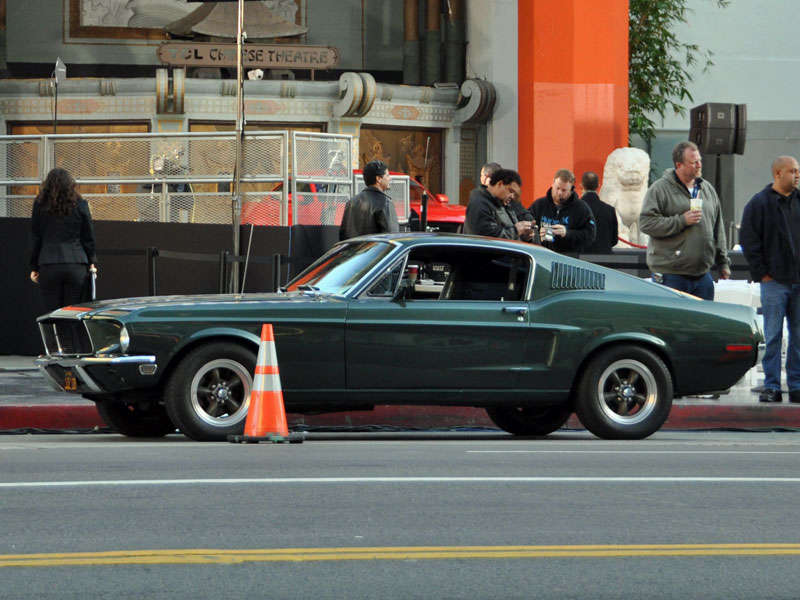 Classic Mustang Photos and Gallery: 1968 Mustang Hardtop
A super-clean 1968 Ford Mustang hardtop rolls up in front of the theater in advance of the 2015 Mustang's debut. When this car was new, the Mustang was already getting bigger and heavier, and annual sales had dropped to near 300,000 cars annually.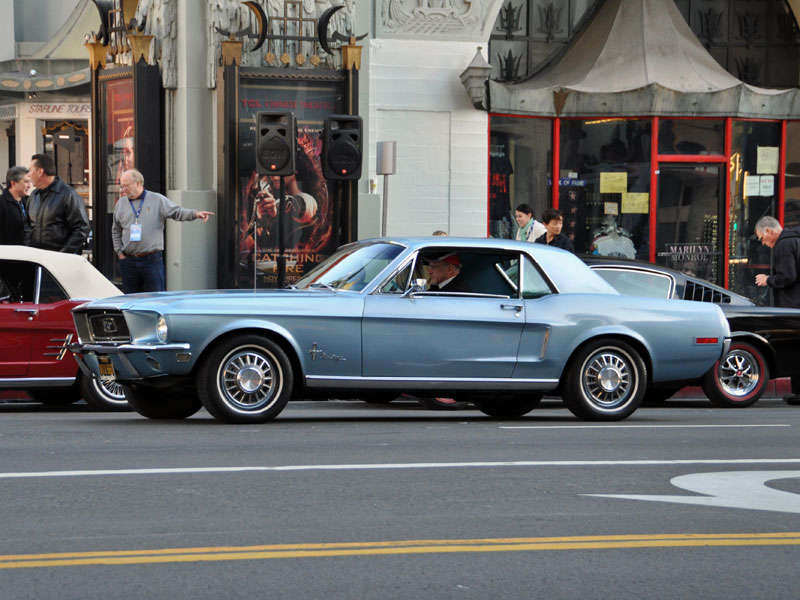 Classic Mustang Photos and Gallery: 1970 Mustang Mach 1
By 1970, the year this Mustang Mach 1 Sportsroof was built, Ford's pony car could weigh more than 3,200 pounds, and was far larger than the original. This was the last year that Ford raced the Mustang, capturing the Trans-Am title in the process. In 1971, the Mustang would grow to truly massive proportions, and then for 1974 be ignominiously slapped onto a modified Pinto platform, dubbed the Mustang II, and driven by various members of the "Charlie's Angels" cast.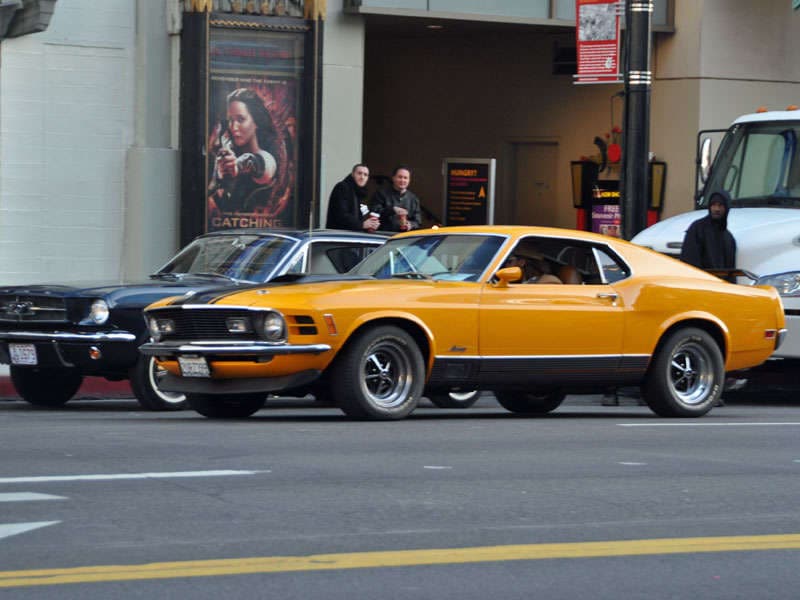 Classic Mustang Photos and Gallery: 1985 Mustang GT Convertible
This 1985 Ford Mustang GT Convertible, believe it or not, was a cool car back when I was a senior in high school. Looking at one today, umm, not so much. But hey, it was fast, it sounded great, and the top went down. Pop in a cassette of the "Miami Vice" soundtrack, and all would be right with the world. It sure didn't take much to make a Detroit boy happy in the mid-1980s, did it?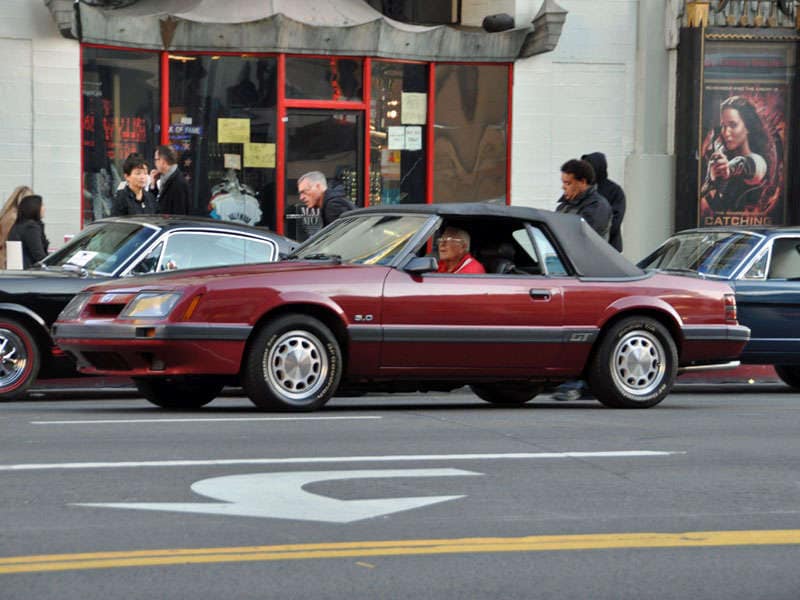 Classic Mustang Photos and Gallery: Ford Prepares for 2015 Mustang Reveal
Hollywood Boulevard is getting busy as the sun rises on the Chinese Theater. No, that gorgeous 1967 Ford Mustang Fastback isn't wearing the all-new 2015 Mustang as a hat. The new car sits in the background, uncovered, as Ford prepares for the official unveiling.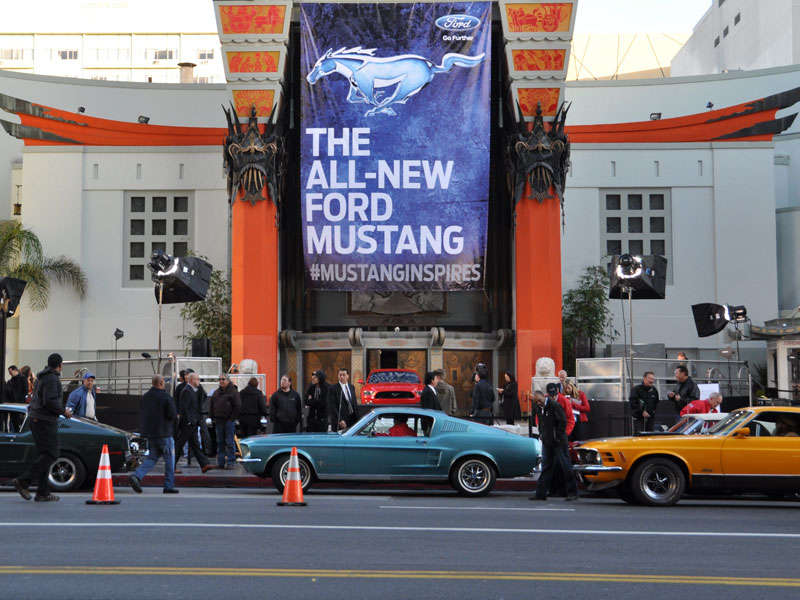 Classic Mustang Photos and Gallery: 2015 Mustang GT
Hollywood, California. December 5, 2013, 7:25 a.m. The redesigned 2015 Ford Mustang faces rows of empty seats as it waits for its big moment. This was, literally, the only time I saw the car without a swarm of people around it.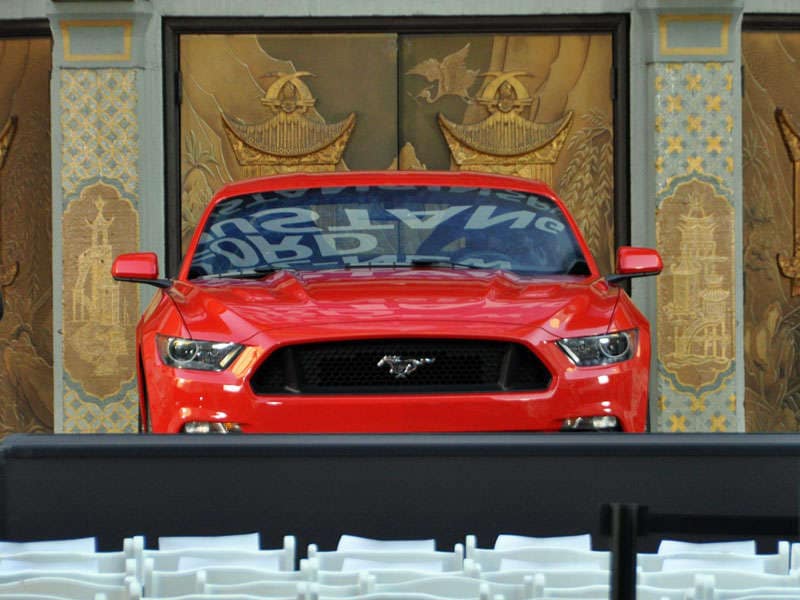 Classic Mustang Photos and Gallery: 2015 Mustang, Undercover
Hours later, the new 2015 Ford Mustang sits under a cover, a fresh bed of cement poured in front of the car. Yes, Ford is planning to immortalize the moment, Hollywood-style.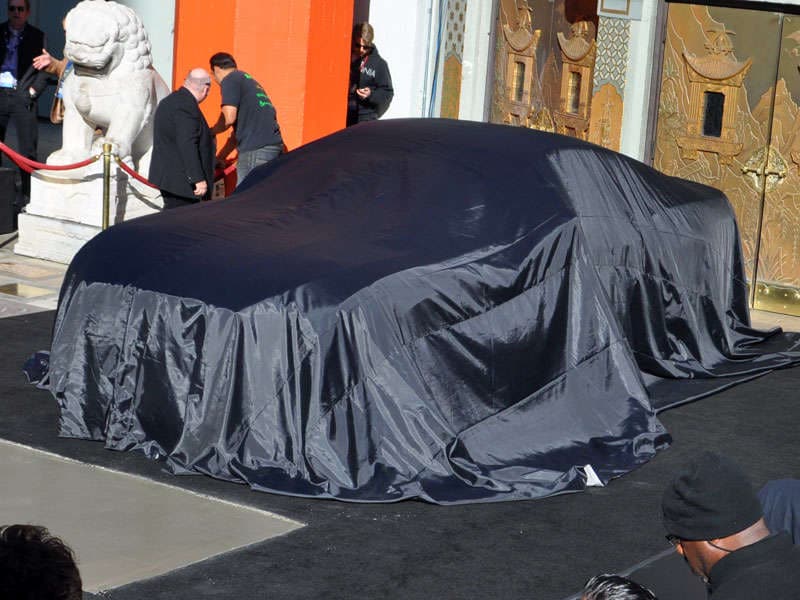 Classic Mustang Photos and Gallery: 2015 Ford Mustang Hollywood Reveal
Ford executives Joe Hinrichs and Raj Nair unveil the 2015 Ford Mustang at the Chinese Theater in Hollywood. If you're wondering why every single picture you see of the new Mustang via Google looks exactly the same, this is why. Take a break and Google "Raj Nair Ford" instead. Whoa, now that's how to rock a party in the back, El DeBarge. Man, the Internet is brutal.