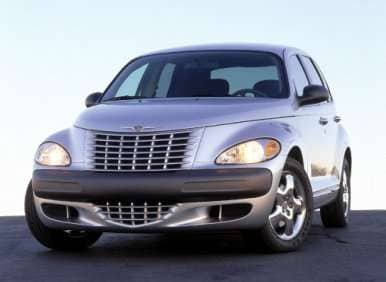 There was a period during the latter part of the 20th century when retro design was heartily embraced by American automobile manufacturers. Perhaps the most popular example of this was the Chrysler PT Cruiser.
Intended to evoke images of hot rods based on 1930s styling, the PT Cruiser (the most clever way to get people to buy a station wagon ever devised) was originally intended to be a Plymouth. However, by 2000, that nameplate wasn't selling very well. With a restructuring of Chrysler's divisions imminent, with the realization the Plymouth brand probably wouldn't survive the restructuring, the PT Cruiser was rebadged Chrysler product.
Chrysler designer Bryan Nesbitt was responsible for the overall look of the car. The irascible Bob Lutz, who was working at Chrysler at the time, also had a hand in the development of the PT Cruiser. The initials PT in the car's name stand for personal transport. Many people are surprised to learn the PT Cruiser is actually classified as a light truck. The fact of the matter is Chrysler intentionally designed the PT Cruiser to fit the NHTSA criteria for light truck in order to bring the corporate average fuel efficiency of its truck fleet into compliance with the federal government's CAFE standards.
Introduced in 2000, as a 2001 model, the Chrysler PT Cruiser was produced for model years 2001 through 2010. Based upon the platform underpinning the Dodge Neon, more than 1.35 million examples of the PT Cruiser were produced over the car's lifetime. Among its many accolades, the Chrysler PT Cruiser was named North American Car Of The Year upon its debut.
Chrysler PT Cruiser Used Car Buyer's Guide: 2001-2010
While high style was clearly part of the strategy behind the Chrysler PT Cruiser, utility was an integral aspect of the car's appeal as well. In many ways the PT Cruiser is like an SUV based on the platform supporting the Dodge Neon. While the PT Cruiser was shorter overall than the Neon, it actually had a more spacious interior. The tall profile offered plenty of headroom for passengers too.
Its the split folding rear seat was removable, with that accomplished, the Chrysler PT Cruiser offered some 76 cubic feet of cargo capacity.  Additionally, the front passenger seat could be folded nearly flat to enable the PT Cruiser to carry longer items with its hatch closed, The cargo area shelf was strong enough to permit the stacking of items, and the shelf could be positioned as a tailgate table for picnicking.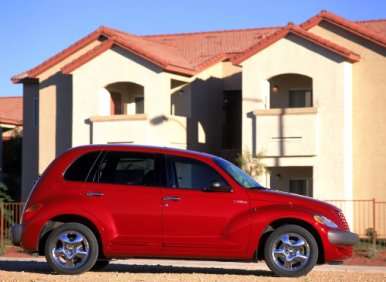 Chrysler PT Cruiser Used Car Buyer's Guide: 2001
The 2001 Chrysler PT Cruiser's front-wheel drive powertrain was energized by 2.4-liter in-line four-cylinder engine producing 150 horsepower and 162 foot-pounds of torque. A five-speed manual transmission was standard equipment; a four-speed automatic transmission was optional.
Offered in two levels of trim, base and limited; the 2001 Chrysler PT Cruiser base model rode on 15-inch steel wheels with full wheel covers. The spare tire was mounted under the body. It used variable intermittent wipers, a rear defogger, and a rear window wiper. Capable of seating five, the PT Cruiser used cloth upholstery and bucket seats for the driver and the front passenger. Its power windows offered a one-touch operation feature, the front console provided storage and there were cupholders for front and rear occupants.
The tilt adjustable steering wheel benefited from power steering, and there was a 12V power outlet. Air conditioning, a cargo area light, front and rear floor mats, and dual vanity mirrors were also standard equipment. The audio system consisted of an AM/FM CD controller stereo with six speakers.
Opting for the PT Cruiser Limited Edition got a model equipped with a touring suspension system, leather seats, fog lamps, chrome exhaust tips, a power moon roof, heated foldaway mirrors, remote keyless entry, power door locks, and 16-inch chromed alloy wheels
The PT Cruiser's standard safety features included front disc brakes, rear door child safety locks, a rear center three-point belt, front seatbelt pre-tensioners, and electronic brake force distribution. ABS and traction control were options.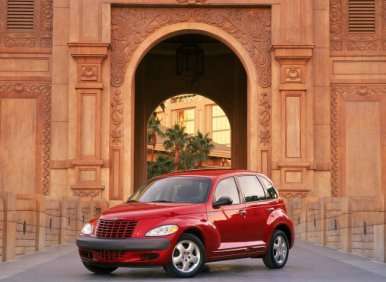 Chrysler PT Cruiser Used Car Buyer's Guide: 2002
For model year 2002, Chrysler played heavily upon the retro theme of the PT Cruiser. The company offered a flame accented paint job (which was actually a decal) as an option. There was also a woody appearance package decal. Two new trim levels debuted for 2002 as well, the touring edition, and the Dream Cruiser.
A limited edition option package, the Dream Cruiser could be had in any color a customer wanted, as long as that color was gold. Even the bumpers were painted gold on the Dream Cruiser. The interior was two-tone taupe and beige. Limited to a run of 7500 cars, each Dream Cruiser bore a numbered plaque on the dashboard.
The other new model for 2002, the Touring Edition featured rear head rests, a cargo net, a digital thermometer, a compass, fog lights, dark tinted glass, keyless entry, and an alarm system. The Touring Edition of the 2002 PT Cruiser also sported power door locks and power mirrors, 16-inch alloy wheels, and a touring suspension system.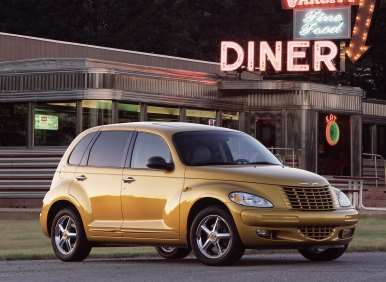 Chrysler PT Cruiser Used Car Buyer's Guide: 2003
For 2003, the GT version of the PT Cruiser debuted. Since the model's introduction, many auto reviewers had chided the Chrysler for its lack of performance. To create the 2003 PT Cruiser GT, Chrysler's engineers leveraged the Dodge Neon SRT4. They fitted its 215 horsepower double overhead cam in-line four-cylinder engine capable of producing 245 foot-pounds torque to the PT Cruiser. Happily, aftermarket go-faster parts available for the Dodge hot compact would also work on the PT Cruiser GT. Standard features of the GT were essentially the same as the base model, save the more powerful engine, a leather wrapped steering wheel, and traction control.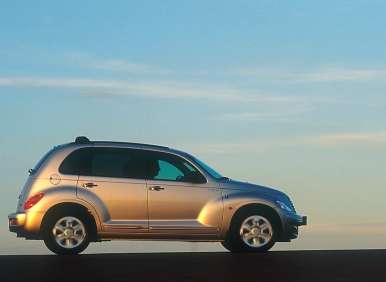 Chrysler PT Cruiser Used Car Buyer's Guide: 2004
Satellite radio, a navigation system, and Bluetooth made their PT Cruiser debut in model year 2004. Limited and Touring Edition models got a 180-horsepower, turbocharged version of the 2.4-liter engine. To enhance the Cruiser's sparkle factor, a Chrome Accent Group was introduced, which fitted a chrome fuel door, metallic finish pedals and a metallic shift knob to PT Cruiser Limited models.
A second version of the Dream Cruiser debuted called the PT Dream Cruiser Series 3 "True Blue". This one was outfitted with a two-tone paint job comprised of a silver lower body, a midnight blue roof and hood, and blue tinted glass.
Essentially a PT Cruiser GT with a designer paint job and interior trim, the Dream Cruiser Series 3 rolled on 17-inch chrome wheels with midnight blue center caps. Its leather wrapped steering wheel featured satin silver spokes, and its shift knob was finished in satin silver as well.
Standard equipment on the 2004 Chrysler PT Dream Cruiser Series 3 included a five-speed manual transmission, four-wheel disc brakes, ABS, traction control, a power moon roof with an express open feature, a rear spoiler, and an AM/FM six-disc CD changer head unit with Sirius satellite radio will. An automatic transmission was available as an option.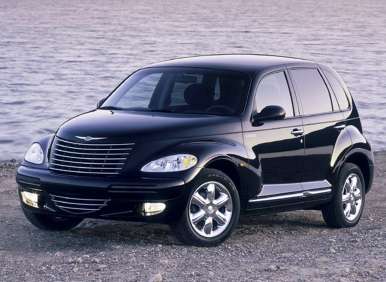 Chrysler PT Cruiser Used Car Buyer's Guide: 2005
Chopping off two of the doors and adding a power operated, folding soft top, Chrysler's product team came up with the Chrysler PT Cruiser convertible. Offered in three levels of trim; Base, Touring, and GT—the PT Cruiser convertible was essentially outfitted like the standard cars equipment-wise.
Chrysler PT Cruiser Used Car Buyer's Guide: 2006
Scalloped headlights, a new chromed grille, a new lower front fascia, and redesigned taillights marked the mid-cycle exterior updates for the 2006 Chrysler PT Cruiser. Inside, the dashboard was updated as well as the door panels. New materials were employed for the upholstery, and an analog clock was added to the center stack. The audio system featured a line in port integrated into the dashboard for portable audio devices.
To assuage complaints about noise levels in the PT Cruiser, upgraded sound insulation it was added. Limited and GT models got a six-way power adjustable driver's seat and a 368-watt Boston Acoustics premium audio system was offered as an option..
Last, but absolutely not least, output of the GT's engine was bumped to 230 hp.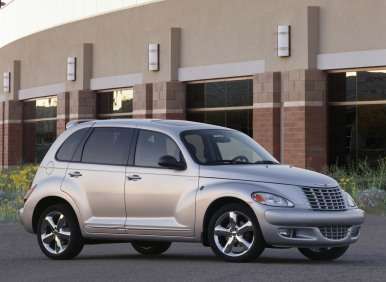 Chrysler PT Cruiser Used Car Buyer's Guide: 2007
The rear liftgate got power operation for 2007, which, along with remote keyless entry was added to the base model's standard features set. Still offered in base, Touring and GT trim for 2007; the Base PT Cruiser came with a CD-based stereo audio system with an auxiliary audio input jack. It also featured power windows and locks, and remote keyless entry. Additionally, Base convertibles featured air-conditioning, power mirrors and a power-folding top.
Touring models added air-conditioning and fold-flat passenger seating on the wagon version, as well as 12V power outlets. The Limited was fitted with upgraded seats—featuring six-way power adjustment for the driver.  It also came with 16-inch aluminum wheels, a moonroof and a touring suspension system. GT came standard with a sport-tuned suspension system, 17-inch wheels, and leather seats.
Optional features included heated seats, satellite radio, and an in-dash, six-disc CD changer head unit with MP3 capability.'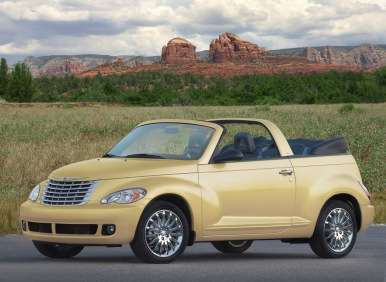 Chrysler PT Cruiser Used Car Buyer's Guide: 2008
The GT trim level was dropped.
Chrysler PT Cruiser Used Car Buyer's Guide: 2009
The convertible was dropped, as was the Touring model's turbocharged engine.
Chrysler PT Cruiser Used Car Buyer's Guide: 2010
For its last year of production, Chrysler essentially dialed the PT Cruiser all the way back to the way it was equipped in its first year of production. The turbocharged engine had already been killed in 2009, and for 2010, leather upholstery, the touring suspension, the upgraded stereo system, and Bluetooth were all pulled from the car.'