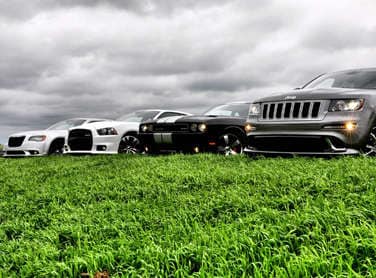 To help continue setting new benchmarks for high-performance vehicles that leverage traditional, American-style power, the Chrysler Group has reinvented its Street and Racing Technology (SRT) division as an entirely separate company within the automaker's brand family.
The SRT group was originally launched as the automaker's in-house performance experts in 2002 as an outgrowth of the Dodge Viper program, and has used its badging—and unique approach to meeting the needs of auto enthusiasts across the country—on 10 different nameplates in the ensuing years. Distilling some 10 years of success into today's playbook, the SRT has identified five key areas of performance that it will focus on going forward:
• "Awe-inspiring powertrains"
• "Outstanding ride, handling and capability"
• "Benchmark braking"
• "Aggressive and functional exteriors"
• "Race-inspired and high-performance interiors"
Naturally, all these characteristics are on display in the first squad of vehicles set to debut under the new SRT banner, including the 2011 Dodge Challenger SRT8 392 and 2012 models of the Chrysler 300 SRT8, Jeep Grand Cherokee SRT8, and Dodge Charger SRT8. Notably, while each of these vehicles will boast its own unique combination of features and performance characteristics, they will all share the Chrysler Group's new 6.4-liter HEMI V-8, capable of making up to 470 hp and 470 lb.-ft. of torque while also providing enhanced fuel efficiency.
That's courtesy of the enhanced Fuel Saver Technology used in automatic-transmissioned SRT8 vehicles. The upgraded setup, combined with an all-new active valve exhaust system, allows the big HEMI to run in four-cylinder mode across a wider range of driving scenarios then ever before, significantly reducing fuel consumption. For example, the 300 SRT8 is inline to achieve a gain of 25 percent in highway fuel economy.
"SRT lives on as the in-house performance team of the Chrysler Group that adheres to our five existing performance hallmarks centered around building the best high-performance vehicles for the Chrysler, Jeep and Dodge brands," said Ralph Gilles, the newly assigned President and CEO, SRT Brand and Motorsports. "Being a separate brand will allow our team to expand the dedicated engineering and marketing resources for specific performance vehicles. We will look to delight SRT customers and evolve our business model with the performance enthusiast in mind. The SRT vehicle lineup will continue to make the latest in contemporary luxury features available to our customers, while carefully integrating active and passive safety features. We strive to never lose focus on driver involvement and vehicle character while maintaining each of the vehicle brand's key design differentiators."
Pricing for the latest SRT lineup, before an $825 destination fee:
Challenger SRT8—$43,995
Charger SRT8—$45,795
300 SRT8—$47,170
Grand Cherokee SRT8—$54,470