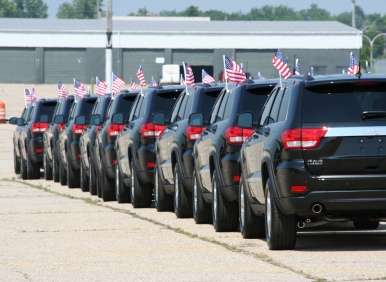 It's no coincidence: shortly after closing the books on a 26 percent sales jump in 2011—the largest leap last year of any full-line automaker—the Chrysler Group announced it had built its 1 millionth Pentastar V6 engine. A two-time member of Ward's annual list of "10 Best Engines," the advanced powerplant was first introduced to the market just 18 months ago and has become a key component of Chrysler's recent success.
The initial vehicle to get the engine was the completely redesigned Jeep Grand Cherokee, which earned a 51 percent increase in sales last year. More recently, the Pentastar was combined with the segment's first eight-speed automatic transmission to help the Dodge Charger and Chrysler 300 achieve a stellar 31 mpg highway, and it also became the standard engine in the 2012 Jeep Wrangler. The result: 285 hp and 260 lb.-ft. of torque, representing increases of 40 and 10 percent over the 2011 model, as well as a 10.5 percent increase in highway fuel economy. Another outcome? Thanks to a strong year-end sales surge powered by the 2012 model, Wrangler sales were up a healthy 30 percent in 2011.
The Pentastar V6 is currently available in seven other Chrysler Group products, too, including the Chrysler 200 and Chrysler Town & Country, along with the Dodge Avenger, Dodge Challenger, Dodge Journey, Dodge Durango and Dodge Caravan. Needless to say, flexibility is a big part of the Pentastar advantage, because these vehicles rely on the engine for rear-, front- and all-wheel-drive configurations, with power output ranging from 283 to 305 hp.
Specific features contributing to the engine's performance:
• Double-overhead camshafts with roller finger followers and hydraulic lash adjusters
• Dual-independent cam phasing
• Specially designed valve angles, cylinder head, and intake/exhaust ports
• A high-pressure, die-cast aluminum cylinder block in a 60-degree layout
• Multi-point port fuel injection
• Long-life spark plugs and a high-energy coil-on-plug ignition system
• An advanced oil-filter system
"Our engineers synthesized the best combination of design features and technologies to create a V-6 engine that will exceed customer needs," said Bob Lee, the Chrysler Group's vice president for Engine and Electrified Propulsion Systems Engineering. "The elegantly simple design maximizes functionality and provides class-leading levels of refinement, fuel-efficiency, performance and cost of ownership."
The Pentastar engine also allows notable cost savings for Chrysler, since it replaces seven previous V6 powerplants. As for the future, the automaker expects the engine to continue keeping pace with the industry by adding technologies like direct injection, turbocharging and the innovative MultiAir system. Developed by Fiat, MultiAir enables optimum control of airflow in an engine for a 15 percent gain in torque and a 10 percent reduction in emissions. A past winner of the Engine of the Year title in Europe, the 1.4-liter turbocharged MultiAir I4 made its U.S. debut last year in the Fiat 500.
And while MultiAir powerplants will eventually migrate to other of the automaker's offerings, right now, "The Pentastar engine is a cornerstone of Chrysler Group's effort to reinvent its business model with world-class quality products. This award-winning engine is proof that the company is transforming its products to meet the needs of our customers," according to Brian Harlow, vice president and head of Powertrain Manufacturing for the Chrysler Group. "To build one million of anything, and in an impressively short amount of time, is a significant achievement. But to do it with such a high degree of quality is a testament to our skilled and dedicated workforce at both Trenton South and Saltillo engine plants."