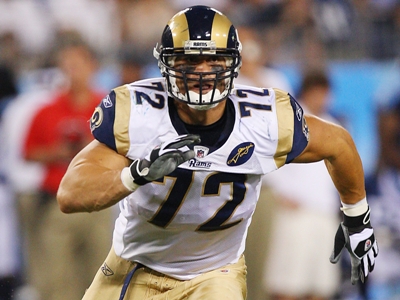 Chris Long is the son of Pro Football Hall of Fame inductee Howie Long, but if you think for a second that Chris has let that define him, you don't know Chris Long. No, Chris Long is the guy who finished his last year of college as the top defensive end in the nation. Chris Long is the guy whose #91 was retired at the University of Virginia before the last game of the season, making him the first player at that school to have his jersey retired while still active. Chris Long is also that guy who went #2 in the 2008 NFL draft. Feel us on this one? One day they are going to describe Howie Long as Chris Long's father. The best part is, Chris is barely into his first season with the St. Louis Rams and he's already getting his ride collection right. With that, another MyRide With.
My first car was a Ford F-150, a truck, and I guess my favorite memory was just not having to drive around with my parents anymore!
I have a Hummer H2, a Cadillac DTS, and a 1983 Mercury Grand Marquis. I got the Grand Marquis because I wanted to fix up an old car, but the Hummer is what I've put the most energy into. Lots of modifications and it's sitting on 26's. The DTS, I love for its smooth ride.
Cool to be able to go off-road in the Hummer, really felt like you were able to do something with the vehicle that most owners might not have the opportunity to do. The part I liked most was that you didn't have to worry about getting hurt or hurting the vehicle. [click picture below for video of the event]
Probably Pisa [Tinoisamoa], the linebacker. I think he has a Maserati. I was actually a little disappointed with the guys' creativity this year. I'm going to have to shake things up, bring some old school rides in there.
Definitely a Lincoln Continental, maybe a '67. I think one of my boys has one in black.
My dad wasn't a big car guy, he kept it pretty vanilla. We had a Chevrolet Suburban, bright red, for like 14 years. We made all our road trips in the Suburban, so that would probably be my favorite.
"...a little disappointed with the guys' creativity..." We are delighted that Chris Long's high standards extend off the field into the parking lot as well. His taste for old-school rides reminds us a lot of former New York Giants player Michael Jennings, who's made a nice side business for himself customizing other NFL players' cars. Finally, in case you were wondering, you don't have to go pro to attend the Hummer Driving Academy (but you do have to own a Hummer). Best of luck Chris, and keep it locked on MyRide.
By Elliot Darvick Photos courtesy of G. Newman Lowrance/Getty Images, General Motors