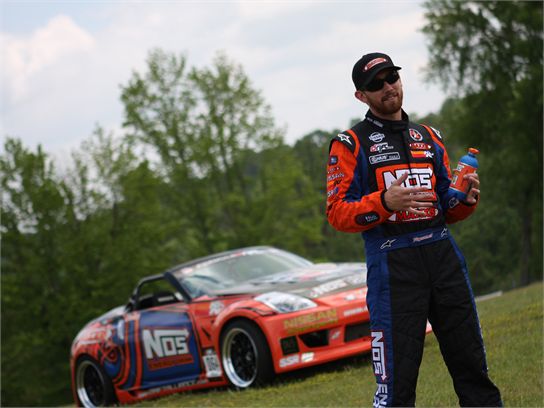 Some people might be under the impression that drifting a car is only something you do in a winter storm. Turns out drifting is an art form, which makes Chris Forsberg a tire-smoking Vincent Van Gogh. Drifting is also an organized sport, and Chris is currently one of the reigning kings of the field as both the current leader of the Formula DRIFT (or Formula D) professional series and the 2nd most winning driver in Formula DRIFT history. With that, another MyRide With.
What was your very first car? What's a memory of it you've never told anyone until today?
My very first car was a 1987 Chevy Blazer. I never really told anyone that if the water pump didn't break on it, I probably would have never met Tony Angelo (drifting pioneer), and never have gotten into drifting.
Tell us about your current car situation (off the track), what you're driving, what you did to it, etc. What are you driving on the track?
My current car is a 2004 Dodge Ram diesel. I bought it new and put my Nissan 350Z on a trailer and dragged it out to California. It currently has 35-inch Maxxis Trepadors on Ultra Baja rims, a K&N intake, Bully Dog Power Pup, and turbo-back exhaust. Along with some other parts for towing.
On the track, I drive a 2006 Nissan 350Z with a 5.6-liter Titan engine. The drivetrain is almost 100-percent Nissan with the addition of K&N filters, JBA headers, JWT cams, and Driveshaft Shop axles. But it has many upgrades to the body and suspension, such as Maxxis Z1 Drift Tires, SSR wheels, DG-5 suspension, Seibon Carbon body panels, and an Origin body kit.
Of your drifting peers, who has the tightest car off the track? None of my friends really have cars off the track. We gave that up a long time ago and started driving trucks or vans.
Describe to us the very first time you pushed a car sideways. The first time I ever slid a car was at my high school parking lot on a weekend. We went in and made a turn with cones and started slamming the gas until we got the car to slide through it.
What car do you have your eye on next? What do you like about it? For street or track? I kinda like what I got going on right now.
Where can people find out more on drifting and you? What events are coming up? You can find everything you need to know about myself and our team on the NOS Drift website. We have a full schedule on the website, but our next stop is Las Vegas for Round 4: High Stakes Formula DRIFT.
We asked Chris the first time he pushed a car sideways, but maybe we should have asked what was the first object with an engine he drifted (rumor is it was the family tractor at the age of 14). We're also way impressed that Chris's team was able to fit a Nissan Titan engine into the 350Z's engine bay. Pretty monstrous. Finally, we're glad the water pump on his Blazer broke, too, because we've spent the entire afternoon watching his drifting videos on YouTube. Best of luck, Chris, and keep it locked on MyRide.com!
Some great footage of Chris Forsberg drifting at Formula DRIFT Long Beach, 2007
By Elliot Darvick Photos courtesy of MyRide.com, The ID Agency