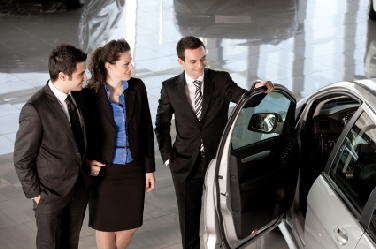 When shopping for a new car it is important to choose a dealership you can trust, rely on, and feel comfortable doing business with. This long-term relationship is especially important for customers who like to have their car serviced at the same dealership for the life of their vehicle. These positive business-to-customer relationships are not only good for the consumer, but also the dealer. The best dealers work hard to cultivate life-long customers through every aspect of the car buying process from the moment the customer drives onto the lot to when the car is being serviced years down the road.
In the pre-Internet days of car buying the consumer was essentially at the mercy of the dealership. A lot of money is at stake and the dealer held all the cards. The only thing the consumer knew was how much their neighbor may have paid for their new car. For decades, this situation was used by unscrupulous dealers and service shops to take advantage of car buyers. The actions of a handful of dealerships over the years unfortunately tainted the entire business of selling and maintaining cars the point where the common perception was that ALL dealers were out to rip off the consumer. Fortunately, this undeserved reputation is not true.
It is true there are still a few bad apples in the bunch, but overall a majority of car dealers practice good business and try very hard to overcome the stigma they have been unfairly saddled with. If they did not, these dealerships would not be around. If you think about it, the average dealership customer is a local resident who talks to other potential customers every single day. As we all know, word gets around, especially about negative customer service experience. The bottom line is that dealerships with a track record of treating customers poorly rarely survive in the long term. Fortunately, it is easy to weed out the ne'er-do-wells and concentrate on the dealers who deserve your business.
How does a well-informed car buyer like you find a good dealership before it is too late and the purchase has been made? Here are a few things to look out for and to think about when shopping for a new car:
- The dealer reviews on Autotropolis.com are honest reviews from customers just like you. These reviews can provide a good idea of overall dealership quality. If you have done business with a dealership, we would like you to rate the experience by visiting our dealer locator and clicking either the green "thumbs up" button for a positive experience, or the red "thumbs down" button for a negative experience. You may also write a review.
– Selling cars is a tough business and dealerships can come and go. This is particularly true of car dealers opening their doors for the first time less than 12 months ago. Is the dealer you buy a car from going to be there in the future when you need assistance? It is usually safer bet to purchase a vehicle from a well-established dealer who has been a member of the community for a number of years.
– Check the Better Business Bureau (BBB) web site for your state by visiting the Better Business Bureau site. The BBB keeps records about customer complaints for up to 36 months and these records show if the complaint was resolved in accordance with BBB policies. Comparing several dealers in the same area can quickly reveal trouble spots.
- How a dealership staff cares for the facility can say a lot about how the dealership. Good dealers take pride in their showroom and their facilities. Look around when you first pull into the lot. Are the facilities clean, orderly, and in good repair? Are the cars on the lot clean? Are the sales, service, and support staff dressed professionally? Is the service area neat and tidy?
– When you are on the lot or in the showroom shopping for a car does the sales and service staff treat you with respect? If not, run. Everybody has their bad days and salespeople are no exception, but if you feel like the sales or service staff is not treating you properly, it will taint the rest of the car buying process. If you are feeling uncomfortable, you are probably better off shopping elsewhere.
– Ask your friends, family, and co-workers where they purchased their vehicle and if they had a good experience. Most people are happy to share their experiences when asked, especially if the experience was unusually good or bad. Word of mouth is an extremely powerful customer service tool, and dealers know that a single bad episode of poor customer service can potentially cost them several sales down the road.
– Before settling on a dealership it is wise to shop around. Dealers are usually clustered in groups, oftentimes literally right next door to each other, so it is easy to hop from one dealer to the next. Shopping around lets you not only sample a variety of cars, but also allow you get a feel for what you like and what you don't like about any particular dealership.
– Use the resources on Autotropolis.com to get informed about the vehicle you want to purchase. The more you know, the easier the task of buying a car becomes. Get up-to-date on financing offers, pricing, dealer terminology, incentives, reviews, and car ratings before you visit the showroom.
– Not all dealers offer the same set of services. Ask your salesperson whether the dealership offers services that you may need in the future, such as express service check-in, shuttle service, loaner cars, service rate information, and service department hours are common needs.
– J.D. Power and Associates maintains Customer Satisfaction Index (CSI) and Sales Satisfaction Index (SSI) studies that give an overview of customer satisfaction ranked by manufacturer. The results from these studies are widely available. The SSI study measures the overall dealership experience, dealership facility, salesperson, paperwork & finance, and the delivery process on a 1 to 5 scale.