Bavarians Elect to Offer Red, White and Blue Shades for U.S.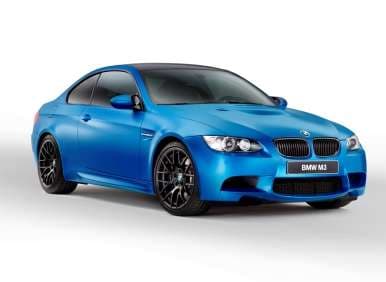 How do you cool down one of the hottest sports coupes on the road today? Well, if you're a BMW competitor, you probably can't; but if you're the German automaker itself, you release the 2013 BMW M3 Coupe Frozen Limited Edition.
Slated to go into production in January of next year, the new M3 models will be distinguished by the same ultra-premium matte finish that launched a few years ago on the 2011 M3 Frozen Grey Coupe, but they'll offer a (slightly) wider choice of colors. Per the automaker: "Appropriate to this election season in the U.S., those choices are Frozen Red, Frozen White and Frozen Blue."
Just note: With an MSRP of $76,395, the car won't be much help in balancing the budget regardless of your personal political affiliation.
2013 BMW M3 Coupe Frozen Limited Edition: The Cold, Hard Facts
That just-mentioned price of admission to the 2013 BMW M3 Coupe Frozen Limited Edition is a hefty $16,000 above the cost of the "regular" M3 Coupe, but the car does deliver a lot more than just its custom-look paint job. It also tacks on BMW's Competition and Premium Packages to the M3's long list of standard amenities.
The former adds further handling prowess to the vehicle, thanks to BMW's three-mode electronic damping-control technology, a lowered ride height and matte black 19-inch alloy wheels. The latter brings a wealth of new comfort and convenience features, including:
Power-folding, auto-dimming exterior mirrors
A powered rear sunshade
Voice command functionality for key vehicle systems
A hard-drive-based navigation system with real-time traffic info
Power-adjustable front seats with a driver's-seat memory function
Rear Park Distance Control
Keyless entry
A digital rearview-mirror compass
Keep in mind, too, that's all in addition to a black-leather interior with carbon leather trim and contrast stitching, a carbon-fiber roof panel, and an assortment of high-gloss black exterior pieces that includes the car's grille, side gills and exhaust tips.
Perhaps best of all, the standard transmission choice is a six-speed manual.