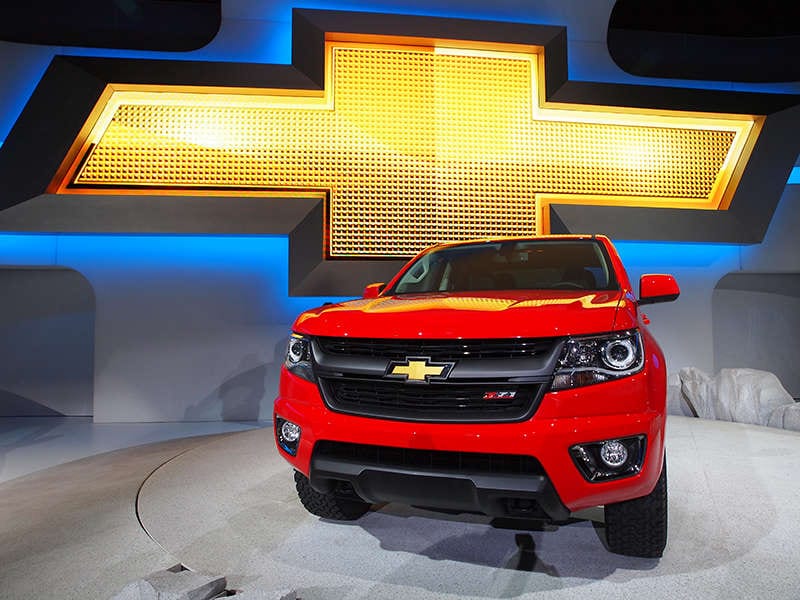 2015 chevy colorado
With the World Series opening in Kansas City last night, the Bowtie brand announced it would highlight its role as the "Official Vehicle of Major League Baseball" by providing a brand-new 2015 Chevrolet Colorado to the series' most valuable player.
On the odd chance folks have forgotten, the 2015 Chevrolet Colorado is the new lead-off hitter for the Chevy pickup team, with the mid-size truck showcasing big-league numbers like a 7,000-lb. maximum tow rating, fuel-economy grades of up to 27 mpg highway and 4G LTE connectivity with a mobile wi-fi hotspot. But you won't need to be a high-priced free agent to afford the 2015 Chevrolet Colorado, since it starts at just $20,120.
Of course, Chevy's support for baseball goes much beyond both major-league ballparks and the 2015 Chevrolet Colorado. For example, while Big Game James Shields and Madison "Mad Bum" Bumgarner started the first game of this year's series for the Royals and Giants, respectively, Chevrolet's choice of opening-game pitcher was Mo'ne Davis, the 13-year-old Philadelphia girl who used her 70-mph fastball to get her team to the Little League World Series.
In fact, Davis not only starred in a 60-second Chevy spot that debuted last night celebrating her accomplishments, she's also the subject of a 10-minute documentary that can be viewed now at www.Chevrolet.com. Both the TV commercial andthe film were developed with the assistance of noted director Spike Lee, who said that: "I, like the rest of America, was captivated by Mo'Ne Davis when she exploded onto the scene this summer."
Lee also offered up a special shout-out to the Chevy brand "for putting a spotlight on a 13-year-old African-American girl from the inner-city during a major sports moment."
Added Paul Edwards, U.S. vice president of Chevrolet marketing: "Mo'ne truly embodies the heart of baseball, and she has been a powerful inspiration to boys and girls everywhere. She has proven that anything is possible if you dedicate yourself and are guided by the right values in life."