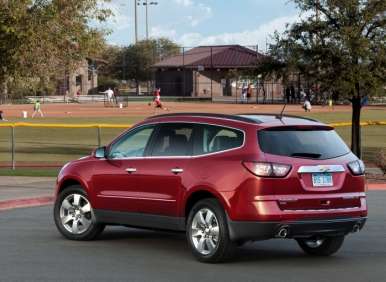 Chevrolet's large and largely successful crossover—the Chevy Traverse—will get a fairly comprehensive makeover for the 2013 model year, benefiting from a fresh look both inside and out, as well as new features geared toward keeping it on the leading edge of today's large family haulers. Among those features: The industry's first front center airbag.
Developed to provide additional protection to front-row occupants during side-impact crashes to the side of the vehicle opposite from where the individual is seated, the airbag is mounted on the inboard side of the driver's seat and deploys between the driver and front-seat passenger—helping protect both.
"While no restraint technology or feature can address all body areas or all potential injuries, the front center air bag is designed to address field-relevant, side-impact crashes that are not addressed by current regulatory or consumer metric test conditions," said Gay Kent, GM executive director of Vehicle Safety and Crashworthiness. "It works with the vehicle's other air bags, safety belts and structure to deliver a safer occupant environment."
And not only is the environment within the 2013 Traverse safer, but it's also both more inviting and roomier, too. The refined cabin now showcases premium soft-touch surfaces, sophisticated highlights like contrast stitching and chrome and silver accents, optional ambient lighting and a revised center stack with a 6.5-inch color touch radio. Traverse owners also can enjoy the Chevrolet MyLink infotainment system, which seamlessly integrates smartphone functionality to allow for hands-free calling via the vehicle's audio system, along with access to Internet radio apps like Pandora and Stitcher.
Other key cabin content on the refreshed Traverse includes:
Larger, illuminated climate controls with improved ergonomics and a more upscale feel
Front seats with articulating head restraints for improved comfort
Chevy's SmartSlide system, providing easy access to third-row seating—which comfortably holds up to three adults
An available rear-seat entertainment system
Best-in-class marks for both passenger and cargo room
The new Traverse's exterior also got plenty of attention and introduces a new "family face" that will adorn Chevrolet's future crossover utility vehicles. The design actually draws its inspiration from the brand's very successful car lineup—remember, Chevy was the No. 1 passenger-car brand in the U.S. last year—and brings a new powerdome-style hood, headlamps, chrome accents and rounded corners that are similar to those on the new 2013 Chevrolet Malibu. The rear of the vehicle has been fine-tuned for a sportier look, with revised taillamps and a new license-plate pocket.
"We have injected a stronger presence into the Traverse exterior by focusing on the details," said Phillip Zak, GM director of exterior design. "The small but important changes give it a more vibrant personality that more closely reflects the lifestyles of the families who rely on the Traverse to get them through their busy lives."
Changes are fewer beneath the skin, but engineers have noticeably improved the Traverse's ride and handling for more car-like driving dynamics. To achieve this, rebound springs have been integrated into the vehicle's front struts, while new shock-valving debuts at all four corners. Yet even with its smooth on-road demeanor, the Traverse continues to offer serious towing capabilities—and a 5,200-lb. max tow rating.
Also unchanged for 2013 is the Traverse's powertrain. Beneath the hood is an advanced V6 with direct injection that can deliver up to 288 hp and 270 lb.-ft. of torque while still enabling competitive EPA numbers. The two-wheel-drive Traverse can reach 17 mpg city/24 mpg highway/19 mpg combined, and that compares to rivals like the Honda Pilot at 18/25/21, the Toyota Highlander's 18/24/20, and the 18/25/20 line posted by the current V6 Ford Explorer. But it's worth pointing out that even though the Traverse does slightly trail these rivals in terms of fuel economy, the Chevy is a much bigger vehicle; in fact it's more than a foot longer than the Highlander. An intelligent all-wheel-drive system remains on the options list.
Pricing for the 2013 Chevy Traverse has yet to be released, but with the current model starting at $29,510, it wouldn't be a surprise to see the new model open with an MSRP north of $30,000. For those who keep track of such things, the Traverse is built in the U.S. at GM's plant in Lansing, Mich.
The party line from Chris Perry, vice president of Chevrolet Global Marketing and Strategy: "The new Traverse is a family vehicle without compromise. It is more capable than many sport-utility vehicles, with as much room as a minivan and better functionality than both. The Traverse is clever, capable and confident—and there when you need it most."