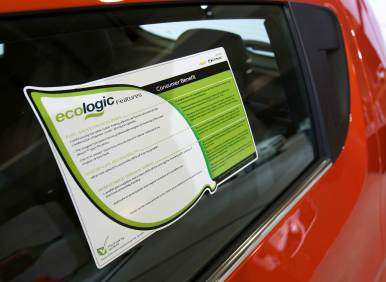 For the 2013 model year, the EPA has mandated that new, more detailed information about a vehicle's environmental performance be added to its window sticker when it's in a dealership, and now it turns out that the U.S. government has company. Chevrolet will become the first brand to debut its own unique "EcoLogic" stickers, starting with the 2012 Chevy Sonic, and these go beyond providing data related to the driving experience to also cover the manufacturing and vehicle-disposal processes.
Commenting on the decision, Eileen Claussen, president of the Center for Climate and Energy Solutions (C2ES), said, "Chevrolet's goal to invest millions in energy efficiency, renewable energy, and other lower-carbon projects to reduce U.S. emissions by up to 8 million metric tons demonstrates innovative corporate leadership. With this new labeling program, Chevrolet not only gives easy access to information customers want, it again shows its commitment to the environment."
As indicated, Chevy has designed the EcoLogic labels to focus on three basic stages in every vehicle's lifecycle:
• "Before the Road"—The first section provides data related to the production process, allowing Chevy to highlight some notable GM efforts in the area of responsible manufacturing. This includes ongoing work to help plants achieve landfill-free status, a recognition that they reuse, recycle or convert back to energy all the waste created each day while building vehicles. Already, more than 75 GM plants around the world are landfill-free.
• "On the Road"—Here, the spotlight will shine on how Chevrolet is leveraging improved aerodynamics, weight savings and powertrain innovations—like the eAssist light-electrification system that enables the new Chevy Malibu Eco to boast EPA marks of 25 mpg city/37 mpg highway—to improve fuel efficiency and reduce emissions.
• "After the Road"—What happens when a Chevrolet car or truck finally reaches the end of the line? Drivers can check its EcoLogic sticker to discover what percent of the vehicle can be recycled and find out the answer. As an FYI, by weight, almost 85 percent of the average Chevy is recyclable, ranging from steel that can be reused in new vehicles to tires that can be converted into artificial turf in stadiums and arenas.
The brand is also taking a proactive approach to establishing the credibility of its EcoLogic claims by having each one vetted by Two Tomorrow's, a UK-based agency that specializes in auditing corporate environmental initiatives.
The Sonic will get its first EcoLogic stickers in March, and the new labels will show up on the rest of the Chevy roster as they begin reaching dealerships.
"Customers want companies to be honest and transparent about their environmental efforts and sustainability goals, and rightly so," said General Motors North America President Mark Reuss. "Putting an Ecologic label on each Chevrolet is just one more way for us to share our environmental progress."