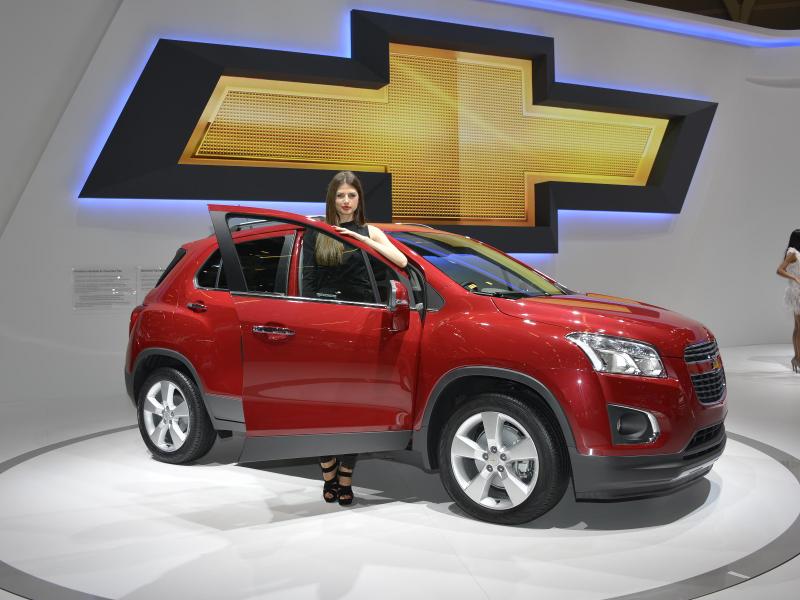 2015 chevy trax
Perhaps compensating for the vehicle's nimble proportions, the Bowtie brand wasn't satisfied with releasing the usual "Top 10" list of reasons to buy the 2015 Chevrolet Trax. Instead, Chevy recently doubled down on that trend by revealing 20 key factors that make its city-centric crossover a high-value choice for consumers. You won't find those here, however, as we've refined the focus a bit more sharply for Autobytel readers, although while still following the brand's "versatility, technology, maneuverability and value" theme for the 2015 Chevrolet Trax.
In the versatility department, the 2015 Chevrolet Trax doesn't just offer 48.7 cubic feet of cargo space despite being a few inches shorter than a Chevy Sonic sedan. It also makes smart use of that space with the only fold-flat front passenger seat, up to eight different seating/cargo configurations, and the most interior storage compartments in its class (15).
That adaptable interior also provides plenty of technology, with the 2015 Chevrolet Trax serving up a MyLink infotainment system with a 7-inch color touchscreen as well as OnStar-backed 4G LTE connectivity and a mobile wi-fi hot spot, all standard; just keep in mind that those OnStar features are provided as part of a 3-gigabyte/three-month data trial, and customers would have to purchase additional data plans for continued service.  
The 2015 Chevrolet Trax was specifically designed with urban driving in mind, and it's nimble proportions and high-efficiency electric power-steering system enable drivers to enjoy a turning circle of just 36.7 feet. But even though the Trax is a mere 168.5 inches in length, the brand touts "a planted stance that fosters a more-confident driving experience." Of course, it further helps that the standard powerplant here is a 1.4-liter, four-cylinder turbo that features 138 hp, 148 lb.-ft. of torque and EPA marks of 26 mpg city/34 mpg highway/29 mpg combined.
And yes, there's also an all-wheel-drive setup available to help keep the Trax on track, and that brings us to the value positioning of the new Chevy crossover: The brand notes that that system is "the most affordable AWD option in Chevrolet's portfolio," with a cost of $1,500, while the MSRP of the vehicle starts at $20,995.