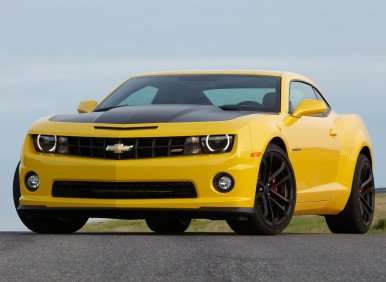 In a fairly stunning development, Chevrolet won more individual segments in the 2013 J.D. Power and Associates Initial Quality Study (IQS) than any other brand in the industry, and by a significant margin. Chevy earned five category crowns, with no other brand getting more than two. Also notable: Chevrolet was No. 5 on the overall IQS leaderboard—behind only Porsche, GMC, Lexus and Infiniti, in that order—while adding a trio of top-three recognitions as well.
The full list of 2013 J.D. Power IQS winners:
City Car—smart fortwo
Sub-Compact Car—Mazda Mazda2
Compact Car—Honda Civic
Compact Sporty Car—Mazda MX-5 Miata
Compact Premium Car—Acura TL
Compact Premium Sporty Car—Porsche Boxster
Midsize Car—Toyota Camry
Midsize Sporty Car—Chevrolet Camaro, Ford Mustang (tie)
Midsize Premium Car—Hyundai Genesis Sedan
Large Premium Car—Lexus LS*
Midsize Premium Sporty Car—Porsche 911
Large Car—Chevrolet Impala
Sub-Compact CUV—Buick Encore, Kia Sportage (tie)
Compact CUV—Honda CR-V
Compact Premium CUV—Mercedes-Benz GLK-Class
Compact MPV—Kia Soul
Midsize CUV—Nissan Murano
Midsize Premium CUV—Infiniti FX
Minivan—Chrysler Town & Country
Large CUV—Chevrolet Tahoe
Large Premium CUV—Cadillac Escalade
Large Light Duty Pickup—Chevrolet Avalanche, GMC Sierra (tie)
Large Heavy Duty Pickup—Chevrolet Silverado HD
(*The Lexus LS was the top-rated vehicle of any kind in the 2013 IQS.)
This year's IQS results come from an in-depth survey of more than 83,000 new-vehicle owners and lessees, who provided feedback regarding their satisfaction with their vehicles after the first 90 days of ownership. Power uses a 233-point questionnaire to develop its data, then ranks entries by the number of reported problems per 100 vehicles.
Just bear in mind that this year's study also turned up some interesting results on just what consumers consider "problems."
2013 J.D. Power IQS: The Technology Factor
Industry watchers have long recognized that, especially in recent years, consumers have shifted from tallying actual "defects" (e.g., parts that break or don't work right) and are now focusing their complaints on design-oriented issues. Well, J.D. Power has now quantified the trend and reports that in some two-thirds of all cases, "the component may be working as designed, but owners deem it a problem because it may be difficult to understand or operate."
And if you think this is aimed primarily at today's increasingly prevalent technology features, you're right on target. J.D. Power singled out connectivity interfaces as a major problem-causer, particularly when customers are using voice-recognition technologies and navigation systems.
Said J.D. Power's David Sargent, vice president of global automotive: "Owners desire, and in some cases are demanding, more content in their new vehicles, especially technology-related features, and automakers are trying to provide it.
"The majority of owners don't experience problems, but those who do are frustrated. That's understandable, especially when owners often keep their new vehicles for five years or more. In contrast, when consumers have a problem with their smartphone, they are likely to replace the phone much sooner."
"The successful companies," he added, "will be those automakers that find a way to give customers the technology they want while at the same time making it sufficiently intuitive so all customers find it easy to use."