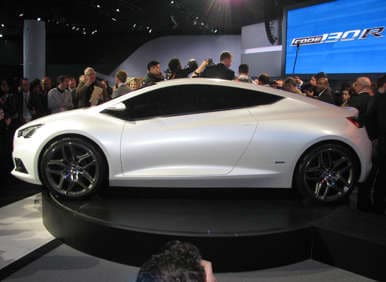 Targeting young buyers who are hungry for affordable cars they can still feel passionate about, Chevy introduced two different flavors of four-door coupe at the North American International Auto Show in Detroit today; the two concepts—the Code 130R and Tru 140S—take two different routes to the same destination, but share the kind of eye-popping design that has become a common theme throughout all Chevy products.
"Chevrolet has always stood for making the aspirational attainable for all generations" said General Motors North America President Mark Reuss. "These two concepts interpret that vision for a new generation. We're seeking out our newest customers' opinions, listening to their advice, and engaging them in new ways."
In fact, significant interaction with potential young drivers was key to the design of these two concepts, as Chevy designers gathered input from some 9,000 folks aged 30 and under to learn exactly what they most prize in a new car--then developed two concepts that would meet their high expectations. It's part of Chevy's plan to attract an important audience: According to the U.S. Census, there are about 80 million consumers in this age group, representing approximately 40 percent of all potential auto buyers and $1 trillion in purchasing power.
To catch their attention, the Chevy Tru 140S was created to be an "affordable exotic" that showcases the type of streamlined, flowing shape more often found from Italian supercars. Particularly notable is the Tru 140S' fast-forward silhouette, which combines with an aggressive stance that leaves it looking ready to pounce. Detailed LED headlamps, an updated version of the current Chevy family grille and a bright set of Chevrolet performance wheels add upscale touches to the three-door, front-wheel-drive hatchback, which also wears the brands iconic "crossed flags" logo--traditionally worn by Chevy's high-performance halo car, the Corvette.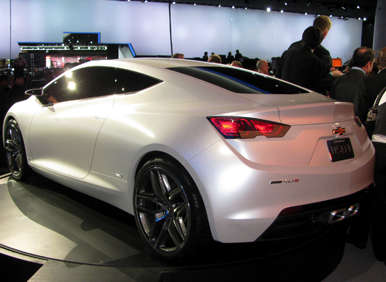 The rear-wheel-drive Code 130R presents a more traditional, upright silhouette that takes its inspiration from cars like the classic BMW 2002 while mixing in a number of the brand's heritage design cues, including retro-style taillights and the Chevy crossed-flags logo. Up front, the Code 130R's menacing expression is highlighted by narrow, slashing LED headlamps, a large front spoiler, and sharply sculpted lower air inlets, while the profile boasts the distinctive long hood/short rear deck proportions of a hi-po RWD coupe. And because it wouldn't be a show car without 'em, the Code 130R's tires are wrapped around custom-look, anodized gold wheels.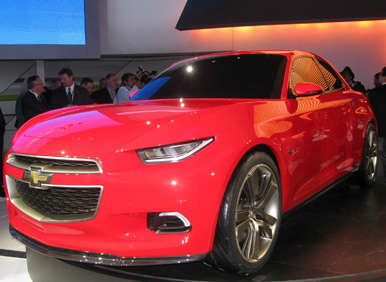 Both concepts were engineered to holster the same high-performance, high-efficiency 1.4-liter turbocharged I4 found in the Chevy Cruze Eco and enthusiast-oriented Chevy Sonic RS. That advanced engine makes a peppy 138 hp in current production trim, while helping both the Cruze and Sonic reach at least 40 mpg highway. But in a move that reinforces Chevrolet's commitment to sustainability, the Code 130R also leverages the General's innovative eAssist light electrification system. By providing a boost of electrical power under certain driving scenarios, eAssist can further enhance fuel economy without sacrificing performance.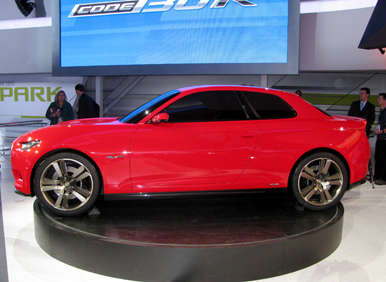 Chevrolet didn't talk production plans during the Detroit auto show, but Reuss did indicate the two concepts would visit auto shows, lifestyle events, college campuses and other venues throughout the year as the brand continues to fine-tune its vision of future products for the youth market.