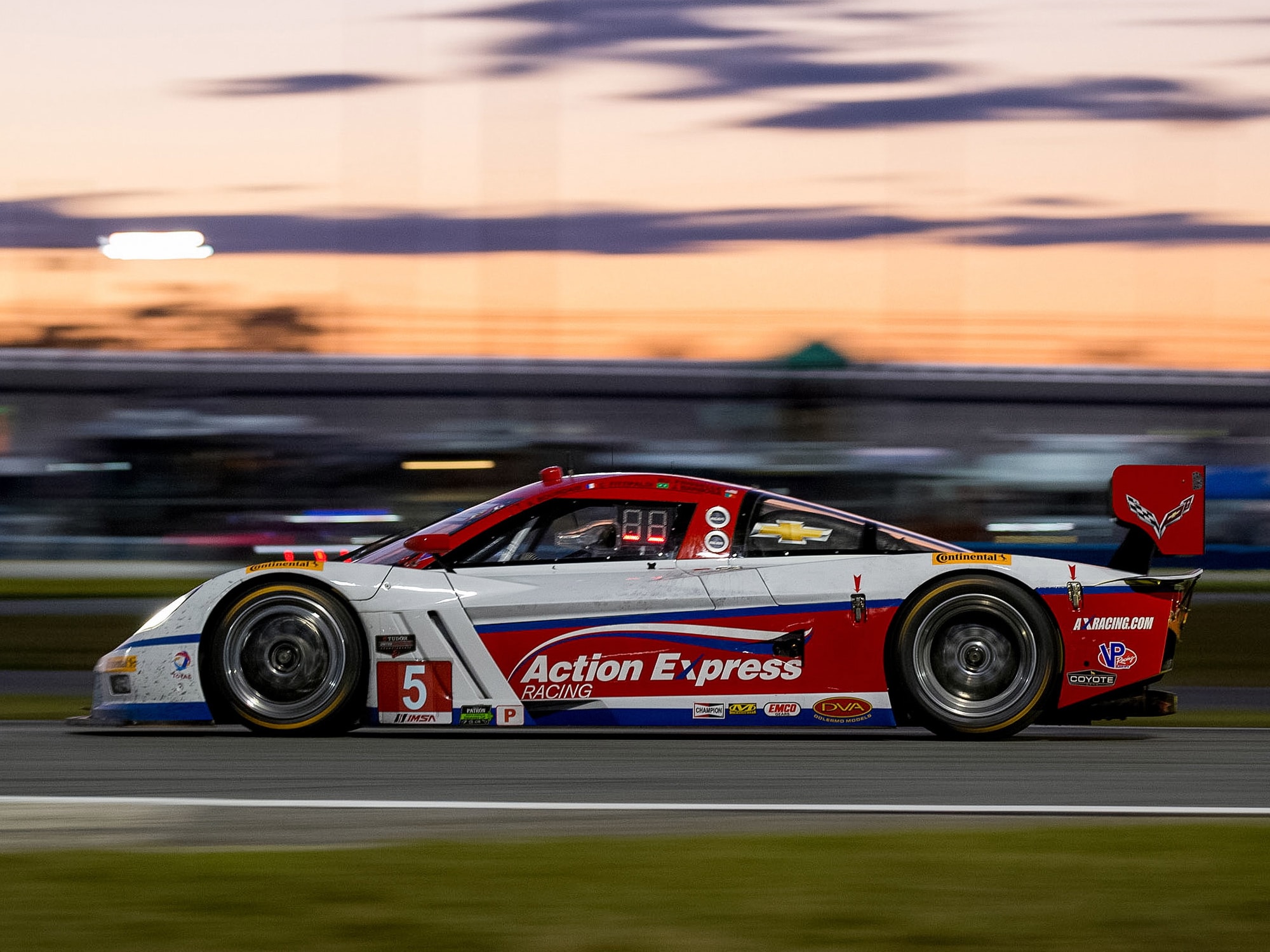 The first race of the United SportsCar Championship is now in the record books, and so is the 2014 Chevy Corvette Daytona prototype: A quartet of the Bowtie-brand's purpose-built racecars swept the podium and a little bit more at the recent Rolex 24 at Daytona, and though it was clear that a Corvette would take home the top prize long before the 24-hour race had ended, the winning team wasn't decided until the final seconds—literally.
After a late-race incident had brought out a caution flag, the action restarted with just 10 minutes left on the clock. And for Joao Barbosa, driving the No. 5 Corvette Daytona prototype for Action Racing, all of it was spent trying to stay ahead of Max Angelelli, the pilot of the No. 10 Corvette DP for Wayne Taylor Racing. In the end, Barbosa edged Angelelli by a mere 1.4 seconds, followed by two more Corvette Daytona prototypes in third and fourth places.
I saw … that I could have an advantage there, and I took it, and I just was able to build enough cushion to—I don't say it was going to be easy, but at least I had enough margin for maneuver, so I had quite a comfortable gap at the end," downplayed Barbosa, who was assisted in driving duties by Christian Fittipaldi and Sebastien Bourdais.
Not everything went Team Corvette's way during the race, however.
With the event just three hours old, Corvette driver Matteo Malucelli was running at speed when he struck the Ferrari 458 of Memo Gridley, after the latter's car had lost power on the track. The frightening crash left Gridley still hospitalized and facing more surgery, with a broken back and other extensive injuries; Malucelli, although he had to be cut out of his car, is in good health.
Less seriously, the debut of the 2014 Chevy Corvette C7.R didn't quite live up to the standards set by the Daytona prototype cars. The top Corvette in the production-based GT Le Mans (GTLM) category only managed a fifth-in-class finish, two laps behind the leader.
In other results from the 2014 Rolex 24, winners included:
GTLM class—Porsche 911 RSR; drivers: Patrick Pilet, Richard Lietz and Nick Tandy
GT Daytona class—Ferrari 458 Italia; drivers: Alessandro Pier Guidi, Bill Sweeder, Scott Tucker, Jeff Segal and Townsend Bell
Prototype Challenge class—Oreca FLM09; drivers: Colin Braun, Jon Bennett, James Gue and Mark Wilkins