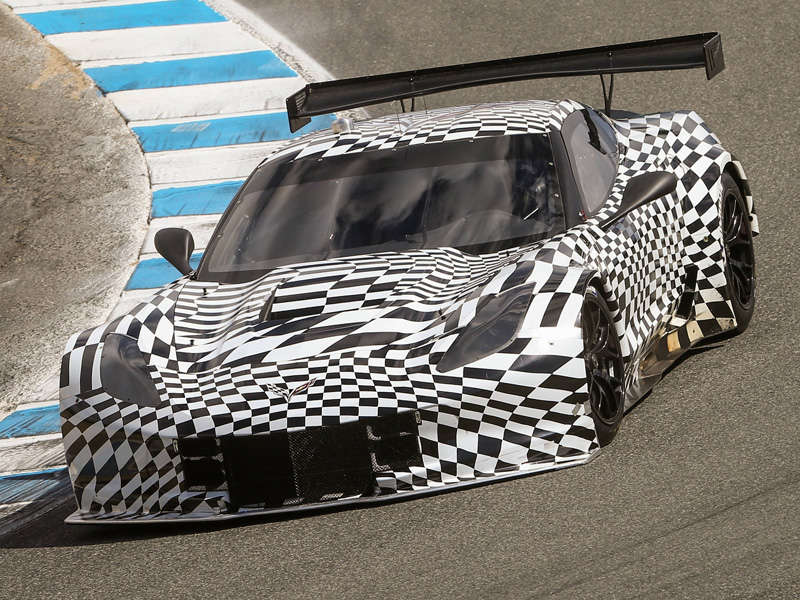 The latest version of America's favorite sports car continues to impress.  If diehard fans of the bowtie brand were already thrilled about Chevrolet debuting the all-new factory tuned Corvette Z06 next month in Detroit, then they might want to pack an extra set of underwear, because the latest news is that the razor sharp C7.R will be making an appearance at the show as well.
General Motors gave a glimpse of the next generation Corvette racecar to onlookers at the recent Rolex Monterey Historics, the hardcore motorsports side of Classic car week in Pebble Beach.  While the Corvette was being celebrated for turning 60 in the paddock, the camouflaged C7.R only had time to complete a single lap at Mazda Raceway Laguna Seca.
While the previous generation C6 Z06 shared many racecar parts with the outgoing C6.R, like carbon fiber fenders and a wider front air dam, the new C7.R was developed right alongside new Z06 and C7 Stingray.  This means that more of what will allow the C7.R to win races will already be baked into the showroom stock trackday special that the new Z06 will undoubtedly become, representing what Chevrolet is calling the "closest connection between the racing and road going Corvettes in modern times."
Chevrolet is riding on a motorsport high, capturing a claimed 12 manufacturer, driver and team championships in disciplines ranging from NASCAR, to IndyCar, ALMS, GRAND-AM and even the Pirelli World Challenge series.  Corvette Racing enthusiasts and friends of "Jake," the endurance racing team's mascot, will be happy to see the C7.R making its competition debut on January 25th at the Rolex 24 at Daytona. It will be racing right alongside the Corvette Daytona Prototype racecars.