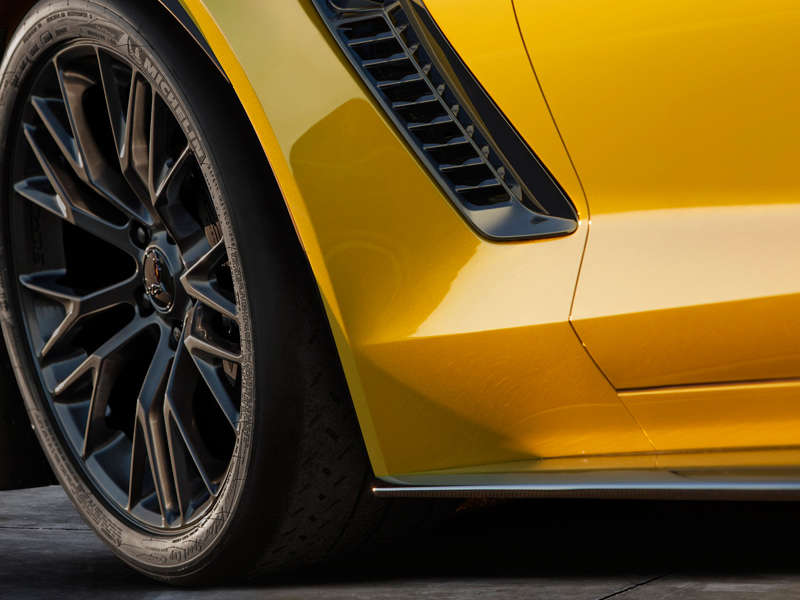 Chevrolet has just announced that the 2014 Corvette Z06 will officially see the light of day at the Detroit Auto Show.  The first Corvette to wear Z06 badging was a proper racecar, so it's no surprise that GM is claiming the 2015 Chevrolet Corvette Z06 to be the most track capable version of America's favorite sports car ever, as it sits alongside the all new Chevrolet SS and Camaro Z/28 at the top of the GM Performance lineup.
At first glance, the supplied teaser image of the 2015 Z06 just looks like a C7 wearing a fancy set of rims, however a keen eye can read into the shadows.  The first give away is the carbon ceramic brake setup, a bona fide racecar part, housed inside the aforementioned multi-spoke rims wrapped in Michelin Pilot Cup Sport rubber.  Closer inspection of the markings on the sidewall reveals the supercar stickers to be unidirectional semi slick street tires with an aggressive tread pattern.
It also appears that the C7 Stingray's gills have been stretched outward, widening the track of the new street legal racecar, giving the 2015 Z06 room for all that rubber.  From the front, the Corvette's mouth will be widened allowing for more control of the air it displaces, while the protruding fenders lend to a more slender waistline.  Lastly, it appears that the aero package will be finished off with some sort of downforce-enhancing undertray. Based on the fact that the current Z06 has a lot in common with its championship winning racecar brethren, the one on the 2015 version should work quite well.
The one interesting thing to note is that Chevrolet is touting the 2015 Corvette Z06 as the top of the GM Performance lineup alongside the four door SS and the truly hardcore Z/28.  While some have speculated that the Z07 would be downsized and turbocharged just like the majority of the GM lineup, it would appear that the new Z06 will stick with a big traditional American V8 (at least we hope so).  So now that the next Z06 appears to be certified for track duty, the question becomes, what is Chevy going to do with all the leftover turbos? Can you say ZR-1, anyone?