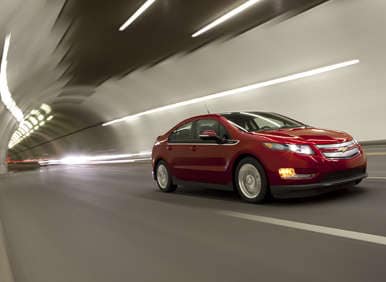 After a disappointing 2011 where sales of the Chevrolet Volt extended-range hybrid failed to meet GM's initial projections, it was announced this week that the Detroit area plant where the electric car is built will be idled for five weeks. The reason? Inventories of the Volt are piling up to the point where the automaker needs to put a hold on production until dealers can clear out what they already have sitting on lots across the country.
The Detroit News is reporting that 1,300 workers will be affected by the decision to briefly close the Chevrolet Volt facility, which had already undergone an extensive, holiday-related shutdown that included the entire month of January. The same plant might also be facing a long summer idle period than was initially planned. The Volt oversupply is matched by an abundance of Opel Ampera models, the name for the battery-powered automobile on the European market. There are currently 3,596 Chevrolet Volts awaiting new owners in the United States.
There are several factors that have contributed to the Volt's inability to gain significant traction amongst American new car shoppers. The vehicle's $39,145 MSRP (making it one of the most expensive non-luxury hybrids on the market) is daunting to many buyers, despite the fact that the car comes with a $7,500 tax credit. Recent safety issues concerning the flammability of the Volt's battery pack after an accident may have also had a chilling effect on the car's sales, despite the vehicle having been cleared of any actual design imperfections by the National Highway Traffic Safety Administration. Even when presented with a clean bill of health, Chevrolet decided to initiate a voluntary recall to install a reinforced protective structure around the Volt's power supply.
After moving just 7,700 examples of the Chevrolet Volt in 2011 General Motors has understandably backed away from its rosy prediction of 45,000 units moved for the current model year. The new strategy is to build only as many Volts as the company can actually sell within a reasonable amount of time, a number that the company hopes it can inflate through a campaign designed to educate drivers about the capabilities of the automobile as well as undo some of the damage that was done by the investigation launched by NHTSA.
Not all of the blame for the Volt's flagging sales performance can be assigned directly to General Motors. There are indications that the electric car market in the United States may have reached its saturation point. The Volt's closest competitor, the Nissan Leaf, sold just under 10,000 models last year but saw its own monthly sales fall over the course of the past three months. With several new electric cars from Ford and Toyota about to make a broader impact on the American landscape, it remains to be seen just how healthy demand will remain for these unique alternative fuel automobiles.