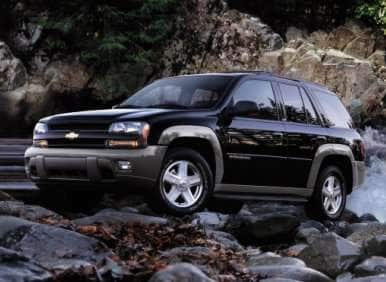 One of the last of the truck-based body on frame midsize SUVs, the Chevrolet Trailblazer, in its heyday, was ranked among the most popular midsize SUVs in America. Sharing its platform with the Buick Rainier, GMC Envoy, and Oldsmobile Bravada, the Trailblazer was introduced in 2002, and was produced through 2009.
Unfortunately, consumer tastes changed considerably over the course of the Trailblazer's lifetime. Where before, it was enough just to be an SUV, eventually people wanted the wildly popular vehicles to behave more like cars. In this regard, the Trailblazer was ill-suited to make the leap. Ultimately, General Motors replaced the Trailblazer with the Traverse, incorporating a unibody design with more carlike attributes.
Still, the Trailblazer had a lot going for it—its unique hydroformed frame rails gave it exceptional rigidity for a body on frame design. Further, then state of the art features such as navigation and a rear seat DVD-based video entertainment system were available. Sadly though, all these modern conveniences were packed into an inferior interior design—one that left quite a bit to be desired on both the quality and the aesthetic front.
For these, and a number of other reasons, the Chevrolet Trailblazer was discontinued in 2009. Thus, only one generation of the midsize Chevrolet SUV was ever built. BTW, the Trailblazer name was originally employed in 1999, as an upscale trim line of Chevrolet's Blazer SUV. The Blazer ran until 2005.
Chevrolet Trailblazer Used SUV Buyers Guide: 2002
Winner of the North American Truck Of The Year award in 2002, the Chevrolet Trailblazer debuted to a warm reception. One of its best features was its 4.2-liter in-line six-cylinder engine. A paragon of smoothness, GM actually had to install an ignition override to prevent drivers from attempting to start the vehicle when it was already running. The engine ran that smoothly. Producing 270 horsepower and 275 foot-pounds of torque on regular unleaded fuel, the engine was paired with a four-speed automatic transmission. Buyers had a choice of either rear or all-wheel-drive. The Trailblazer used a double wishbone independent front suspension design and a solid live rear axle.
Its four-wheel-drive system was an on-demand design with a mechanical center differential, high/low gear selection, automatic locking hubs, and a center-locking differential.
The 2002 Chevrolet TrailBlazer came to market in two body styles and three levels of trim; LS, LT, and LTZ. Each trim level was available for either the standard wheelbase, or the long wheelbase EXT Trailblazer. Trailblazer EXT, sixteen-inches longer than the standard Trailblazer, offered a third row of seats and featured a higher roofline to enable easier access to the third row.
The LS used sixteen-inch wheels, and featured a full-size matching spare mounted underneath the body to provide more cargo capacity inside the Trailblazer. Standard equipment for the Trailblazer also included variable intermittent windshield wipers, privacy glass, and a roof rack. To facilitate towing, Trailblazer's product planners specified an auxiliary transmission fluid cooler, a trailer hitch, and trailer pre-wiring.
Both the driver and front passenger bucket seats were equipped with manual adjustable lumbar support. All seats were upholstered in cloth. The rear seatback split-folded to enable the Trailblazer to accommodate more cargo. There were power door locks and two one-touch power windows.
The front console incorporated storage, and there were cupholders in the front and rear passenger compartments. The front doors contained storage pockets, and there was a remote release for the rear hatch. The Trailblazer LS retained accessory power when the ignition was shut off, and it featured three 12v power outlets; one in the front passenger compartment, one in the rear passenger compartment, and one in the cargo area.
To ensure the comfort of its occupants, the 2002 Chevrolet Trailblazer LS offered a tilt adjustable steering wheel, dual zone air conditioning, a cargo area light, and front and rear reading lights. An external temperature display and a compass were fitted as well. The audio system used six speakers, driven by an AM/FM in-dash single-disc CD player.
Safety features included electronic brake force distribution, ABS and four disc brakes.  There were dual front side mounted airbags, child seat anchors, a rear center three-point seatbelt, rear door child safety locks, daytime running lights, and an engine immobilizer. The headlamps were dusk sensing, with an auto delay off feature. Side curtain airbags and traction control were optional.
The 2002 Chevrolet Trailblazer LT replaced the LS' sixteen-inch steel wheels with alloys of the same size. It incorporated a rear defogger, a height adjustable power driver's seat, premium cloth upholstery, heated power adjustable mirrors, cruise control, a cargo net, overhead console storage, and a universal remote transmitter for garage doors, security gates and etc.
Trailblazer LT's steering wheel was upholstered in leather, and the inside rearview mirror was electrochromatically auto dimming. There were dual illuminating vanity mirrors, and the OnStar telecommunications system was standard. Safety features added to the LT trim line included the remote antitheft alarm system and front fog lights.
The top-of-the-line Trailblazer LTZ's feature list included seventeen-inch alloy wheels, smart rain sensing intermittent windshield wipers, eight-way power adjustments for both the passenger and driver's seat, leather upholstery, remote power door locks, audio controls on the steering wheel, dual zone climate controls, turn signals in the outside rearview mirrors, and memorized settings for two drivers.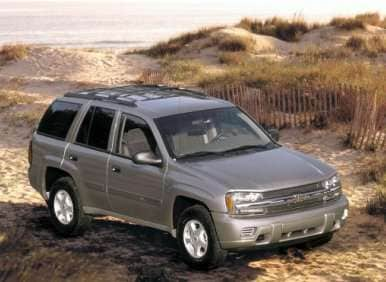 Chevrolet Trailblazer Used SUV Buyers Guide: 2003
Model year 2003 saw the introduction of a 5.3-liter V8 for Trailblazer EXT, producing 294 horsepower and 325 ft-lbs of torque. Horsepower output of the inline six was increased to 275 hp, but its torque output remained unchanged.
The North Face edition of the Trailblazer also debuted in 2003 as an option package for the upscale Trailblazer LTZ, or the Trailblazer EXT with the leather package.
The North Face Trailblazer was defined bybody-color exterior cladding, unique seats, mesh map pockets, rain-sensing wipers, liftgate lighting, a cargo liner for the under-floor storage compartment, heavy-duty cargo mats, an adjustable cargo shelf for the EXT model, a set of The North Face duffel bags, and a blanket.
The size of Trailblazer's fuel tank was increased to 22 gallons, EXT models got an additional child seat anchor, and the side airbags. A rear cargo shade, interior lighting, and the auto dimming driver's side mirror—formerly all standard equipment—were shifted to the options list.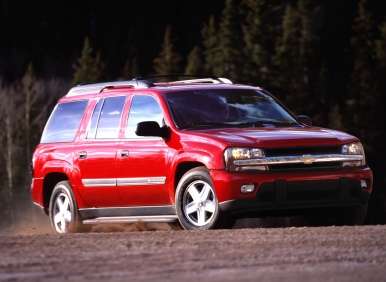 Chevrolet Trailblazer Used SUV Buyers Guide: 2004/2005
The Trailblazer LTZ trim level was dropped for 2004—however, new luxury features were added; including power adjustable pedals, a DVD-based navigation system, automatically locking doors, and XM satellite radio. To further differentiate the North Face Edition package, a unique set of seventeen-inch alloy wheels was fitted.
Going into model year 2005, Chevrolet's product planners specified some interior improvements, including restyled seats, revised chrome accents, trim enhancements, and an updated instrument panel. But it was the Trailblazer LT got all the love; including a new front fascia. The Trailblazer LS continued with the same look as the 2002 model.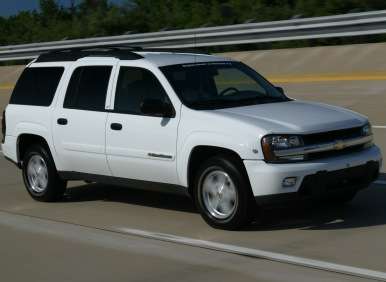 Chevrolet Trailblazer Used SUV Buyers Guide: 2006
Model year 2006 ushered in engine improvements across the board, as well as an SS package. Output of the 4.2-liter in-line six was increased to 291 horsepower and 277 foot-pounds of torque. The 5.3-liter V8 was reworked to produce 300 horsepower to and 330 foot-pounds of torque, and was also offered as an option in the standard Trailblazer. The SS package got a 391 horsepower 6.0-liter V8 with 395 foot-pounds of torque. Trailblazer SS was an all-wheel drive proposition only, and used a Torsen center differential.
Other features of the SS included a sport tuned suspension system, twenty-inch wheels, and more powerful brakes. The SS package could be fitted to either the LS or the LT Trailblazer.
For 2006, standard Trailblazer LT features included sixteen-inch aluminum wheels, dual-zone air conditioning, cruise control, OnStar, a CD player, and power windows and door locks.
To that list of equipment, LT models added a power driver's seat, keyless entry, and seventeen-inch alloy wheels. Key options included leather upholstery, a sunroof, a rear-seat DVD-based video entertainment system, a DVD-based navigation system, Bose audio, an in-dash CD changer, and satellite radio.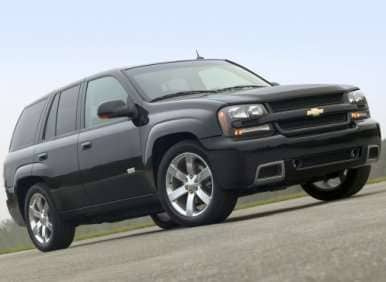 Chevrolet Trailblazer Used SUV Buyers Guide: 2007/2008/2009
Trailblazer EXT was dropped, Trailblazer SS got split into two packages, and dual zone climate control, an auto dimming rearview mirror, and rear-seat audio controls were added to Trailblazer LT.
With that said, for 2007, the Chevrolet Trailblazer was available in four trim levels; LS, LT, 1SS, and 3SS. Standard features for Trailblazer LS included seventeen-inch aluminum wheels, a dual zone air conditioning system, cruise control, OnStar, a CD player, and power windows and door locks. To this, the LT trim added fog lamps, a roof rack, power mirrors, keyless entry, and a rear window defogger. Available for the LT, but not the LS, were eighteen-inch wheels, leather upholstery, power pedal adjustment, heated and power adjustable front seats, heated outside mirrors, driver's seat memory, and a trip computer.
Other optional equipment included the sunroof, a rear seat DVD-based video entertainment system, a navigation system, a Bose audio system, a power adjustable driver's seat, an in-dash CD changer, and satellite radio.
For Trailblazer 1SS, the basic equipment list was the same as the Trailblazer LS, however it also featured a sport-tuned suspension system, twenty-inch wheels, a monochromatic exterior paint treatment with a black mesh grille, high-performance brakes, and a faster steering rack. To get from there to Trailblazer 3SS, the LT's equipment list was fitted, in addition to leather seating, power actuated front seats, and the adjustable pedal set.
Satellite radio and side curtain airbags were added to the standard equipment list.
For the last year of Trailblazer production, the 5.3-liter V8 was killed, but Bluetooth was added.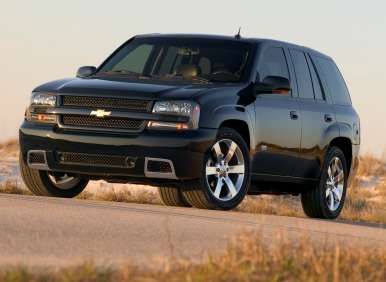 Chevrolet Trailblazer Used SUV Buyers Guide: Summary
All in all, by the end of its run, many of the Trailblazer's contemporary competitors were superior to it in pretty much every regard. However, high-performance aficionados would do well to take a serious look at the Trailblazer SS. Sporting the engine from the 2005 Pontiac GTO and an upgraded suspension system, brakes, and a faster steering rack, the Trailblazer SS was the best Trailblazer of all—if you're someone who truly likes to drive and needs an SUV.
For those in the mainstream who absolutely insist upon having a Chevrolet Trailblazer, you'd do well to get the most recent example you can afford. The later models featured more powerful engines, and a broader range of equipment.
Built during the last days of the old GM, development money was at a premium  During the Trailblazer's lifetime. And, a lot of programs were being cut. In fact, at the press preview of the Envoy, Bravada and Trailblazer, the death of the Oldsmobile brand was announced. Thus, not a lot of attention was lavished upon the Trailblazer during the latter days of its model run.
If you are seriously considering purchasing a pre-owned Chevrolet Trailblazer, you'd do well to run an Internet search for "Chevrolet Trailblazer recalls", indicating the model year of your interest—just so you know what you're getting into. Similarly, you'll want to run a vehicle history report against the VIN to ensure there are no old skeletons hiding in your potentially new Trailblazer's closet.
To make sure the needed updates you find were applied to your model, in addition to making sure you're getting a sound running iteration of the Trailblazer, you'll definitely want to subject any model you're seriously considering to a pre-purchase inspection by an independent, trusted, professional mechanic.
Choose one familiar with Chevrolet's midsize SUV.