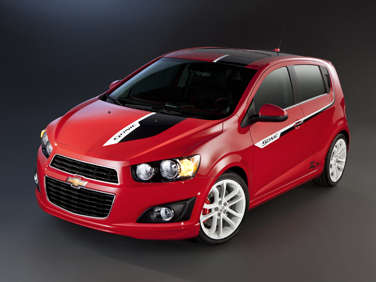 Chevrolet will be bringing four special variants of the all-new 2012 Chevrolet Sonic subcompact to the 2011 SEMA Show, as well as several customized versions of the Chevrolet Cruze compact sedan. The Specialty Equipment Market Association puts on the yearly gather in order to give both OEM automakers and aftermarket parts companies and vehicle designers a chance to show off their latest wares.
Three of the 2012 Chevrolet Sonic vehicles on display by the Bowtie-wearing brand will feature the extensive use of Chevrolet's Z-Spec accessories catalogue. Z-Spec accessories are meant to offer Sonic buyers the chance to dress up their rides with both functional and style-oriented components.
The Sonic Z-Spec #1 has been outfitted with an aero package that includes a front spoiler and skirts, as well as a special grille and aggressive graphics laid over a Torch Red paint job. A red interior complements the vehicle's finish, and black suede seats, a sport pedal kit and matching shift knob give the hatchback even more of a sport feel. Under the hood the Z-Spec #1 comes with a turbocharged, 1.4-liter four-cylinder engine mated to an upgraded exhaust system, and the vehicle also features bigger brakes and a stiffer suspension system. The Chevrolet Sonic Z-Spec #2 matches the Z-Spec #1 in terms of drivetrain and suspension, but swaps in a Flat White paint scheme and also features a sportier exterior trim package that further dials up the race-inspired look.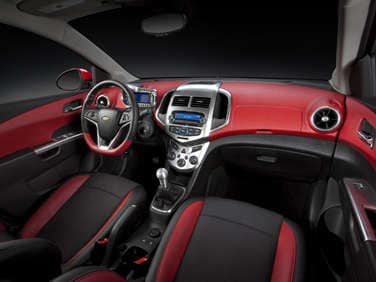 The Sonic Z-Spec 4D Concept offers more of the same, but spread across the Sonic sedan canvas instead of the hatchback model. The final Chevrolet Sonic modes making the trip to the Las Vegas SEMA show - the Chevrolet Sonic Dusk - also offers Z-Spec accessories but tones down the presentation in order to present a model that comes with a customized look that leans more towards the street than the track.
Chevrolet will also be rolling out two worked-over editions of the popular Chevrolet Cruze compact at SEMA 2011, each of which has been modified along themes similar to those used on the various Sonic models. The Chevrolet Cruze Z-Spec expands the accessory lineup to include the larger car, although the available parts are mostly appearance oriented (stripe kit, ground effects, rear spoiler and upgraded interior trim with a flat-bottom steering wheel). The Chevrolet Cruze Dusk comes with subdued colors inside and out, a more powerful stereo and dark-colored wheels. Interior touches found on the Dusk match most of what is offered in the Cruze Z-Spec.