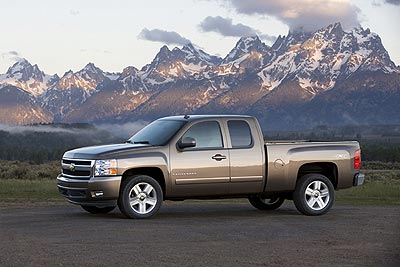 Chevrolet Silverado: Preview Americans love pickup trucks, even if we don't necessarily them. Sure, there are contractors and professional trades people whose work necessitates a durable rig with a big cargo box, but there are countless others who opt for these American-as-apple-pie vehicles to occasionally tow the boat, to make the weekly dump run, to provide themselves a commanding view of the road, or to instill a perceived sense of safety. True, smaller SUVs, crossovers, and even some sedans could address some or all of these concerns, though none satisfies the inner desire for a pickup. Plus, one must always be prepared for that time a second cousin twice removed requires help towing his four-wheeled lawn ornament, or your infant daughter will need assistance moving into her college dorm. Preparedness is the essence of pickup truck ownership. In exchange for all that they do, pickups usually ask for one thing in return – gas, and lots of it. GM is one company trying to lessen the need for petrol, offering Active Fuel Management technology on its redesigned 2007 SUVs, and starting with its arrival this October, the 2007 Chevrolet Silverado pickup. Available in a number of trims boasting up to 367 horsepower and capable of towing up to 10,500 pounds, the Silverado can be fitted with an optional 5.3-liter V8 that cuts engine power to four cylinders when less power is needed, and furthermore can run on E85 (ethanol) fuel. Unfortunately, our experience with GM's fuel-saving efforts, based on time in a 2007 Chevrolet Tahoe and 2007 Chevrolet Avalanche, have yet to prove positive, but GM insists the technology works, so your results may indeed differ. Fuel economy aside, the 2007 Chevrolet Silverado delivers numerous tangible improvements over its predecessor, including a stronger chassis, upgraded suspension and steering systems, all-new styling, and an overhauled interior accented by a level of refinement that until now has been absent from GM trucks. Like the new Tahoe, the 2007 Sierra may be the best GMC pickup ever built. And with a ready-to-rumble 2007 Toyota Tundra set to hit the streets in January, it needs to be.
Why it matters
We've said it before, but it bears repeating here – GM needs to strongly defend its position as a leader in full-size truck sales. While the company shows progress on the passenger car and small SUV/crossover front, profit-heavy vehicles like the Chevrolet Silverado pickup and Tahoe utility vehicle continue to be crucial to a solid bottom line. Admittedly, shoppers are migrating to more fuel-efficient offerings, but GM is intent of preserving, if not increasing its share of this still lucrative, if smaller, segment. To that end, the 2007 Chevrolet Silverado arrives with an attractive new design, a host of powerful engines pushing up to 367 horsepower, scores of desirable standard and optional features, and true truck capability equating to a 10,500-lb. tow rating, a bigger box, and a payload maxing out at 2,160 pounds. Every ounce of that pulling and hauling power will be necessary when the thoroughly redesigned Toyota Tundra arrives at the beginning of the year.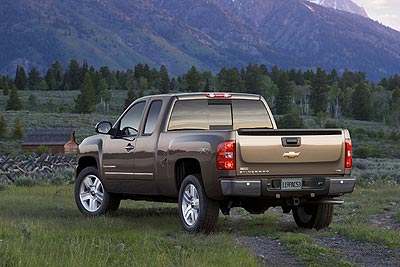 What's under the hood
When it comes to engine options, the 2007 Chevrolet Silverado has the market pretty much smothered. Regular Cab models come with a standard 4.3-liter, 12-valve V6 offering 195 horsepower at 4,600 rpm and 260 lb.-ft. of torque at 2,800 rpm. Should more power be desired, a 4.8-liter, 16-valve V8 provides 295 horsepower at 5,600 rpm and 305 lb.-ft. of torque at 4,800 rpm, and a 5.3-liter, 16-valve V8 pushes 315 horsepower at 5,200 rpm and 338 lb.-ft. of torque at 4,400 rpm. This final engine choice features GM's Active Fuel Management technology, designed to cut power to four cylinders when appropriate for improved efficiency, and can be ordered in gas-only or gas/E85 (ethanol) versions. Extended and Crew Cab variants of the 2007 Chevrolet Silverado add an optional 6.0-liter, 16-valve V8 boasting 367 horsepower at 5,500 rpm and 375 lb.-ft. of stump-pulling torque at 4,300 rpm. Active Fuel Management technology is not available on this engine. All Silverados use a four-speed automatic to deliver power to the rear or all four wheels. The track has been widened (3.2 inches up front, one inch out back) for better stability, the fully-boxed frame strengthened, an all-new front subframe added, and tires measuring 17 to 20 inches are directed by a hydraulic rack-and-pinion steering system. The 2007 Chevrolet Silverado rides on a new suspension system comprised of coil-over springs in front and a Hotchkiss-style live axle with leaf springs under the bed. Rear shocks have been mounted at an angle to improve ride quality and handling. Five suspension packages are offered: Z83, the basic setup; Z85, designed for improved handling and towing; Z71, the so-called off-road option; Z60, the street setup with available 20-inch wheels; and the NHT package for the hardcore tow junkie. Weighing in between 4,450 and 5,300 pounds, the 2007 Silverado can accommodate a payload up to 2,160 pounds and carries a maximum tow rating of 10,500 pounds. The bed is 1.18 inches deeper up front and 1.57 inches deeper by the tailgate.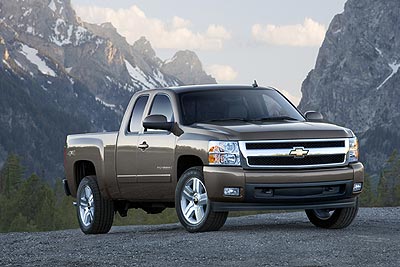 What's inside
Pictured here and standard on WT, 1LT, and 2LT Silverados is what GM calls the "pure American pickup dash panel." That's to say, a design deemed to be "functional, intuitive, contemporary, with low-glass materials and tight gaps." Gone is the previous setup with its myriad of buttons amid a sea of shiny plastics, replaced by a straight-forward interpretation featuring clear gauges, basic controls placed within easy reach, and a more visually-pleasing style. Visitors to the 2007 Chevrolet Silverado's cabin will also notice large, sturdy door handles, increased interior room, a double glovebox, and when under way, a ride that GM claims is markedly quieter than its predecessor. Extended Cab versions feature side access doors that open a full 170 degrees, power rear windows, and a rear split bench seat that folds up, availing a relatively flat floor absent obstructing lower seat frames. 1LT models also include a 40/20/40 split front bench seat with ample storage – 6.1 liters in the fold-down center armrest and 9.1 liters under the flip-up center seat. Basic is the best way to describe the Silverado WT, or Work Truck, since it comes equipped with vinyl upholstery, StabiliTrak stability control on Crew Cab versions, and little else aside from OnStar and air conditioning. Available is a rail system for the bed, bolting to the sides and forward wall of the box, featuring upper and lower tracks with four tie-downs capable of securing up to 500 pounds each. Protecting the bed is the job of an optional bed liner or bed mat; spray-in liners are not currently a factory option. Standard on the 1LT model is a cloth interior, the usual array of power features including keyless entry, a radio with a CD and MP3 player, and chrome accents. The Silverado 2LT adds bucket seats, automatic climate control, power front seats, and more. Finally, the LTZ provides heated leather bucket seats, a unique instrument panel borrowed from the Tahoe and the rest of GM's full-size SUVs, Bose sound, remote start, and a heavy-duty towing package with a heavy-duty transmission cooler.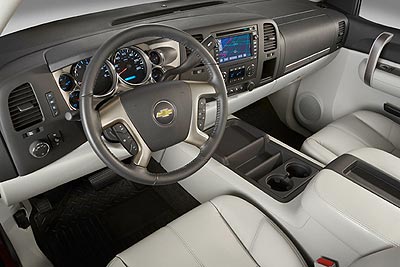 What Chevrolet says
Of the full-size pickup truck segment, VP and Vehicle Line Executive of Full-Size Trucks for GM of North America, Gary White, has this to say: "Nobody else can offer the breadth of truck choices as GM, from the V6 Regular Cab Work Truck to the 400-horsepower GMC Denali." Company executives are also quick to cite the General's first-place ranking in terms of overall full-size pickup truck sales, beating competitors Ford, Dodge, Nissan, and Toyota. That success, however, is in a world lacking the redesigned Toyota Tundra, the one with a beefy new V8 engine and a tow rating "in excess" of 10,000 pounds. GM seems ready, with the corral of strong engines, respectable capabilities, and fresh design. As one GM rep explained at the press launch, the Silverado Extended Cab's raised rear seat leaves a flat load floor, whereas the Tundra leaves bothersome lower seat frames. Regardless of who walks away the victor, consumers will ultimately benefit from such attention to detail.
Photos courtesy of General Motors