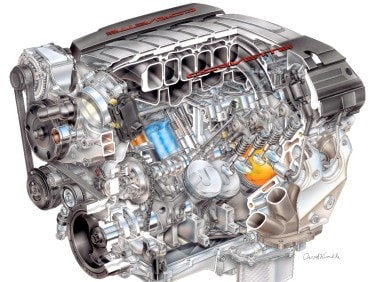 Running from 0-60 in less than 4 seconds is considered high-end performance in many of today's supercars, but it will be just the starting point for the 2014 Chevy Corvette. As recently announced, the all-new seventh-generation Corvette will holster an all-new fifth-generation small-block V8 that delivers exactly that kind of acceleration right out of the box. In fact, thanks to the technologically advanced 6.2-liter LT1 engine, capable of making 450 hp and 450 lb.-ft. of torque, the next Corvette family will feature its quickest, most powerful entry-level model ever—with its highest fuel-economy ratings, too.
According to the car's chief engineer—Tadge Juechter—the result will be an epiphany for Corvette customers: "The Holy Grail for developing a performance car is delivering greater performance and more power with greater fuel economy, and that's what we've achieved.
"By leveraging technology, we are able to get more out of every drop of gasoline and because of that we expect the new Corvette will be the most fuel-efficient 450-horsepower car on the market."
The bottom line: With the brand saying the 2014 Chevy Corvette will be more efficient than the 2013 model, that means an EPA highway mark that exceeds 26 mpg.
2014 Chevy Corvette: Growing a New Powerplant
According to Chevrolet, more than 10 million hours of computational analysis went into designing the new LT1 engine for the 2014 Chevy Corvette, with the lion's share spent on its advanced combustion system. For the engineering elite, this included details like:
Developing a new cylinder head with large, straight, rectangular intake ports that were shaped to enhance air-to-fuel mixing
Creating pistons designed specifically to complement the shape of the engine's redesigned cylinder head
Repositioning the spark plugs to better center each electrode within the combustion chamber
The LT1 V8 also will feature continuously variable valve timing, direct injection and GM's Active Fuel Management cylinder-deactivation technology, along with cutting-edge componentry like an advanced oiling system, domed rocker covers with integrated positive crankcase ventilation, a tri-lobe camshaft design, and a cam-driven fuel pump.
And if that tech stuff seems as overpowering as the LT1's new specs, here's the lowdown—in layman's terms—from Sam Winegarden, GM's vice president for Global Powertrain Engineering: "The Corvette LT1 represents the most significant redesign in the small block's nearly 60-year history—building on its legacy to make one of the world's best engines even better.
"[Offering m]ore than just great horsepower, the LT1 has been optimized to produce a broader power band. Below 4,000 rpm, the torque of the Corvette LT1 is comparable to that of the legendary, 7.0L LS7 out of the current Corvette Z06. The LT1 is a sweetheart of a powerplant and drivers will feel its tremendous torque and power at every notch on the tachometer."